"If It Isn't A Ford V-8 It's Out Of Date": was a catchy slogan used in the front window of the Holmes Motor Co., a Ford dealership located in Lexington, Kentucky at 180 East High Street. This publicity photo was taken in the summer of 1934 by the Lafayette Studios, also of Lexington.
The City is situated in the horse country of northern Kentucky, a prime spot for a new car and truck sales agency to concentrate on offering trucks useful in the equine trade. In this image, only one Ford car was visible (an out of focus sedan on the far-left was cropped), and it appears to have been taken for a truck sales campaign.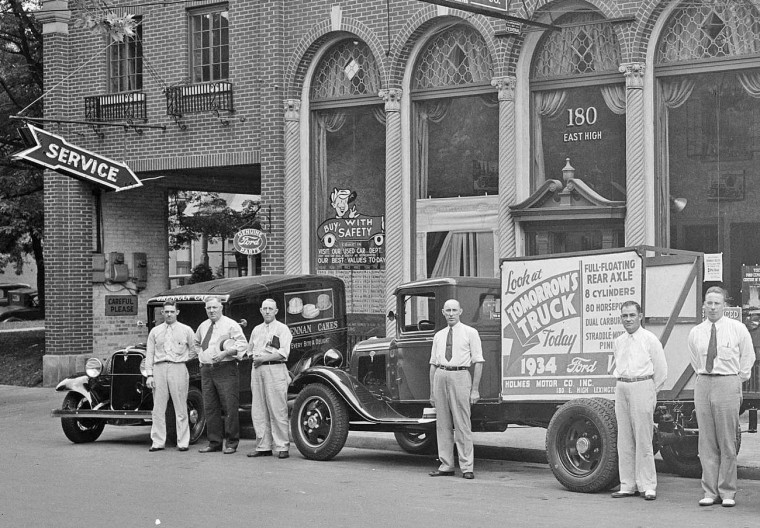 "Grennan Cakes"  panel delivery and a heavy-duty cab and chassis wearing promotional signboards.
Perhaps the most interesting part of the image is the signage on the showroom windows. Just to the right of the service entrance is a "Buy With Safety – Used Car Dept." sign in the showroom window. In the horizontal rectangular spaces that are divided in the middle, just behind the "Grennan Cakes" truck, the used cars that were available are listed. Some of the second-hand offerings are; 1931 Ford sedan priced at $235, 1926 Packard sedan at $140, 1924 Essex coupe at $25, 1928 Buick coupe at $50, and a 1925 Hudson sedan for $45.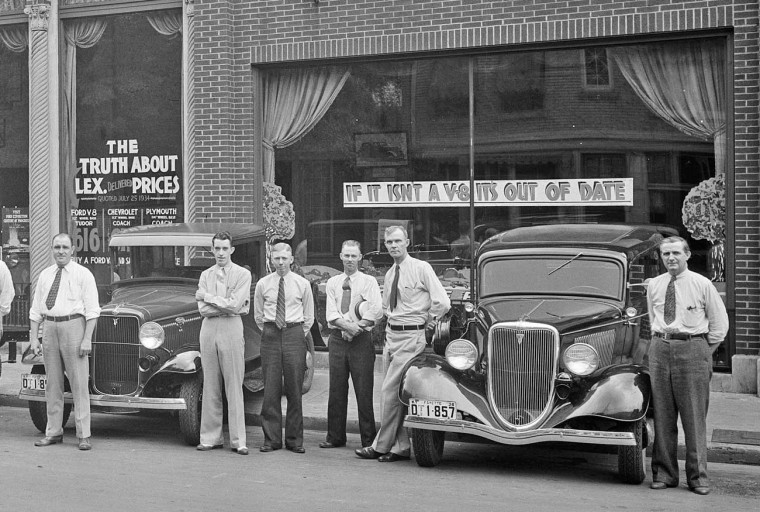 A pickup truck and what appears to be a sedan delivery; note the right-hand side-mount minus tire.
The right-hand showroom window displays: a "Visit Ford Exhibition Century Of Progress" poster, a price comparison of the Ford Tudor with Chevrolet and Plymouth coaches, and a very clever "If It Isn't A V-8 It's Out Of Date" slogan. A quick search turned up little about the Holmes Motor Co. – It was found that the building has not survived.
The photo is courtesy of the KY Virtual Library.