The focus of today's feature is either unusual vehicles or those used for hire, on a stage line or as a bus from the Michael J. Semas Collection. Perhaps the most distinctive vehicle in the lot is the early Model "T" Ford in the lead image converted into a motorhome.
Light-duty-low-priced early trucks had not been developed by the early teens, although a number of enterprising firms built truck conversion kits for the popular Model "T" Ford. "The Adventurer," a circa 1913-'14 motorhome was based on a chain-driven kit with a longer wheelbase than the standard Ford.
This machine is very unique because it is quite likely that the cab and coach combination was a one-off constructed by a truck body builder. In addition, it was equipped with an aftermarket larger capacity radiator and a tapered and louvered hood. Henry Ford built his first Model "TT" Ford truck in 1917.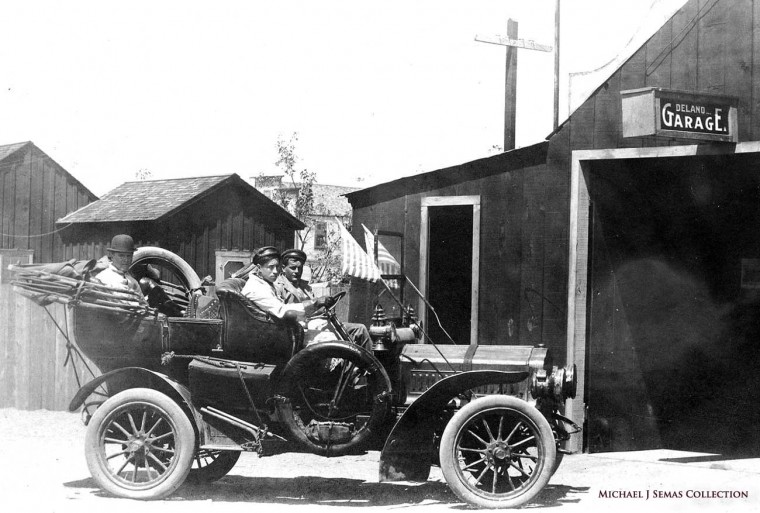 Circa 1904-'05 Thomas-Flyer touring car; note the luggage and top held down by rope.
This early Thomas-Flyer appears to be a car for hire operated by the two gentleman wearing chauffeur caps in the front seat. Note that in front of the passenger in the rear seat, there may be rounds of large caliber ammunition in leather belts located just in front of him? The pair of American flags attached to the stay rods for the windshield and the ammo might signify that is Thomas might have been on government business? The image was taken at the Delano Garage in Delano, California.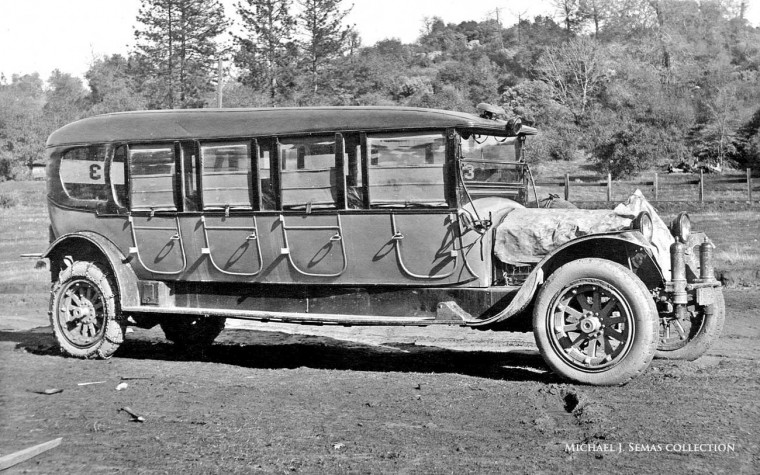 Circa mid-teens Packard "passenger stage" that operated out of Truckee, CA. 
This postcard image shows a circa mid-teens Packard with an extended wheelbase converted into a "passenger stage" or "auto bus" as they were called at the time; it originated from Truckee, California. Michael J. Semas believes that it ran the route between Truckee and Reno, Nevada. Note the roll-down side curtains, "California Top" with a bell and lamp, Westinghouse shock absorbers, and a blanket keeping the radiator and engine warm.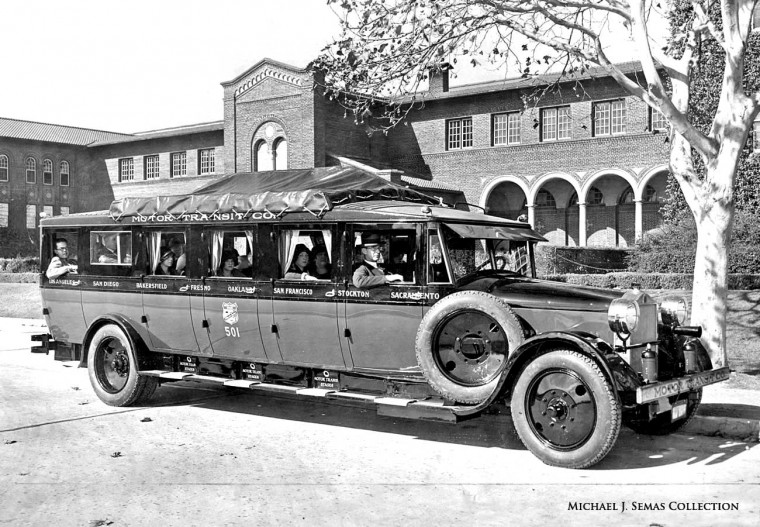 Circa mid-1920s White bus operated by the Motor Transit Company in California.
According to Michael, this White bus was operated by the Motor Transit Company, and was part of the "El Dorado System." No. 501 operated on the San Diego to Sacramento, California bus line. This publicity image of a sharp-looking coach taken on November 29, 1925, gives a representative view of a bus of that period. The images are courtesy of the Michael J. Semas Collection.