When is the last time you saw an Auburn 8-90 Speedster with black wall tires wearing tire chains driving in the snow? Probably never, but Smith Hempstone Oliver, an early antique car enthusiast was on the scene, apparently on two different occasions and photographed this 1929 Auburn for its proud owner.
Even though this rakish-looking example has 1928 Rhode Island license plates, the AAA badge on the radiator is from New York and Oliver was based in the New York City area, so there is a good chance that is where the photos were taken.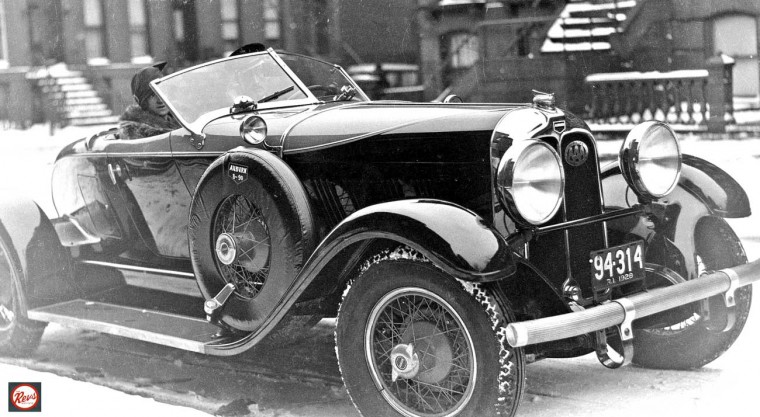 1929 Auburn 8-90 Speedster with tire chains on snow-covered streets late in 1928.
The Auburn Speedster, first introduced in 1928 was available in two different versions. Both are powered by Lycoming L-head straight eights; the 8-90 by the 90-h.p. version and the Model 120 by a larger and a more powerful engine producing 120-h.p.
The Auburn was a moderately-priced car with a conventional chassis and drive train, but it was capable of setting records. In 1928 Wade Morton driving an 115-h.p. model set a record at the Pikes Peak Hill Climb and sped to 108.46 m.ph. over a one-mile distance at Daytona Beach. He also covered 2033 miles over 24-hours on the Atlantic City Speedway board track at an average speed of 84.7 m.p.h.
You can learn more about the late-1920s cars the company produced, including the famed 1929 Auburn Cabin Speedster in earlier articles here on The Old Motor.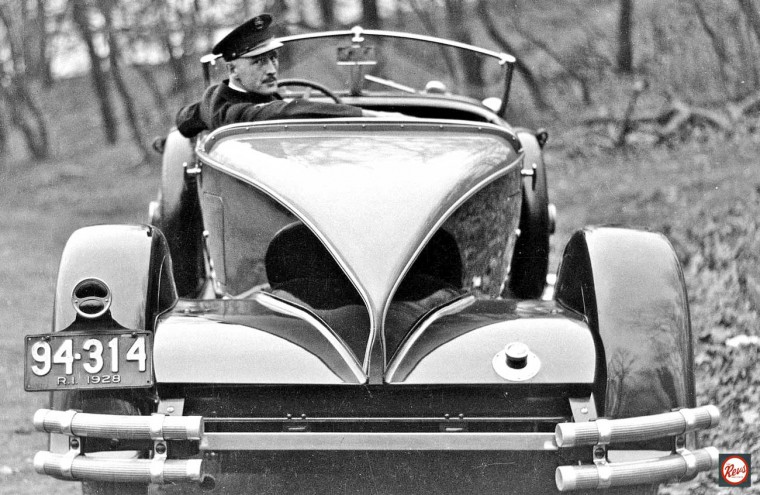 The rear end view of an Auburn Speedster is what most motorist's of the day were familiar with.
The images from the Smith Hempstone Oliver Collection are courtesy of The Revs Institute Research Library. The Institute is looking to expand its collection of over 700,000 photographs to include content much like that seen on these pages. Their goal is to acquire collections of images of all types of powered wheeled-vehicles that were involved with the advancement of society in some way, ranging from the pre-WWII days to the 1950s. If you or someone you know has a collection that is available contact them directly.
If you are heading to Florida this fall, winter or spring, be sure to make reservations to visit The Revs Institute and view the world-class Collier Collection of automobiles.