"You'd Have To Be Nuts To Drive a Stutz" was a saying that Mercer "Raceabout" owners used when talking about the Stutz "Bearcat." Stutz owners countered with: "Nothing Could Be Worser Than Driving A Mercer." The two cars were rivals on race tracks all around the country in the AAA races of the 1912-'14 period. This rivalry no doubt played out a bit later in 1915 after Harley-Davidson has its "baby cars" built.
We have covered these miniature racing cars in a series of articles in the past and have detailed how they traveled with the Art Smith Baby Car troupe. Since then more has been learned about these little cars and reasons why the machines were constructed.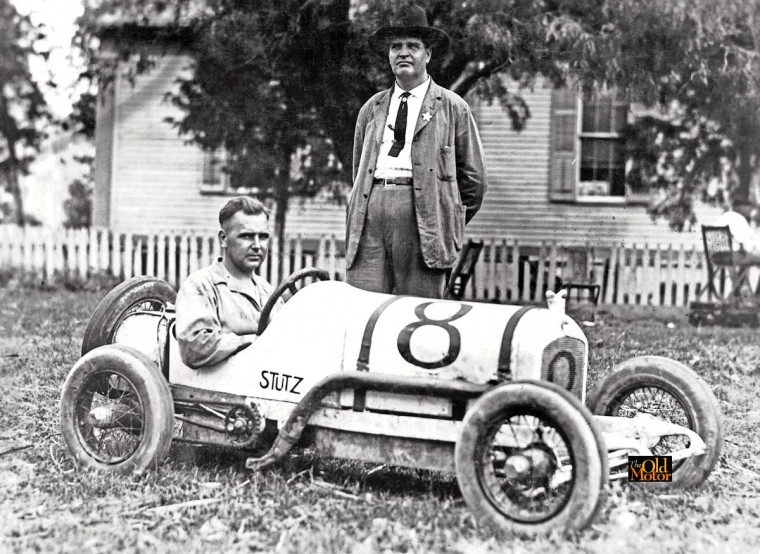 It is believed that this is Jimmy Plumb in one of the Harley-Davidson "Stutz" cars after it found its way to Texas. The photo is courtesy of Mark Aldrich.
Reader Chris Gorman sent in this excellent image of a Stutz "baby car" that is courtesy of Mark Aldrich. The photo came from a collection owned by someone who flew out of Kelly Field in San Antonio, TX, during WWI. This new pair of photos of Jimmy Plumb in the Stutz "baby car" appear to have been taken post-WWI. Plumb later died in a mid-air airplane collision and crash off the coast of Hampton Rhodes, VA.  Who is standing behind him (above) is not known, but he certainly looks like a character.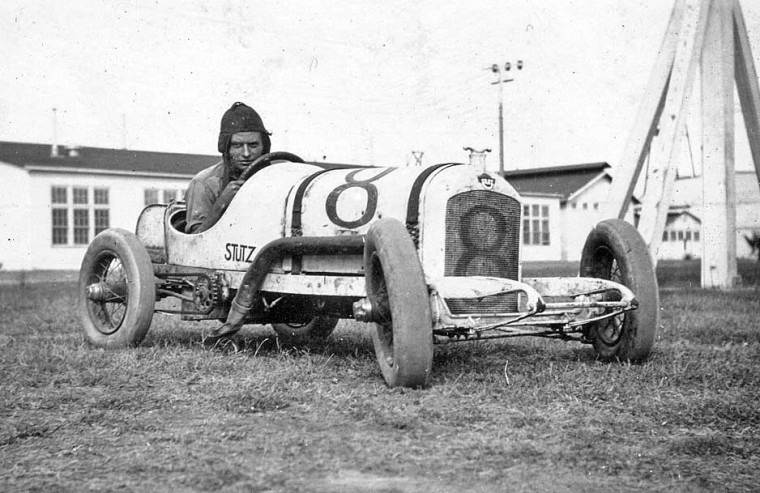 Jimmy Plumb with his Harley-Davidson "Stutz" racing car at Kelly Field. He was racing this car in the area while he was stationed at Kelly Field in Texas. Plumb later died in an airplane crash

 near Hampton Rhodes, VA. The photo is courtesy of edwardmberger.com
John King owns the only known surviving Harley-Davidson "baby car" and had the following to say about them: "Harley was intent on showing a world audience the performance of their new big-twin engine and first year 3-speed transmission. The company knew that people liked car racing more than motorcycle racing."
"Management made the decision to commission ten cars to be built and each to have a different body style to mimic the big cars that would be raced at the upcoming 1915 World's Fair in San Francisco. The original batch of cars were in part built by the Kissel Kar Company in San Francisco, Harley-Davidson provided the factory built race engines and transmissions for the cars."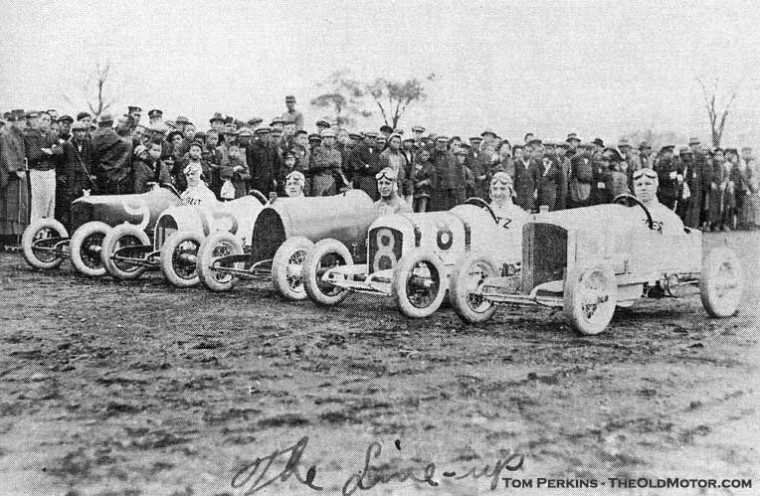 This new photo and information leaves us to wonder if the driver of the No. 8 car is Jimmy Plumb? If it is the same car, it was later re-numbered by Edward Berger.
"The Maggini & Perkins Harley-Davidson dealership in San Francisco also participated in the building of the cars. The first batch featured: 1st generation racing wheels, rack and pinion steering, elliptical leaf springs, full differential built in the jack-shaft, hand operated air pump to force fuel forward to carburetor, factory built racing motor, 3-speed transmission, air pressure gauge, compression release on steering column, magneto ignition, front wheel gear drive speedometer, and more."
One of the Harley-Davidson "baby cars" under construction in San Francisco.