By Charlie Beesley:  Although the details have changed in over a century of motoring, winter driving has always been focused on getting somewhere safe and warm without mishap. Bad roads and skinny tires plagued early motorists, especially before 1904, when Harry D. Weed of Central New York invented tire chains. Weed got the idea from watching folks wind rope and vines through the spokes of slipping wheels. His invention was an immediate success. In 1908, the Thomas Flyer that won the New York To Paris Race wore Weed Chains. As did Harry Houdini.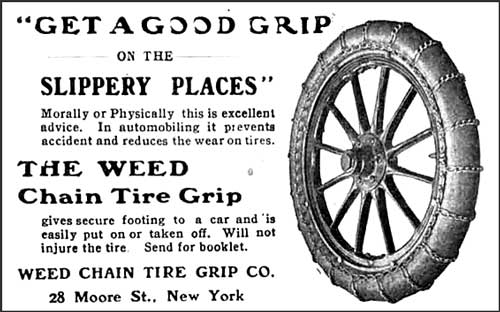 "The Automobile" January 28, 1905 – Weed Chain Tire Grip advertisement.
It happened at Keith & Proctor's 125th Street Theatre in Harlem on April 10th, during the 1908 New York Automobile Carnival. Weed representatives wrapped Houdini in eight sets of Anti-Skid Chains, two of them on the mounted tires hung over his shoulders, and then added handcuffs, leg irons and padlocks – over 400 lbs. in all. Houdini spent around thirty minutes freeing himself, the crowd roared, and Weed Chains got free publicity in every newspaper in the country the next day.
Here are a few snapshots that recall the beauties and trials of winters past, chained and otherwise.
The lead image taken somewhere in rural Minnesota, on March 22, 1941 features a 1936 Chevrolet.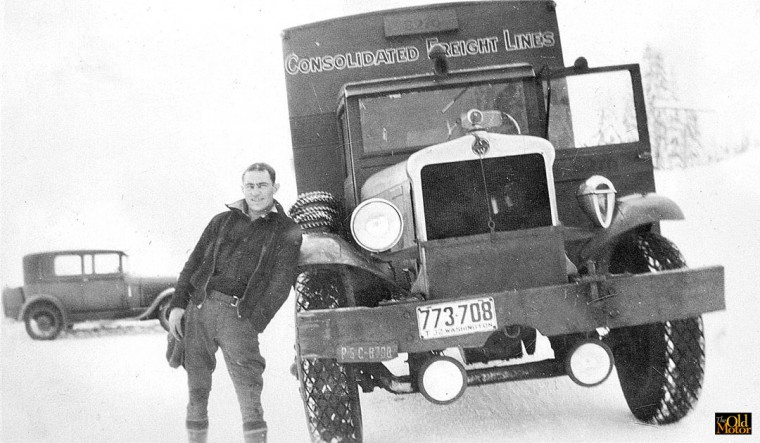 Consolidated Freight Line 1930 Kenworth truck with interesting lighting. 
Driver Gale Missler and 1930 Kenworth, with 1932 Washington plates, fog lamps, Woodlite and radiator blind. Seattle-based Kenworth sprang from the Gersix, an all-steel, six-cylinder truck introduced in 1915 for the Pacific Northwest logging industry. Consolidated Freight Lines (later Freightways) resulted from the merger of four Portland, Oregon short-haul companies in 1929.
I believe the location here is US 10 at Snoqualmie Pass, fifty miles inland from Seattle. Keeping this major east-west route plowed year round began only in 1931. Previously, snow in the Cascades meant a long detour through the Columbia River Gorge. Perhaps the novelty of a wintertime pass crossing called for photographic proof.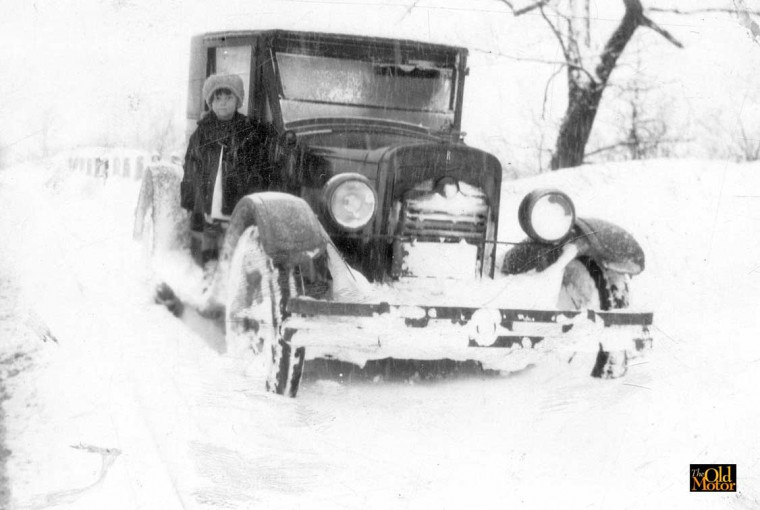 1924 or '25 Rollin coupe with a Pines Winterfront radiator shutter and a young passenger.
Rollin H. White designed the flash boiler that made the White steam car a success. Following his father's death in 1914, he left the family business to establish the Cleveland Tractor Company, builder of the Cletrac crawler. In the early 1920s, he hatched a plan to add an automobile line to the tractor plant. With Studebaker engineers Fred M. Zeder and James G. Heaslet involved at different stages, the first cars came to market in autumn 1923.
Four-wheel brakes and DuPont Duco finishes gave some weight to ads touting 'The only fine small car being built in America', but Cleveland's Templar had gone broke trying to sell Americans a 'superfine small car' the year the Rollin debuted. By the end of 1925, The Thoroughbred Of The Thoroughfare was history. Of some 5750 Rollins built, at least a couple went down with the freighter 'Lakeland', which sank in Lake Michigan on December 3, 1924, just off Sturgeon Bay, Wisconsin.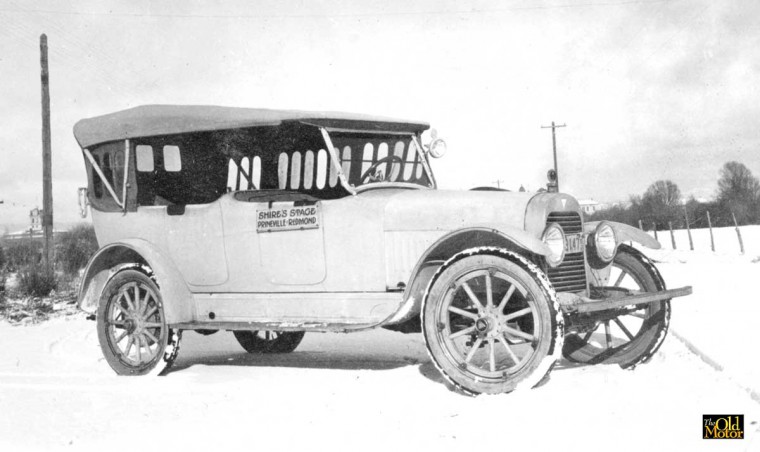 Shire's Stage ran this 1917 Hudson touring car on the 18-mile Prineville-Redmond run in Oregon.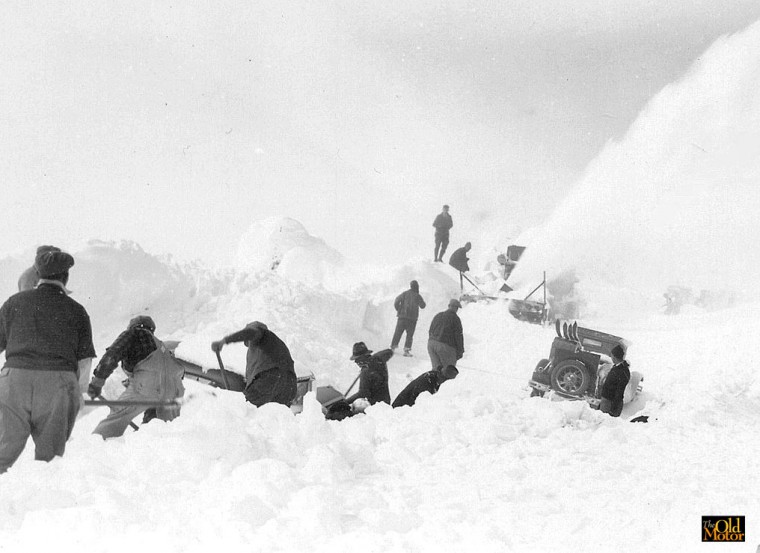 I believe we're looking at the clearing of a ski area parking lot. The Model A Ford roadster and the two guys to the left of it seem to be on solid ground. For now.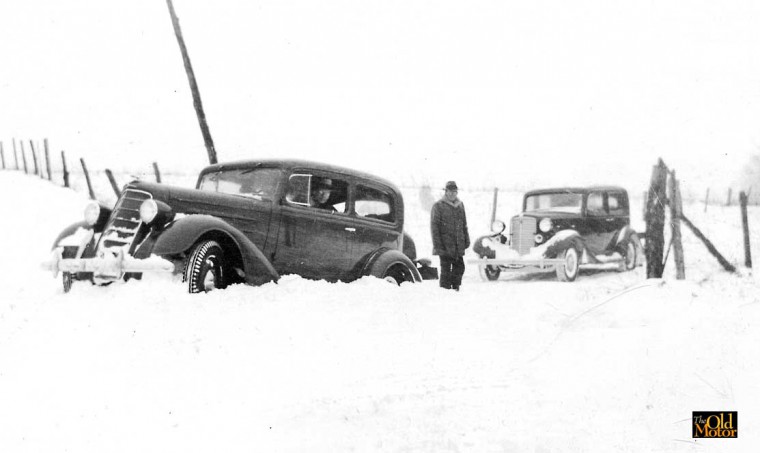 1934 Oldsmobile and 1934 Lafayette. Dad, Dale, Edith & Robert at our lane, Christmas 1935.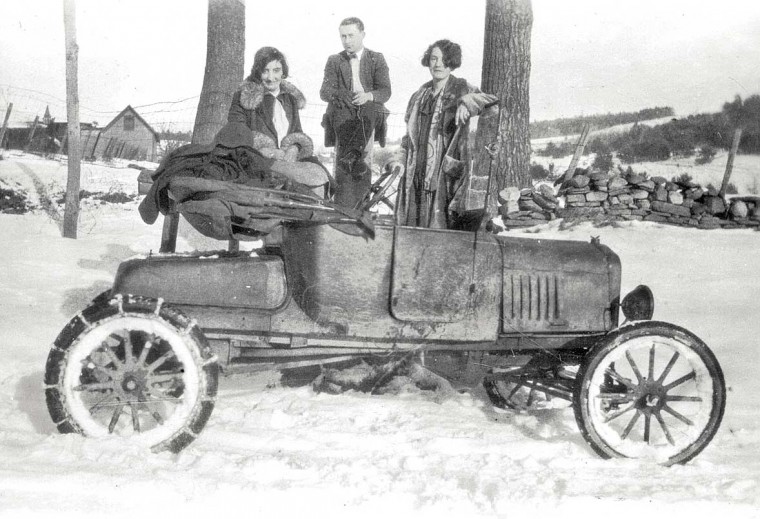 Black radiator Model "T" Ford roadster with tire chains and an interesting crew.