The Edison Electric Company was heavily invested in the expansion of an electrical grid in Southern California in the early-teens.' This set of images shows a small part of the Company's fleet of automobiles used by Edison officials to tour area operations during that time. The rest of the automobile fleet contained a number of mid-priced roadsters, and the balance, economy cars.
The lead image pictures a circa 1910-'11 Pierce-Arrow 7-pass. 38 or 48 h.p. touring car. It was cared for by the Winston St. Garage in Los Angeles and photographed there. This car and others were used for Company business and for inspecting ongoing construction of new power grids.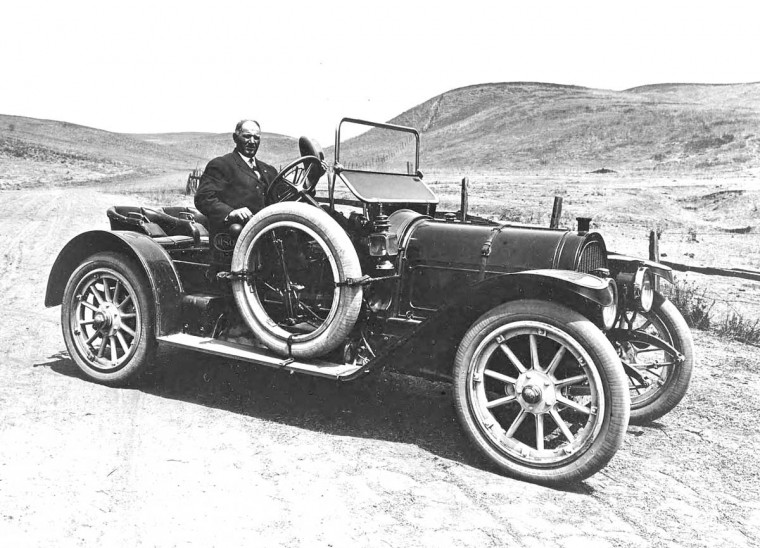 Circa 1911 Pope-Hartford Model W four-passenger Pony Toneau.
This speedy runabout is a circa 1911 Pope-Hartford Pony Tonneau with individual rear bucket seats and folding backrests. The sporty 40-50 h.p. four-cylinder o.h.v. model was not equipped with a top and was an ideal vehicle for the Electric Company officials to cover some ground quickly in the California sunshine while on business.
The third vehicle is a circa 1911-12 National Demi Tonneau touring car. This high-quality 40-50 h.p. machine was built in Indianapolis, Indiana, where it competed in the early racing action that culminated with Joe Dawson winning the 1912 500-mile race.
The photos are courtesy of the UCLA Library.
Circa 1911-'12 National Demi Tonneau touring car.