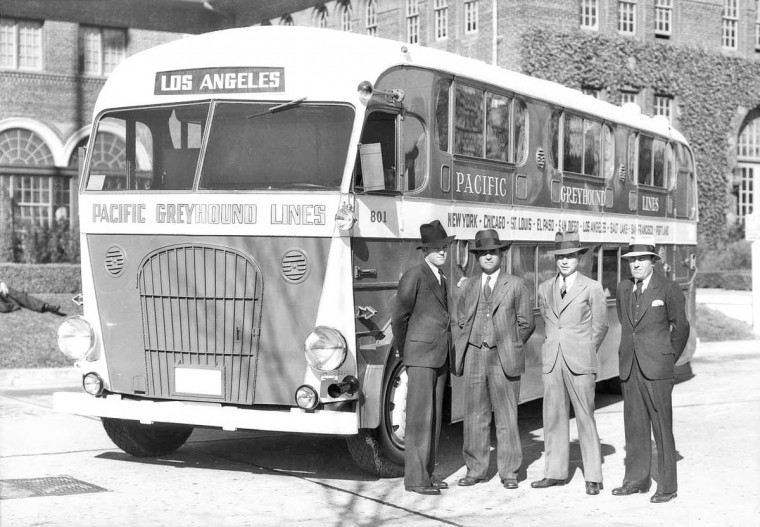 The Pickwick Bus line began in 1912 with the purchase of a Model "T" Ford. The new stage line prospered and by the early-1920s Pickwick was building its own coach bodies and installing them on Pierce-Arrow chassis'.
Soon the progressive Bus Company introduced the Pickwick intercity Parlor-Buffet coaches featuring the driver seated in a rooftop drivers compartment and behind him passengers in the observation deck. Pickwick upped the ante in 1928 when it introduced the "Nite Coach," a two-level fast service cross-country coach with 12-sleeping compartments suitable for up to 24-passengers.
            The lead image is a 1933 PR photo of one of the last Pickwick 24-passengers sleeper models.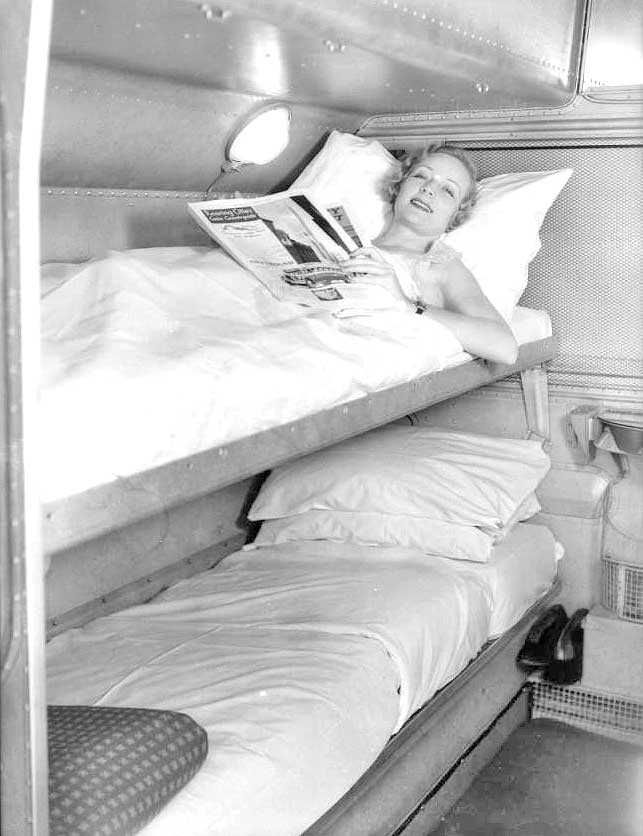 A model demonstrates one of 12 convertible sleeper berths that accommodated two, complete with a window, bunks, lights, heat and radio.
Pacific Greyhound Lines contracted with the Columbia Coach Works to build ten of the new "Nite Coach" buses. On what routes Greyhound ran the new coaches is not known, but two likely runs are the Pacific Coast and, Chicago to Los Angeles. The PR photos were taken in LA in 1933.
The new coach was designed by Dwight E. Austin, who also planned and patented the successful earlier "Nite Coach" machines that were produced by Pickwick. His next move was to work for GM in its "Yellow Coach" division on new coaches for the Company.
How long the 18 units that Columbia built for both Greyhound Lines and Columbia Pacific "Nite Coach" Lines Inc. were in service is not known, but one of the units survived until 1941. A film clip of it can be viewed below in the 1941 comedy "Sullivan's Travels" staring Veronica Lake.
Learn more about the earlier Pickwick "Nite Coach" and the Parlor-Buffet coaches here on The Old Motor. The photos are courtesy of the USC Libraries.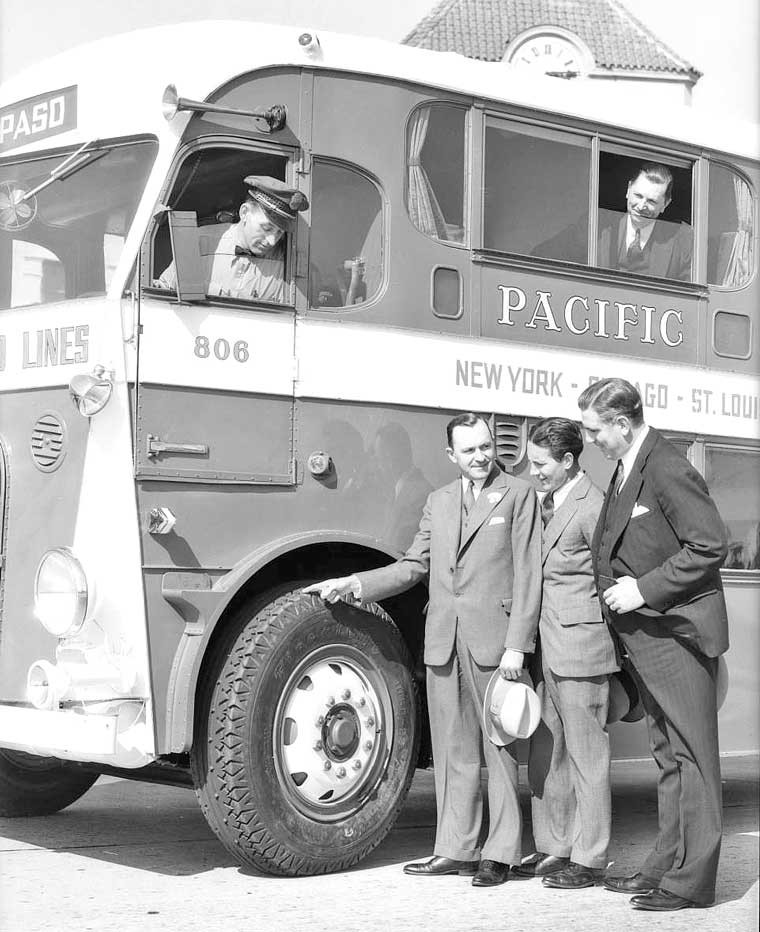 Three Firestone Tire representatives in Los Angeles where photographed on the same shoot as the other PR photos to publicize that fact the coach used the Company's tires.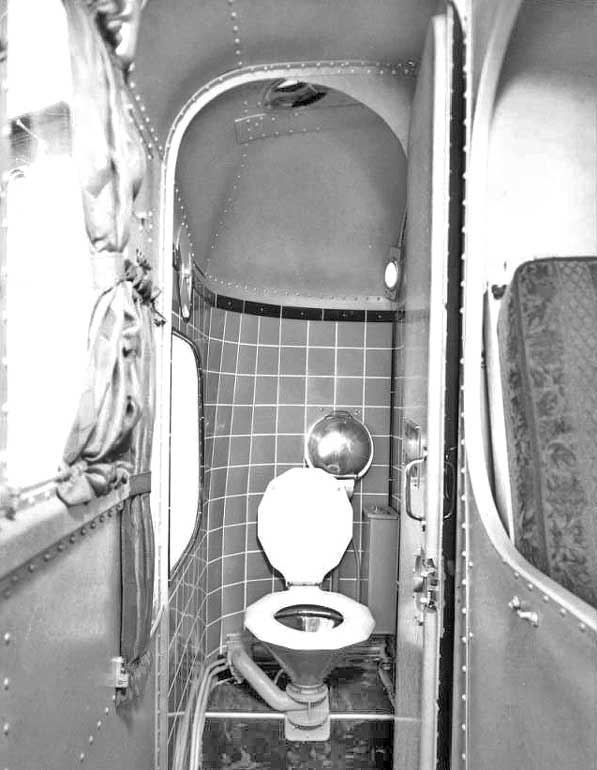 One of the "Nite Coach" rest rooms located on both floors.
Sullivan's Travels – A short "Ditching the Entourage" film clip of the Universal Films 1941 full-length comedy starting Veronica Lake, shows actual footage of one of the "Nite Coaches" in action.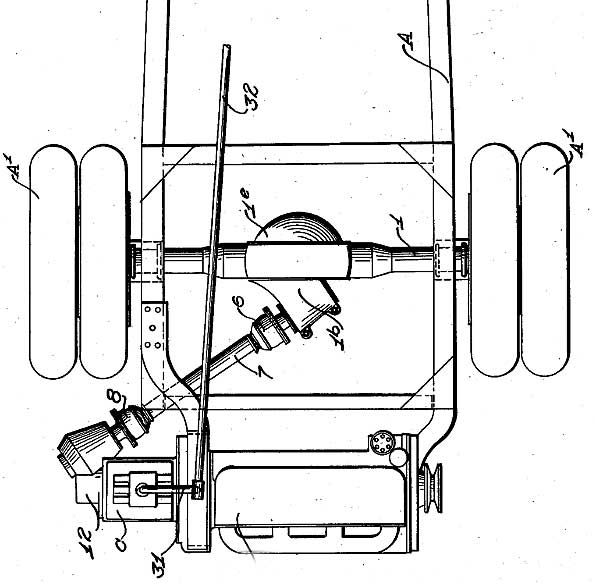 Dwight E. Austin patent, filed on July 25, 1932 and granted on March 12, 1935. The patent drawings illustrate how a Waukesha engine and a transmission powered the rear axle at an angle.