This image like many on the internet has been floating around in cyberspace for quite sometime without any information. This photo was attributed to the University of Louisville, (KY), and with that ID came the name of the owner, Frank H. Robertson.
Robertson first lived in Houston, TX, and hence the boat's name, "Miss Houston IV." According to "Motor Boating," a period magazine on the subject, it was a record holder in the 510 Hydroplane Class. The boat piloted by Robertson held the 10-mile competition mark at 51.28 m.p.h., and the one-mile trials at 53.43 m.p.h. between 1926 and '31.
The reason for the 1928 photo may have been to celebrate the American 510 Championship status, and the fact that the Falls City Boat Works apparently was caring for it then. At about this time, Robinson is listed as living in Louisville, KY. It also appears that Mr Larrimore an area car dealer, who paid the photographers invoice may have handled the Pontiac as the roadster pulling the trailer is identified as one.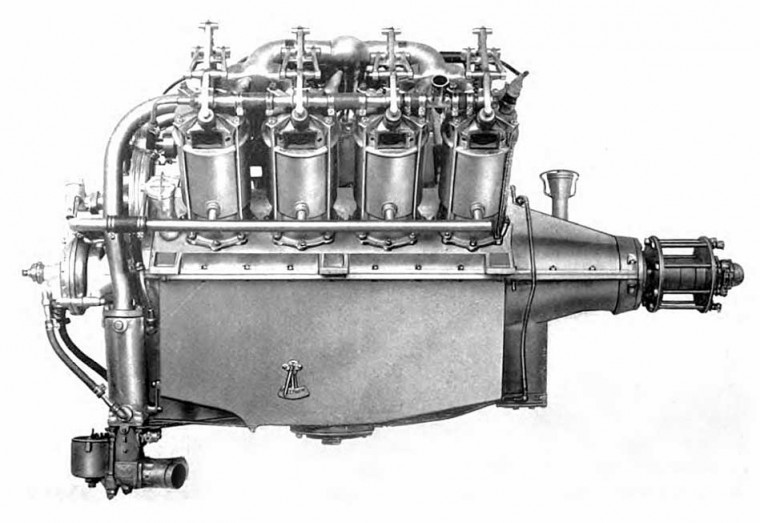 Curtiss OX5 aviation engine of the type used in "Miss Houston IV". Specs: Water-cooled o.h.v. 503 c.i. V-8 – 4 x 5-inch bore and stroke – 90 h.p. at 1400 r.p.m – Weight 390 lb. – 1918 Curtiss  Instruction Manual.
"Madison Courier" (Indiana) of Sept. 4, 1934, tells us: "The 'Louisville Kid' is the former 'Miss Houston IV,' built by Frank Robertson"…. "She is the holder of the 510 record, having made 61.5 mph on the straightway"…. "won the National Regatta at Madison and the northern Michigan annual Regatta at Harbor Springs both in 1930." It also won "the Louisville Regatta free-for-all on July 29 of this year. She is powered by a special Curtiss OX5 aviation motor."
The Falls City Boat Works has survived and remains in operation on the Ohio River. The photo is courtesy of the  University of Louisville.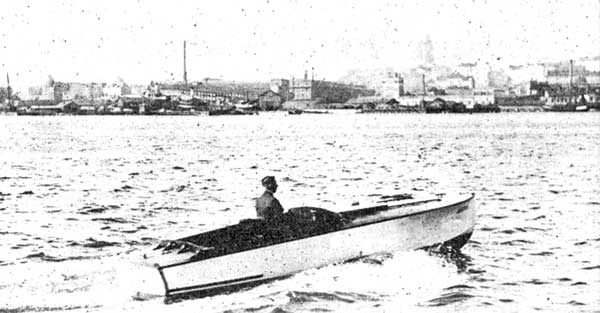 Gray Marine Co. photo of a boat in Finland using its (Pontiac) "Gray Six Forty" marine engine.   
On an another note, while researching for this post it was found that the Gray Marine Motor Co. was also involved with using the same Pontiac Six that the powered the roadster that pulled the "Miss Houston IV" in the lead photo.
"Motor Age" June 7, 1927,  article describing the Gray Marine Motor Co. use of the Pontiac Six.