"The Coolest Motor" is the slogan the Nordyke and Marmon Company of Indianapolis, Indiana used in its 1907 advertising campaign to build buyer's confidence in its unique air-cooled engines.
Howard C. Marmon and his brother Walter were part a long line of family members, who first went into business as the Nordyke, Ham & Company in 1851. The business prospered while manufacturing a line of food milling and associated equipment for over 50 years. Howard C. Marmon began working with his brother Walter (also an engineer) in 1902 to develop a better automobile than that which was being produced at the time.
The lead photo is part of an advertisement in the May 1907 "The Horseless Age" offering the V-8.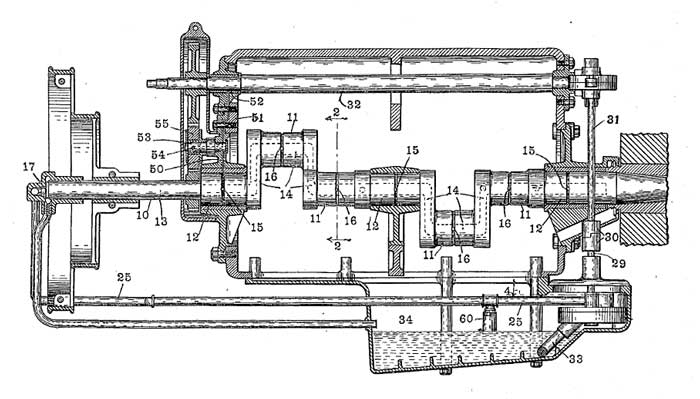 February 13, 1905, patent drawing for a full-pressure oiling system with a gear pump like that which continues to be used up until the present day. The patent was issued on January 30, 1906.
In 1902, the first of the experimental air-cooled engines designed by Howard was a two-cylinder V-twin featuring a full pressure oiling system for both the main and rod bearings. This then led to experimental V-4, V-6, and V-8 engines. Production began in 1905 with a V-4. A year later in 1906, a Marmon entered in the Glidden Tour finished the endurance event with a perfect score.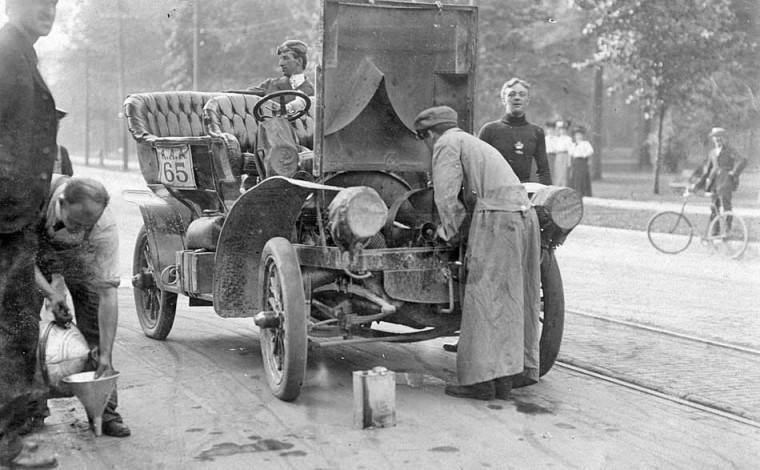 Thomas E. Schultz adding oil to a Marmon during the 1906 Glidden Tour. He or another car later finished the run with an impressive perfect score. The V-4 engine can be seen under the hood. Photo courtesy of the Detroit Public Library.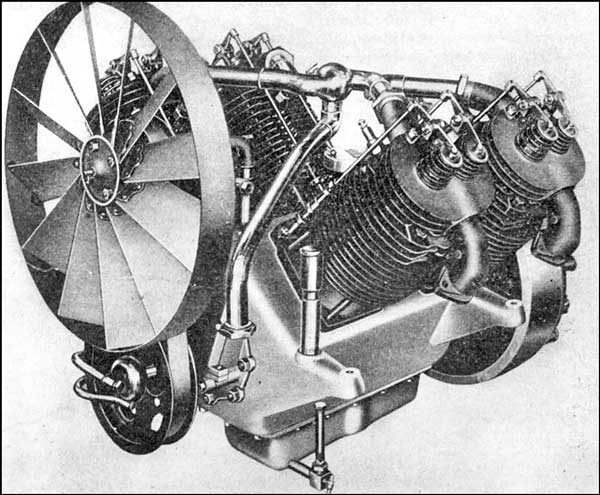 1908 392 c.i. 40-45 h.p. V-4 o.h.v. engine – Earlier examples used a one piece cylinder and head.

This new engine used separate heads and cylinders with a copper-asbestos gasket between them. The assembly is held down by four nuts and long studs that fastened them to the crankcase. This design set the standard for air-cooled engine top ends for over 75-years.
In December of 1906, Marmon introduced and offered the ultimate extension of this design at the New York Auto Show. The piece-de-resistance was a new model with an air-cooled 707 c.i. 75 h.p. V-8 offered for $5,000. This new engine featured a 4.5 x 5-inch bore and stroke that was set in a 128-inch w.b. chassis with 3 to 1 rear axle ratio.
Press reports of the day indicate that it was to be offered to the public for the 1907 season, but others tell of it being an experimental model. Despite a long search, we were unable to find any further information or images of this huge V-8. We ask our readers for help in finding photos and more information about this machine. Thanks to Tony Costa for the information that inspired is article.
The first water-cooled engine offered by Marmon in 1908, was a conventional four cylinder T-head design. The following year the automaker changed over to water-cooling for all of its offerings.