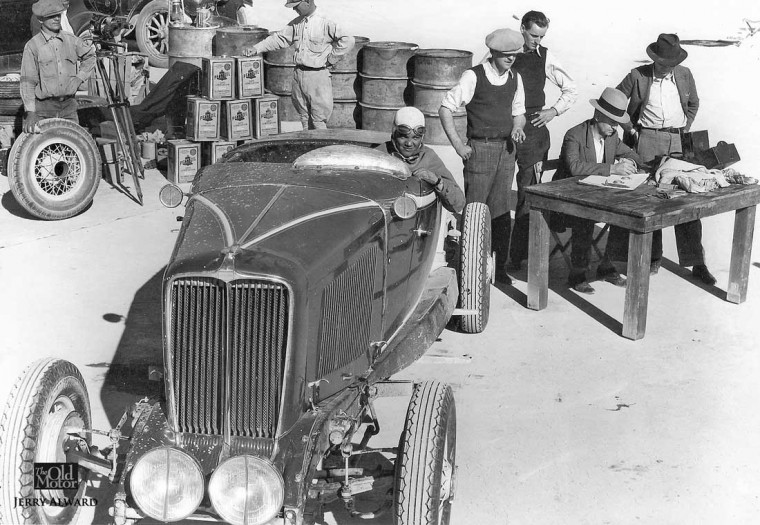 Bob McKenzie behind the wheel of this Auburn Speedster may have started the his 20-plus year-long career of setting cross-country and city-to-city record runs. His timing might have been perfect as, during the very depths of the Great Depression, he and others made a living of setting records for automakers and suppliers.
The scene of the lead image appears to be at the Muroc Dry Lake with McKenzie and the crew from the Pennzoil Oil Company setting up for some sort of a run. The fact that the headlamps are mounted low and to the center indicates that it was likely an overnight or 24-hour run. As the next image will show, two of his sponsors in 1933 were Pennzoil and B.F. Goodrich, and both are also represented in the lead image.
A brief search of contemporary news reports and periodicals did not turn up any coverage about this run, so if you learn more about it please let us know. The image is courtesy of Auburn enthusiast Jerry Alward.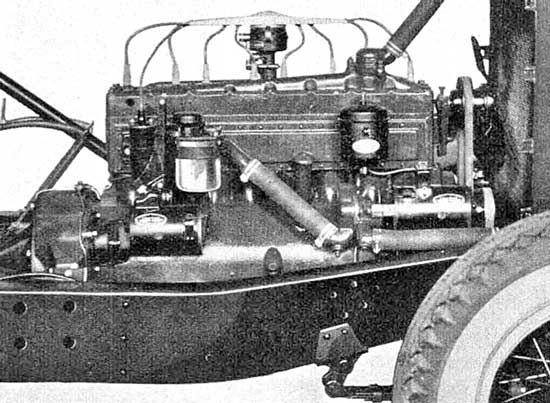 The Auburn L-head straight eight 268.6 c.i.d. engine and chassis. Note the 8-inch wide by 3-inch deep frame channel section. – "Automobile Trade Journal" Jan. 1931.
The image below courtesy of Auburn-Cord-Duesenberg expert Randy Ema shows Bob McKenzie visiting one of his sponsors, the B. F. Goodrich Company in Akron, Ohio in 1932. Earlier in April, he set a New York to Los Angeles record driving time of 57-hour and 38-minutes in the Speedster. The Pennzoil Oil Company also assisted in this effort.
McKenzie was still in the game of setting records for automakers and suppliers as late as 1953. View more details of the Auburn's construction shown in illustrations (below) from the Automobile Trade Journal, Jan. 1931 issue.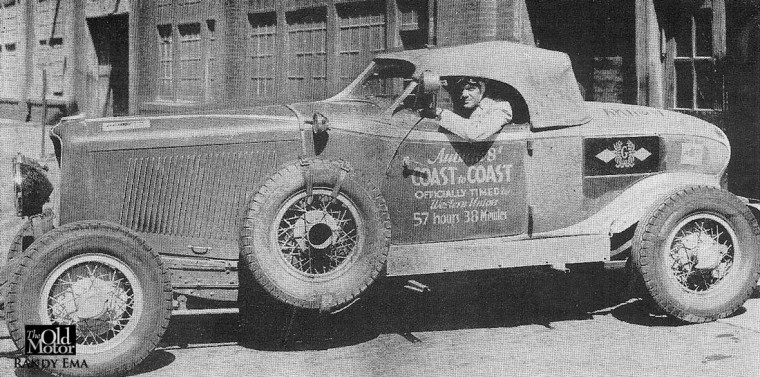 Bob McKenzie after his April 1932 57-hour and 38-minute record-setting run in the Speedster at his one of his sponsors, B.F.Goodrich in Akron, Ohio.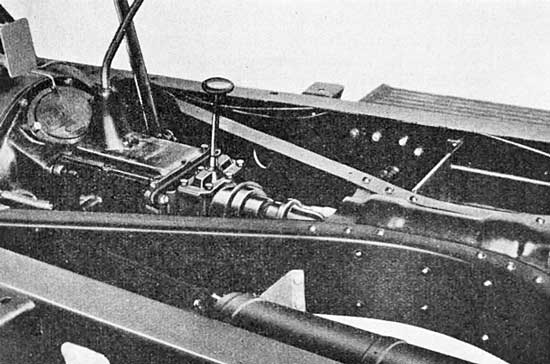 X-type frame bracing, three-speed transmission and free-wheeling drive.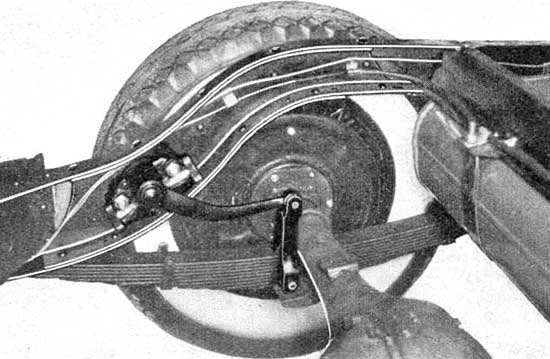 Double-drop frame and reinforced kick-up section with lever-action hydraulic shock absorbers.