Updated  – Editors note: This article is written by guest writer Hampton C. Wayt, a very knowledgeable and trained automotive historian. His field of interest is the design history of the automobile.
By Hampton C. Wayt:  The "streamlining" of automobiles with an interest of attaining higher speeds is practically as old as the invention itself. The best-known early example of such is probably Camille Jenatzy's famed "La Jamais Contente" ("The Never Satisfied") of 1899. Jenatzy's wagon, the shape of which appears to have been inspired by airship or torpedo designs of the time, features a pointed front end devised to pierce the wind. This bullet-shaped form likely played an important role in Jenatzy becoming the first driver in history to propel a road vehicle to a speed of over 100 kph (62 mph).
The Lead Image – The "La Jamais Contente" racer of 1899—the first road vehicle to attain 100 kph (62 mph)—had surprisingly little influence over the design of later generations of race cars.
Update at the bottom of the post and new images.
Little remembered but also from 1899 is the aptly named "Pantoufle"—or "slipper." Built as a racecar by Henri Vallée, a short-lived automobile manufacturer who began his career making bicycles, the Pantoufle featured an impressive 7598 cc, 16/24-horsepower horizontally opposed 4-cylinder gasoline engine—but no gears—Vallée apparently feeling his engine so stout and versatile that he deemed them unnecessary. And as found with the La Jamais Contente, the "slipper" featured a slippery shape designed to slice through air.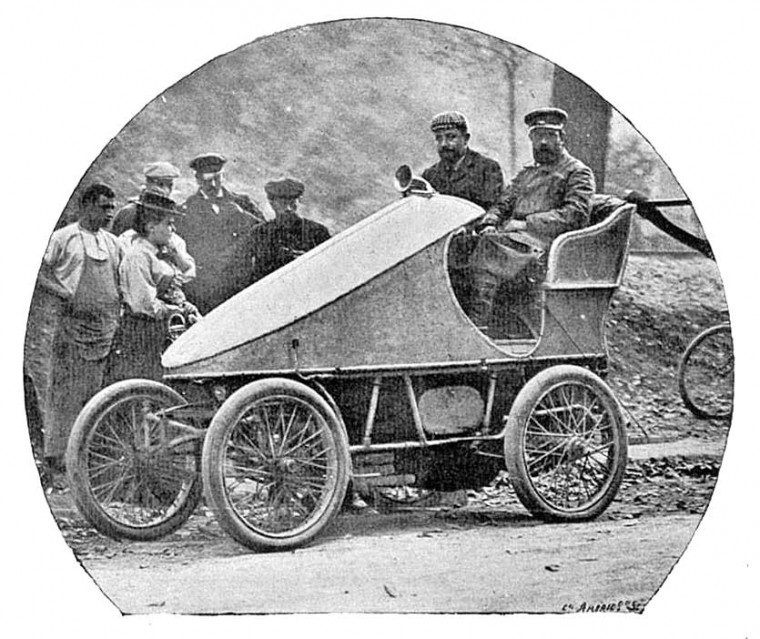 Henri Vallée's little remembered "Pantoufle" (or "Slipper") racecar of 1899 features a uniquely automotive wedge-shaped aerodynamic design solution.
Despite the builders of both cars showing a clear concern for aerodynamics, their solutions were intriguingly different. In Jenatzy's case, it could be argued that his chosen shape was a direct result of his racer being designed to be what might be considered the first land speed record car – or, the first road vehicle holistically-designed with the idea of traveling in a straight line strictly to attain a barrier-breaking speed. With such a linear trek in mind (the car is not known to have raced competitively), the vehicle's bullet nose seems a natural design choice for its intended purpose.
Equally as integrated in its design, the factors that led to Vallée creating a racecar resembling a house shoe are not entirely certain. A competition car, the Pantoufle's design may have been influenced by the rules of the automobile-only "Tour de France" that it competed in, in 1899. The Tour, a nine-day-long, 1,485-mile speed and endurance competition – described as the longest automotive "test" at the time – required that at the end of each day's journey all racecars be locked up in a pen. Only at designated times and for short durations were drivers given access to their vehicles in order to make repairs and adjustments to them. Furthermore, such work could only be performed using the tools carried on the race vehicles during the event. Such strict rules certainly could have affected Vallée's design choices.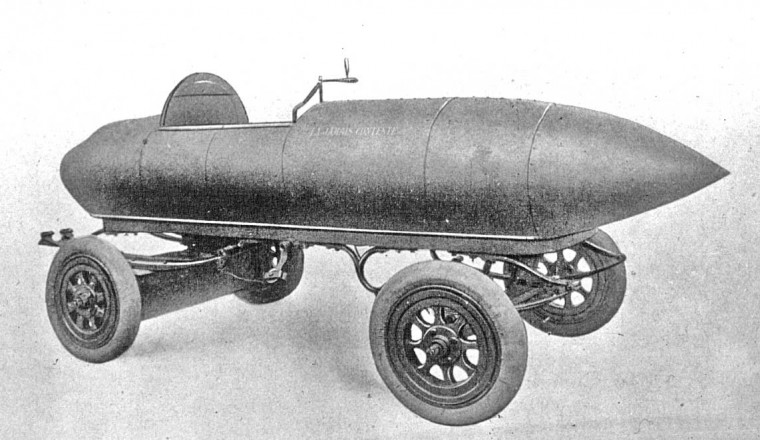 "La Jamais Contente" illustration – Agence Meurisse – courtesy the French National Museum.
Yet, even without deep knowledge of Vallée's thoughts, one coach-oriented choice can be readily ascertained. The Pantoufle's form was clearly shaped to not only split the wind, but also sweep it up and over the driver – at least in theory. This feature is a significant one when it is realized that few racecar designs prior to Han's Nibel's "Blitzen Benzes" of the early 1910s made any sincere effort to remove their drivers from the wind equation despite many builders' clear interest in aerodynamics. Even the La Jamais Contente positions Jenatzy quite high in his vehicle, damaging his streamlining efforts to some (perhaps a great) degree.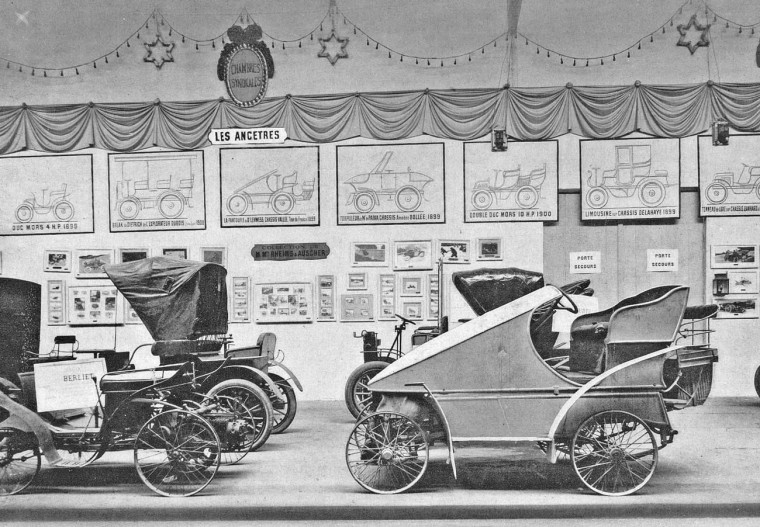 Vallée's eight year old Pantoufle design stands out in a racecar retrospective held in 1907 at the 10th annual Salon de l'Automobile in Paris. The image from the original book on the retrospective section is courtesy of Ariejan Bos.
It is also interesting to note that the bodywork of both vehicles stands out compared to their peers and racecars of later generations. Surprisingly, the body design of the La Jamais Contente does not appear to have had much if any influence on racecar designs of the immediately following generations – despite being the world record speed holder at the time! If anything, racers such as the 1902 Serpollet or 1903 Mors had more to do with the Pantoufle than Jenatzy's speedy machine.
The reason for the La Jamais Contente's lack of influence may stem from an issue of motive power. Powered by electricity, Jenatzy's creation likely had a great deal of flexibility in placing components within its chosen shape – certainly quite a bit more leeway than that offered to builders utilizing the commonly found vertical gas engines that would eventually dominate the racing field. Likewise, the Pantoufle with its low-mounted flat-4 engine allowed Vallée relatively free reign over the design of his racer's body.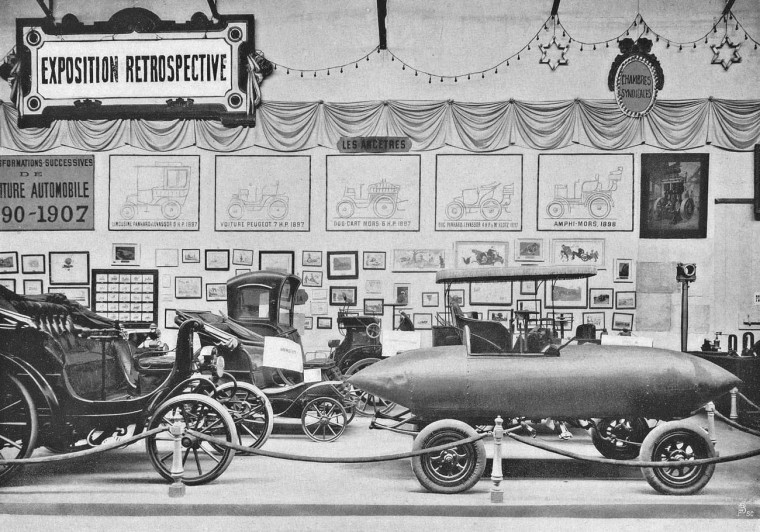 Janatzy's "La Jamais Contente" at the 10th annual Salon de l'Automobile in Paris. The image is courtesy of Ariejan Bos.
Despite the uniqueness of both vehicles' designs, the Pantoufle may be special in a way that Jenaty's car is not. Whereas the La Jamais Contente's cigar shape clearly speaks to ballistics, hydrodynamics, or even aviation influences of the era, inspiration for the Pantoufle's slippery form is not readily apparent. Instead, Vallée's racing shape appears to be an early and uniquely automotive solution for car body design. So, although Vallée's racer may not possess the success or fame of Jenatzy's machine, its early car-centric coachwork deserves an important place along side the La Jamais Contente in the history of car streamlining, racecar bodies, and automotive form.
View all of Hampton C. Wayt's earlier articles here on The Old Motor.
Update – By Ariejan Bos: It is indeed remarkable that in the description of the Vallée in La France Automobile of October 1, 1899 the unconventional body of the car was not mentioned. On the other hand more manufactureres like Amédée Bollée and De Dietrich were experimenting with bodies which reduced air resistance in a time when speeds were continually increasing. Another interesting fact is that the bodies of both cars were made out of aluminum!
After the Tour de France, in which the Vallée did not finish, partly because of severe slipping of the drive belt, it performed reasonably well in the Paris-St. Malo race (5th place) and in the Paris-Ostende race (7th) also held in 1899, averaging over these two races 42 km per hour. Its last performance was during the first Gaillon hill climb on December 3, where it finished 1st in the category above 400 kgs.
The Vallée and the Jenatzy were both exhibited at the retrospective section of the 10th Paris Salon in 1907, which had an impressive exposition of more than 50 cars from the earliest days to 1905, the 'newest' one being the Richard-Brasier with which Théry had won the Gordon Bennett Cup twice. In that year both cars were still owned by the original drivers, by Jenatzy in Brussels and by Lehwess in London. Most of the automobile have now completely vanished and one wonders what happened to them.
Editor's note: Jenatzy's La Jamais Contente has survived and is on on display in the Castle of Compiègne Le Musée de la Voiture (National Car Museum).