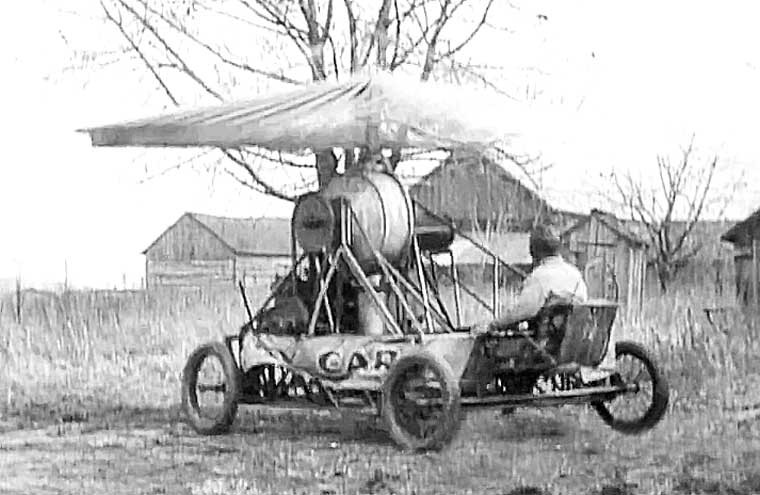 To quote Henry David Thoreau, inventor John W. Pitts certainly listened to "the beat of a different drummer," which became apparent when studying his off-beat inventions. While living in Hueneme, CA, in 1897 he invented and patented a motor located inside of a floating buoy that was powered by wave or tide energy. Later in Bisbee, AZ, in 1911, he designed and patented an odd six-stroke horizontal engine apparently without any form of an exhaust to the atmosphere.
The lead image press image of the "Sky Car" – Cycle and Automotive Trade Journal, April 27, 1927.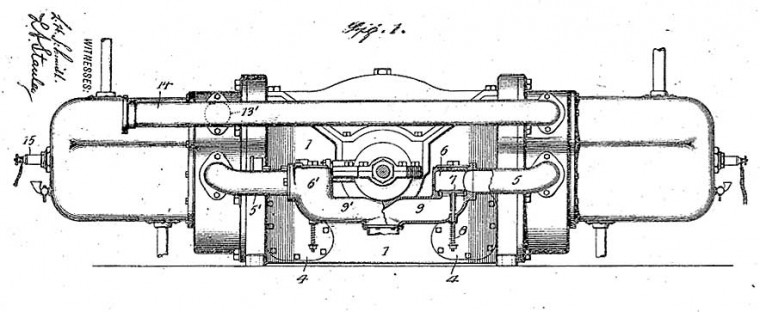 Pitts patented this unusual horizontally opposed six-stroke engine in 1911.
In 1924, while living in Detroit, MI, he patented a design for converting a rotary motion into reciprocating motion, while also providing for rotating motion that would allow his invention to both spin and cycle up and down. This arrangement drove an umbrella-like device with internal vanes that acted as a propeller of sorts that Pitts hoped would make his "Sky Car" fly via a vertical take off.
The "Sky Car" in the newsreel film above was powered a four-cylinder engine. It did get off the ground by roughly eight inches or so and the "flight" ended. It was obviously staged for the camera and unwisely located right next to a tree. No documentation has been found that positively links it to Pitts other than the name on the side of the mechanical creature.
Another newsreel film exists showing a demonstration in Detroit, of an "Umbrella Helicopter" at .33 seconds into the video, this contraption has been attributed to Pitts. The mechanical oddball is based on a stronger double frame with three wheels and spring suspension. This "Sky Car" used the same chain drive mechanism as the other machine, but utilized a much more powerful WWI surplus Curtiss OX-5 V-8. In this attempt, it did not get off of the ground.
If you can tell us more about these oddities or Pitts, please do.
Patent drawing filed on Feb. 25, 1924 for Pitts' Mechanical Movement attached to an engine.