Updated – West Coast Racing driver Sam Palmer is "behind the wheel" here in two 1934 Fords; in an enclosed Victoria in the lead image and (below) in a roadster. The scene is Glendale, CA, and appears to be located on a steep grade leading up into the Verdugo Hills. Both cars were probably rented or loaned by a nearby a Ford dealer for this set of General Petroleum Co. promotional photos.
As to what was going on here we can only guess at – possibly either a demonstration of the anti-knock properties of General's "Violet Ray" gasoline or what gear or speed that Palmer was able to drive the Ford up the hill.
As a side note: Sam Palmer was a well-known racing driver in California at the time and on May 8, 1934, the San Jose News reported a crash where a "Racing Driver Is Badly Hurt". The paper told of Palmer and his (uninjured) passenger Miss Gracie Moore that "crashed into a ditch 10-miles south of Bakersfield on the drive back to LA after finishing second in Sunday's race in Oakland. He received injuries which may prove to be fatal". Nothing more about him was found about his fate after a brief search.
Update – Reader Greg Beaulieu has confirmed the Palmer died on May 15, 1934 in Bakersfield, CA.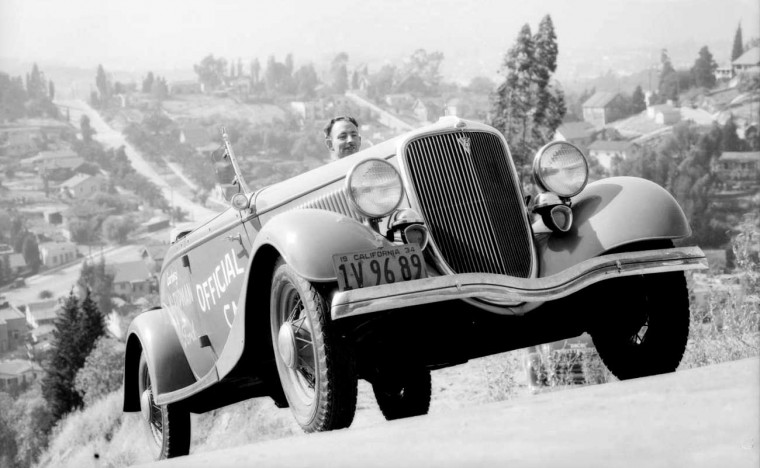 On a different note: Cold weather starting has always been a problem and at about this time oil companies were beginning to blend special high volatility formula's to ease winter starting. General Petroleum staged this scene with dry ice laid over and on the sides of the front of a sedan at a Los Angles gas station. Both the front of the car and the bottom were not covered so the effect of this demonstration is questionable. The photos are courtesy of the USC Libraries.