The Gee-Bee racing airplanes are perhaps one of the most recognized and unique air racers ever built. The first, the "Model Z" was built in Springfield, MA, by the Granville Brothers Aircraft in 1931 and was followed in 1932 by the "Model R1" and "R2 Super Sportsters."
The "Z" racing plane won the Thompson Products Trophy piloted by Lowell Bayles in 1931 at the National Air Races. The "R1" piloted by Jimmy Doolittle followed suit in 1932. All three of the difficult to operate machines had crashed and killed two men by 1933. The first, the "Z," may have been caused by Bayles fitting a larger engine, the second was pilot error in landing, and the third crash was caused by the second owner fitting larger fuel tanks.
The lead rendering and the cutaway drawings both represent the "R1." It is the most famous of the two and was designed by Howell W. Miller. It benefited from additional refinement that included a tear-drop shape, wind tunnel testing and an 800 h.p. supercharged 9-cylinder radial Pratt & Whitney "Wasp" engine with 1343 c.i. The drawings and image are courtesy of the Silodrome.
Delmar Benjamin and Steve Wolf built a flying replica of the "R2" in the early 1990s and Benjamin flew it in airshows until 2002. The original "R2" was fitted with a smaller Pratt & Whitney R-985 Wasp Jr. engine with over 740 h.p. and 986 c.i. It was constructed for the Bendix Trophy Race that was a cross country race. It finished the race but lost time due to a cracked oil line. In the video (above) "Gee Bees R1 and 2," he tells the story of the machines.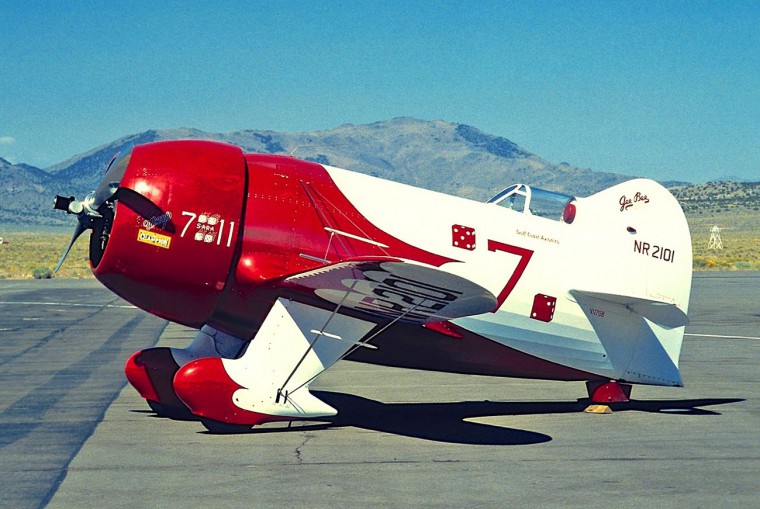 Gee Bee "R2" replica built by Delmar Benjamin and Steve Wolf.
The video below, produced in 1999 by Kermit Weeks, owner of Fantasy of Flight Museum shows his replica of the 1931 Gee Bee "Model Z" on his first flight at the facility. It is a replica built by Jeff Eicher and Kevin Kimball of the airplane that won the Thompson Products Trophy in 1931. The film includes vintage footage after the original "Z" was later fitted with a more powerful 750 h.p. engine by Lowell Bayles in his pursuit of a world speed record. In the fight, it crashed and burned killing him after a wing failure.