"There is no substitute for cubic inches" is an old saying that equates to the larger the cubic inch displacement an engine is, the more power and torque it will produce. Between 1900 and 1912, it was the common way to generate more horsepower because the methods of achieving more of it were still being developed at the time.
Henry Charles Brasier was employed as an engineer at the French automaker Mors and designed the Firm's Grand Prix racing cars until 1901. In 1902 Georges Richard and Brasier formed Richard-Brasier in 1902 to construct automobiles. The pair split in 1905, and the name was shortened to Brasier (1905-'30). In addition to passenger and racing cars, Brasier also constructed airplane and large racing boat engines as a way to further develop his motors and support the Company.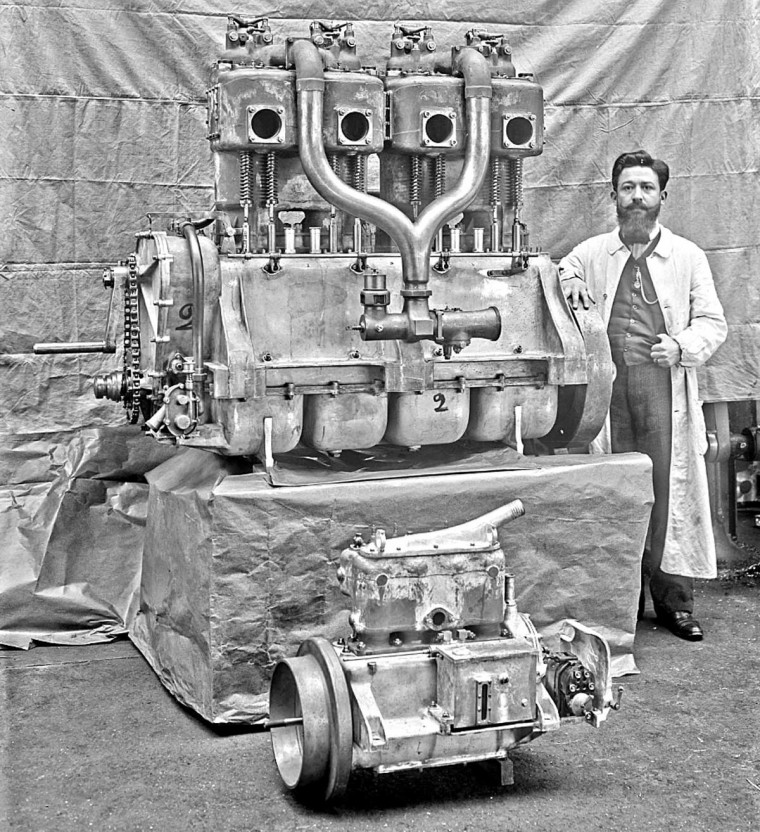 Henry Charles Brasier with the enormous 1381 c.i. 200 h.p. 16-valve F-head four-cylinder engine. In front of it in stark contrast is one of the small 25 h.p.Brasier four-cylinder L-head production engines.
Thanks to contributor Ariejan Bos we know the specs of this Brasier boat engine constructed by the French automaker. An advertisement in the magazine "L'Illustration" dated September 28, 1912, states that this 22.5 liters 1381 c.i. 200 h.p. motor was suited for use in yachts, and also for powering electric generators and pumps. The bore and stroke are 6.102 x 11.811-inches (155 X 300 mm), and the price was 20,000 Francs (20,198 dollars.)
The small horizontal lever visible above the timing gear chest actuates the compression release which utilizes a second set of lobes on the exhaust camshaft to keep the valves open for starting. The chain and sprocket reduction ratio between the starting crank handle and the crankshaft also eased turning the monster engine over. Note the early use of a velocity stack on the carburetor to increase airflow.
Images of this engine were found by Marc Tudeau in a group of pictures of the 1910 Brasier-Despujols racing boat in the French National Museum Archives. French boat racing power plants of the period were limited in size just as some French auto racing sanctioning bodies accomplished it by limiting only the bore size of the engines. If it was used as a racing boat engine, the long-stroke helped to produce more power and torque and stay within the rules.