We last checked in on progress at the Packard Plant Project in Detroit, Michigan on May 12, 2015. Since that time stabilization efforts, structural testing, planning, and permitting have been ongoing.
The warm fall and early winter weather allowed work to begin on the environmental cleanup of the former Administrative Office building of the Packard Motor Car Company. The lead photo shows workers sealing up openings in the building before cleaning and washing operations of the inner structure, ceiling, walls and floors.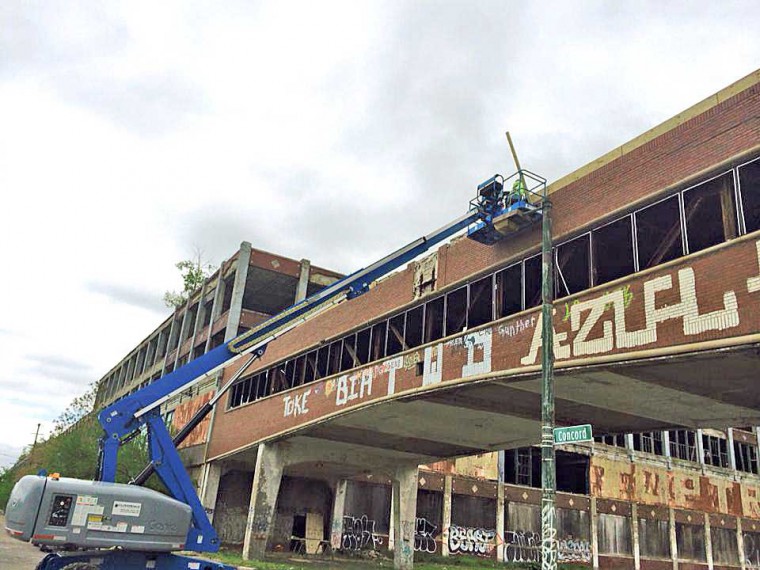 Workers stabilizing the bridge's cornice molding and brick work.
Inspection work uncovered loose stone and bricks on the bridge over East Grand Blvd. that were in danger of falling onto the road. After the completion of that job in July, the sides of the structure were covered with a temporary fiber covering decorated to look like the bridge did back in its day. The bodies that Packard constructed traveled across this bridge before being installed on the chassis production line.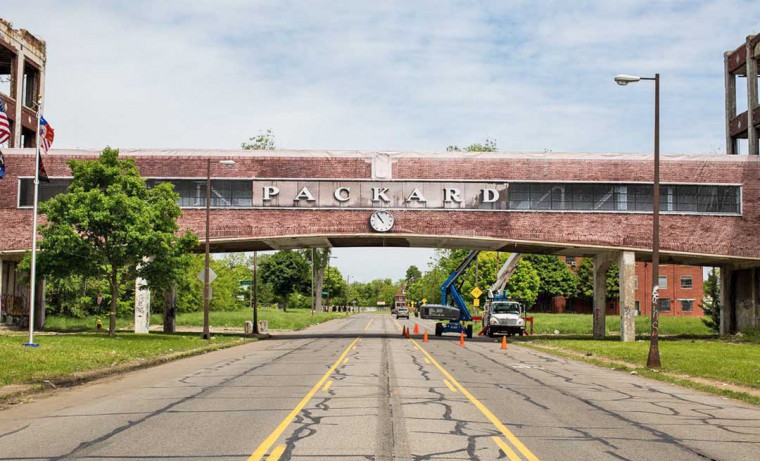 The stabilized bridge with the new temporary covering thats gives the scene a new look.

 
Other developments include: recording the architectural dimensions needed for the rebuilding of the Administration Building, Fernando Palazuelo the owner of the plant is working with potential tenants, and seeking financing, boxing champ Tommy Hearns, who grew up two blocks away from the Plant has expressed an interest in setting up a gym at the site, the Packard Plant Project is looking down the road and would like to attract a brewery to the second on phase of the project.
To truly understand the conditions and obstacles at the site when Palazuelo and his company Art Express  purchased it, watch the must see video 'Packard: The Last Shift'  by Brian Kaufman, of the "Detroit Free Press."
A view of an area of the Administration Building after clean up.