Updated – An Auto Red Bug was the dream for every motor-minded boy and girl in the period between the early teens and the thirties. The lead image gives you a rare view of a Briggs and Stratton "Flyer" after the Company bought the design and patents in 1920 from A.O. Smith. The two youths were photographed on a street in the City of Toronto, Canada. The is image courtesy of the City of Toronto Archives is via Doug Smith.
Update – The detailed patent drawings for the Smith "Motor Wheel" can be viewed at the end of the article.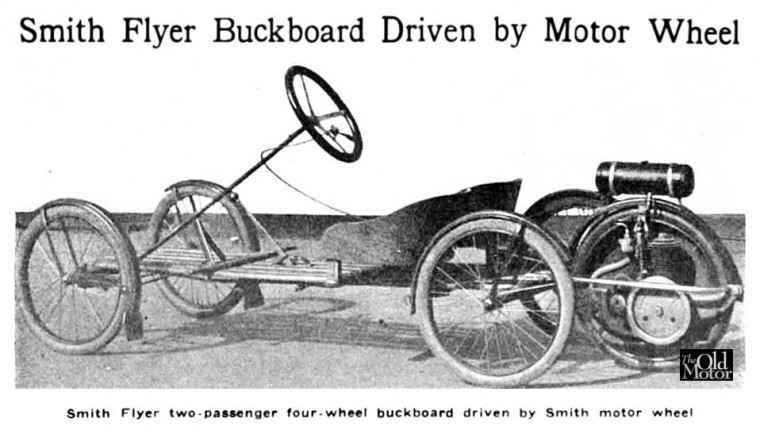 Announcement of the new Smith "Flyer Buckboard" – "The Automobile" January 5, 1917.
According to the article in "The Automobile" – " This machine, although its entire weight is but 135-pounds is capable of running at 20 to 25 m.p.h. and can go 80-90 miles on one gallon of gasoline. The controls consist of a small thumb lever attached to the steering wheels for the throttle. The clutch and brake pedals are the same as a regular automobile. The wire wheels are fitted with 20-inch clincher tires and the wheelbase is 70-inches and the tread 30-inches. The one h.p. "Motor Wheel" is held off of the ground by the clutch pedal and is crank started by a handle on the drive wheel. The price is $125 f.o.b. Milwaukee."
The colorized image below appears to be a show business promotional photo of an attractive young woman, who is escorted by her a canine chauffeur. We are hopeful our readers can identify her. Photo courtesy of Benjamin Ames. You can view more Auto Red Bugs and learn more about them in our earlier coverage.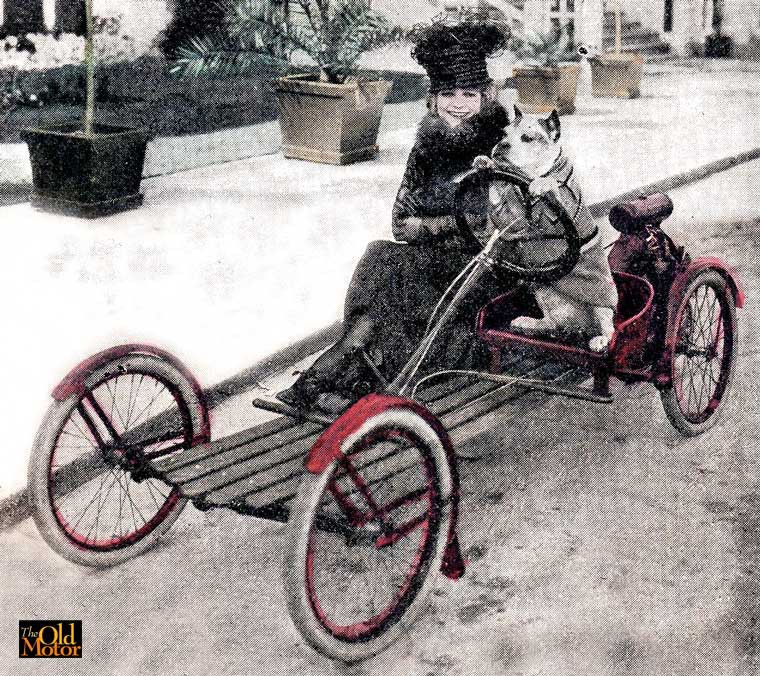 Update – The Smith "Motor Wheel" or "Motor Carrying Tractor Unit" was first intended to be an add-on power system for a bicycle. The first patent was filed by Smith Reuben Stanley on August 20, 1914, and granted on March 28, 1916. When Briggs and Stratton bought the designs and patents Smith signed them over to the Company on April 5, 1921.
The A.O. Smith Co. in Milwaukee, Wisconsin, starting in 1899 began the manufacture of lightweight automobile frames. This new product soon became to be used by most of the automakers in the country. The Company is still in business today and manufactures water heaters, boilers and water purification equipment.