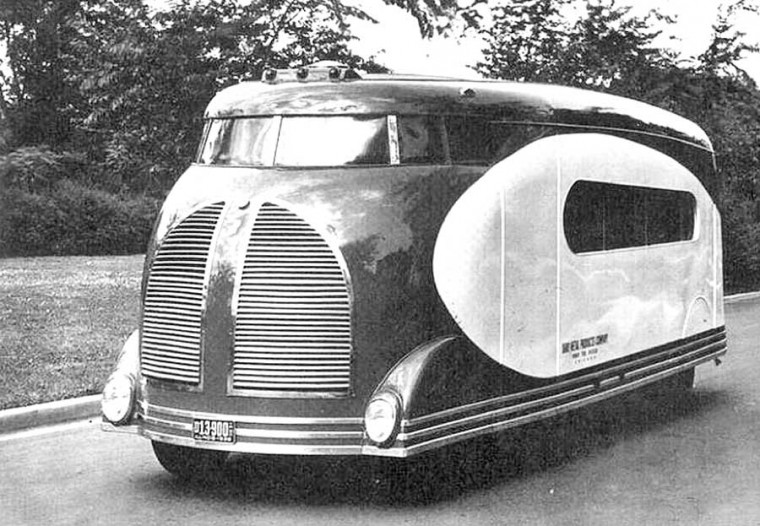 Updated – A good friend sent us one of those chain emails the other day that usually contain a couple of dozen vintage cars or gas stations. This message was filled with images of unique trucks including the one in the lead photo today that caught our eye.
At first glance, the cab, windshield, front end and grille brought to mind the styling of the Union Pacific "City of Portland" and the "City of San Francisco" streamline diesel-electric locomotives. It is not known who built this vehicle or where (the license plate may help with a location). We are hopeful a reader will be able to identify it.
Update II – Ace Zenek found: The photo is also shown in the book Ford Trucks Since 1905 (Crestline) with the following caption. "The custom-built integral display van was inspired by the new streamlined passenger trains placed in service by the Union Pacific Railroad in 1934.  Mounted on a 157-inch wheelbase Ford truck chassis it was owned by Duro Metal Products Company of Chicago.  Since it was similarly influenced by passenger train design; based in Chicago; and, utilized DeSoto Airflow headlamps.
Update I – ehdub from New Zealand commented: "The streamline bus photo is in Donald F. Wood's Commercial Trucks book captioned: "Ford 1936, Duro Metal Products of Chicago used this rig mounted on a 1936 Ford truck chassis as a traveling showroom." Ford archives photo.
Gee-Bee "Atlanta" Racing Car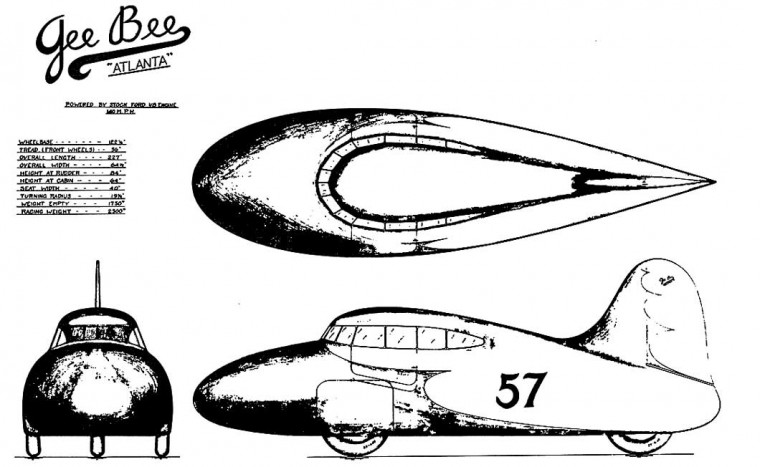 Gee-Bee "Atlanta" three-wheeled racing car design used a teardrop shape like that of the "R1" and "R2" planes.
Reader Ben Oakes commented on the recent Gee-Bee airplane post and mentioned the Gee-Bee racing car. It has been that has been reported that the Granville crew worked on this design of a three-wheeler in 1933 with the intent of entering it in the 1934 Indianapolis 500, but it was disallowed either by the Speedway or the AAA.
Can anyone with further knowledge about this concept let us know more about it, and did it ever get past the planning phase? The image is courtesy of Lord Kitchener.
Grandville Franklin?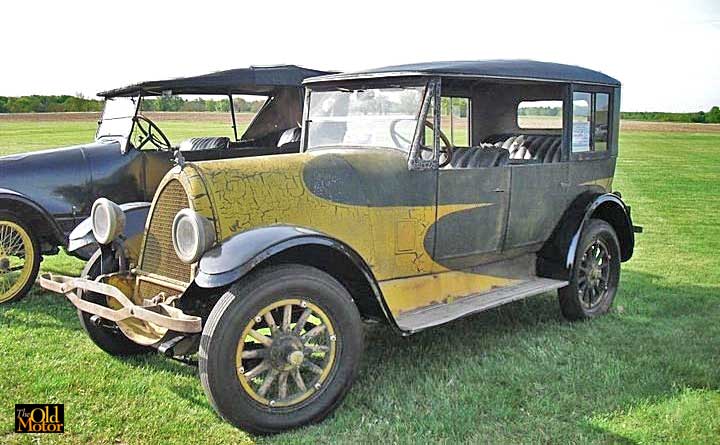 1923 Franklin with a scalloped paint design like that used by the Granville's on the Gee-Bee. 
Ben Oakes owns this 1923 Franklin decorated with a scalloped paint design like that used on the Gee-Bee "R1" and "R2" and in the racing car drawing. Edward Granville was a member of the H.H. Franklin Club and according to Walt Gosden, a Club member who met him at Franklin Club Trek, he owned a Series 11 Franklin (1925-'27).
Granville's ownership and interest in the Franklin automobile may have been because it was constructed in a light-weight fashion with a wooden frame, much like that of some pre-war aircraft. Can any Franklin enthusiasts or readers connect this automobile with Ed Granville, or the Granville Aircraft outfit?
This photo shows the Franklin before it was put back on the road.