We are in the middle of a winter deep freeze this week at The Old Motor, with high winds coming in off of the mountains to our west that are howling around the workshop while enveloping it with blowing snow. During this wild weather thoughts turned to winter travel 100-years ago and the 1910 Overland 40 h.p. Wind Wagon Catamoran mounted on skates came to mind. The more the story was researched, the more interesting it became.
The lead image from the Motor June 25, 1910, shows it at the first meet ever held at the Indianapolis Motor Speedway that contrary to what you might think was not a car race – it was an aviation meet.
Racing promoter E.A. Moross paired Captain G.L. Brumbaugh at the wheel of the Overland with a 8-foot propeller against Walter Brookins, who piloted a Wright Brothers Aeroplane. Brumbaugh won the two lap 5-mile race that the outcome of which was probably fixed by Moross before it began, in a time of 5-minutes and 20-seconds. For the rest of the season, the Wind Wagon traveled around the country with the Moross racing circus.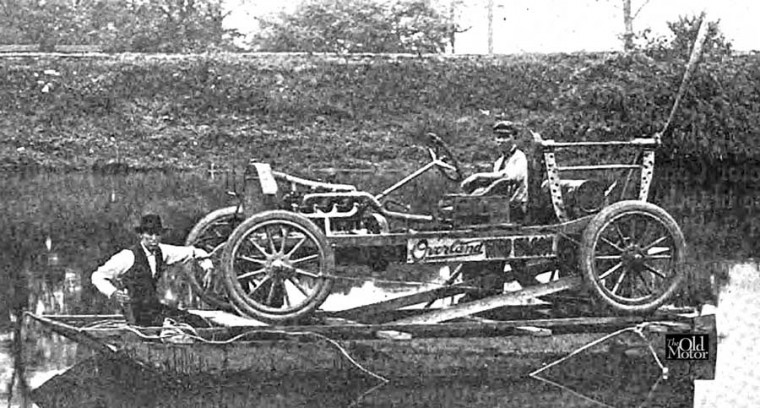 Overland "Wind Wagon Catamoran" testing in Indianapolis – Automobile Topics Sept. 24, 1910.
The story did not end there and actually started earlier with the building of the Catamoran and its testing (above) on a small barge on the White River in Indianapolis. This water craft may have chosen because other period press reports mention that the machine could not be driven on the road much at all because it frightened horses. An Automobile Topics reporter tells of the Catamoran's initial testing (below).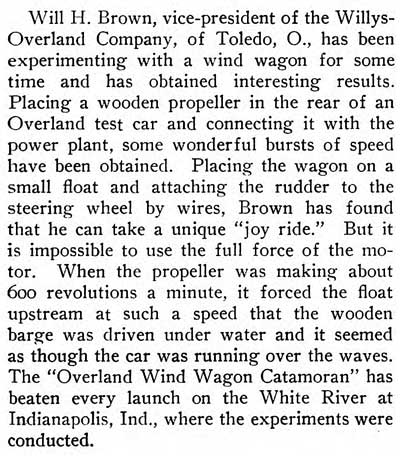 The following year the Motor World January 5, 1911, issue featured an image of the Wind Wagon back in Indianapolis near the factory on the ice. Workers built skates out of wood and iron that took the place of the wheels that can be seen lying on the river bank. Overland officials were expecting that the craft would be the fastest machine on ice that winter.
Note the lack of rear springs and the bracket between the frame and the axle that was necessary because of the location of the propeller and the fact that only cleared the ground by 6-inches.
The Overland on the ice in Indianapolis – the "Motor World" January 5, 1911.