At Art Lacy's birthday party in 1947, he bet a friend five dollars that he was going to put a B-17 Flying Fortress WWII surplus bomber on top of his gasoline station. In a larger-than-life move, Lacy, who had never flown a B-17 before bought one in Oklahoma for thirteen-thousand dollars, and crash landed as a result of a landing gear failure while learning to fly it alone with a manakin as his copilot. After buying a second one and with the help of friends and a case of whiskey for bribes he was finally able to fly it back home to Portland, Oregon.
After cleverly overcoming further hurdles he was able to move the flying machine to his gas station, located south of the Portland in Milwaukie, Oregon. After mounting it above his filling station, it served as an attention-getter and tourist attraction for almost 64-years. But there is much more to be learned about the colorful tale at The Art Lacy Story.  There you can also take in more information about the airplane, and the B-17 Alliance Group's efforts to restore it.
The image is courtesy of the Michael J. Semas Collection.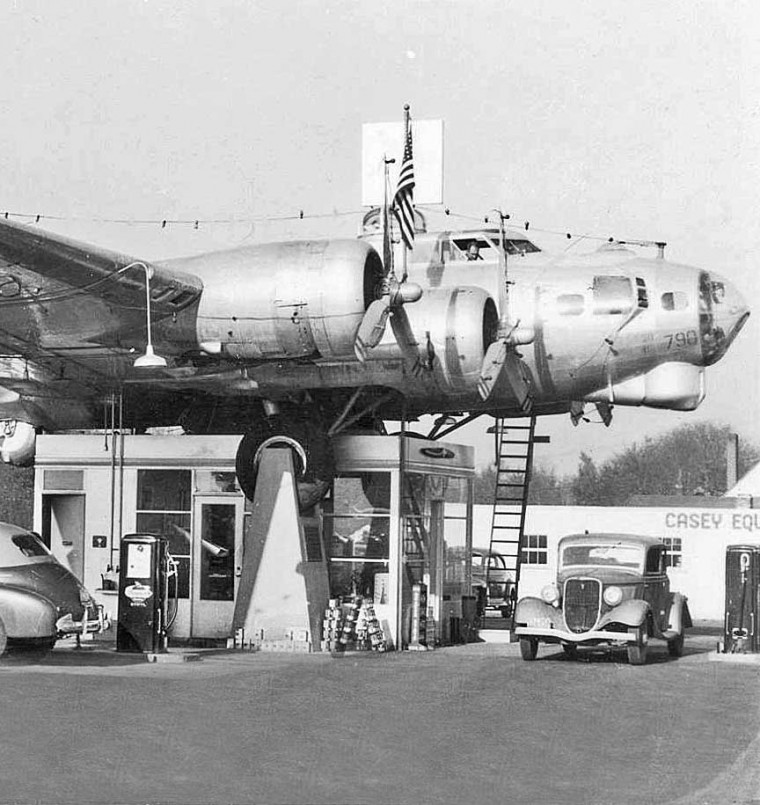 This pair of enlargable images shows more detail of the construction of the station and the B-17. Steep wooden stairways were built to allow customers to tour the inside of the airplane.