Updated – While we admit that it may have been 30-years or so after the first vehicle in the world commenced to travel on a thoroughfare – this 1909 Pipe depicted (below) and the party that accompanied it look like they and the automobile had just landed here from another planet.
Our contributor and colleague Ariejan Bos of the Netherlands recently acquired a document dated December of 1909 with this pair of images we share with you today. The automobile is a 1909 Pipe built by the Belgian automaker that produced their first vehicle in 1900. The chassis with a temporary body was on the way from Brussels to Paris. Ariejan believes it was headed to the French city to have the body constructed.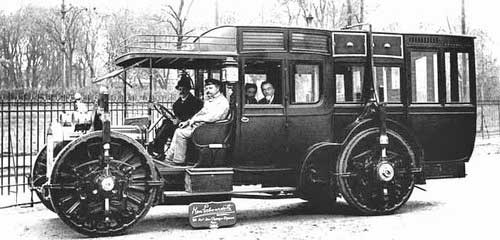 Photo taken after construction with Henri Laboudette plaque.
Update – If the Pipe pictured (below) is the same chassis as used for Pipe limousine or bus shown in the lead image courtesy of the French National Museum, Robbie Marenzi has determined it was bodied by Henri Laboudette.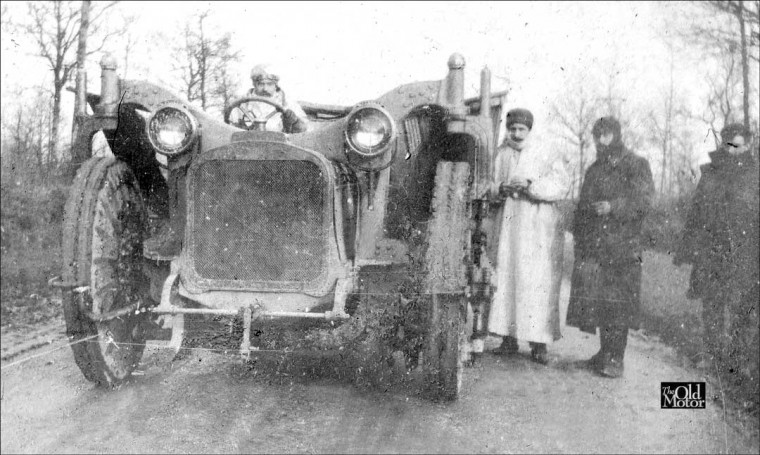 1909 Pipe equipped with Heilmann's Compound Spring Suspension on a journey to Paris, France.
The vehicle is equipped with Jean-Jacques Heilmann's Compound Spring Suspension that afforded for a very smooth ride. Early pneumatic tires were subject to frequent punctures and blowouts; this design used large diameter double solid rubber tires that eliminated the problem. The last photo in the post is a closeup view of this suspension system.
You can look back to an earlier article covering Heilmann's Compound Spring Suspension patents, and vehicles to learn more. In a previous article by Ariejan Bos, you can learn more about the elastic or resilient wheel, early tire problems and why this amazing automobile used hard rubber tires. Learn more about the Pipe automobile here.