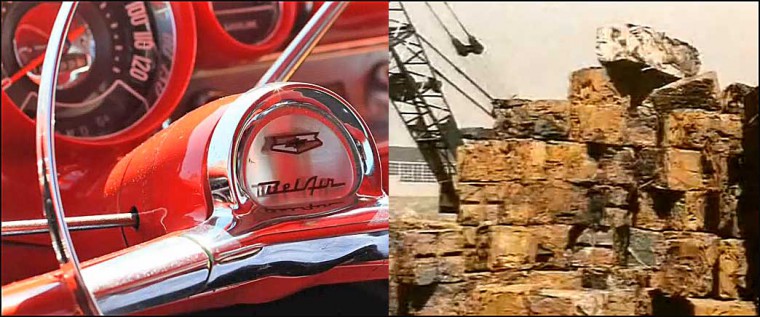 We have not abandoned the popular Five Fun Kodachrome Images Series that now contains over 200-photos. Instead, a break is needed for a week or so after a forty-two episode run to seek out more of same type photographs that have been featured in the past.
In the meantime, today we are featuring two interesting videos that are related to the 1950s and '60s period. Juxtaposed together, the pair show a one-owner 1957 Chevrolet Belair and a wrecking yard filmed in 1961 showing some of the ones that did not make it and were scraped.  
The first video features a West Bend, Wisconsin woman, Grace Braeger, who tells the story of buying a 1957 Chevrolet salesman's demonstrator from Mike Balistierri at King Braeger Chevrolet in Milwaukee on October 15, 1957. She explains her old-fashioned values that include taking care of things, learned during the Great Depression from her family. This attitude and a late-1980s restoration have kept the Belair four-door hardtop in excellent shape over the years. The video courtesy of the Milwaukee-Wisconsin Journal Sentinel was produced by Michael Sears in 2o11.
In total contrast to the Grace Braeger Chevrolet story, this second video filmed in 1961 might be a bit distressing to many car collectors. The production by an unknown filmmaker at an unidentified location, shows an engaging visual story of junked cars upon arrival at a scrapyard. After being processed the automobiles are crushed into bales and stacked up like firewood before entering the US steel supply once again.
As always, let us know your thoughts and anything you can add to either story.