Motor Tires Inc. opened a brand new Goodyear tire store at West 2nd Street and South La Brea Avenue, in Los Angeles, CA, in 1931. During this period most Goodyear tire operations in the area that offered gasoline displayed one or more of the Goodyear Blimps symbols over the gas pump island.
The Company launched is first blimp (non-rigid airship), the "Pilgrim" in 1925, and the symbol soon caught on in the public's eye. In the early 1930s airplanes, dirigibles and zeppelins were very popular and since that time the tire maker has had a small fleet of them.
Motor Tires Inc. being an independent, offered four different pumps and brands of gasoline at this location, left to right are, Shell "40," Gilmore "Blu-Green," Union, and "Motor Tire." An oil dispenser is in the middle of the pumps. In addition, it was a fully equipped facility that offered the following services: brakes, lubrication, tire vulcanizing, battery and electrical repairs.
Under the image of the complete facility that follows are three more enlargable photos showing the interior bays of the service facility that had just opened. The building has not survived and today a parking garage is on the site.
You can view over 175 more old service stations here. The photographs are courtesy of the USC Libraries.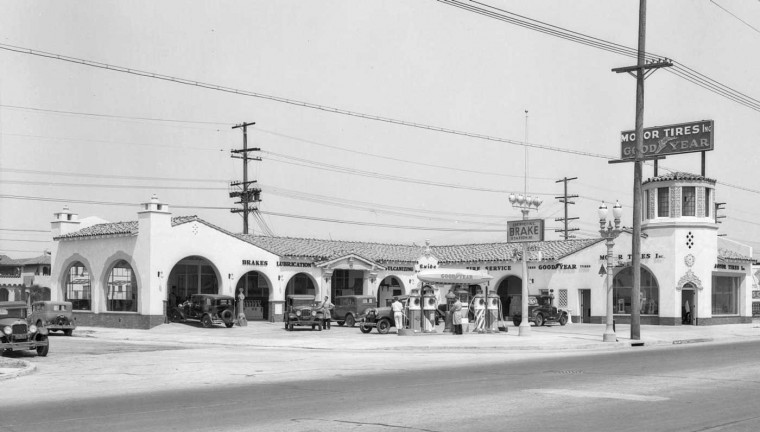 Motor Tires Inc. new Goodyear tire store at West 2nd Street and South La Brea Avenue in Los Angeles.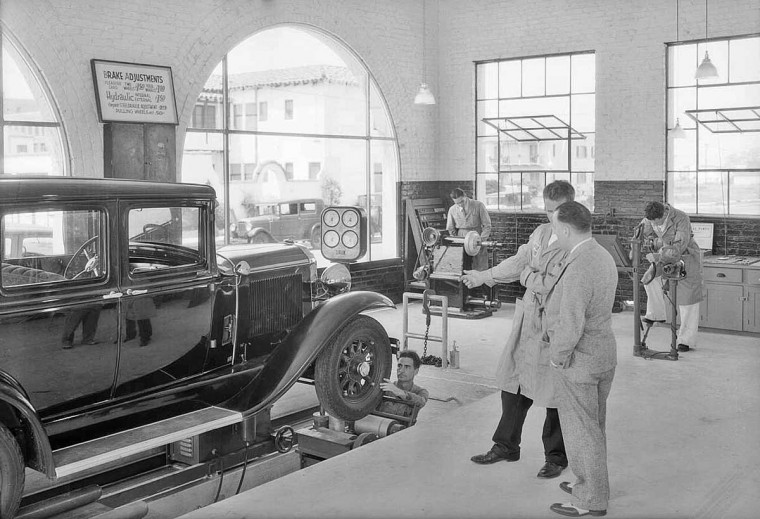 The brake service shop with a Johns-Manville "Brake-O-Meter" that spun both wheels on an axle and made brake adjustments more precise. In the background are, a brake drum turning machine and a brake lining riveting machine.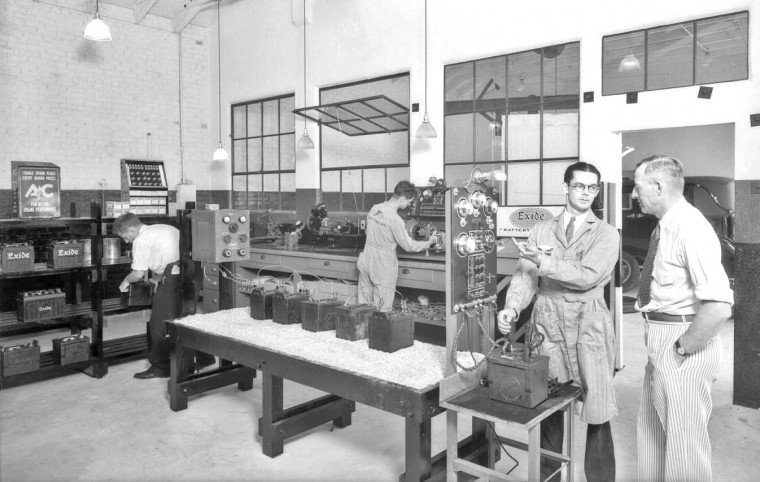 The Electrical Shop that tested, serviced and sold Exide batteries and repaired starters and generators.
A modern lube bay that is quite like today's "10-minute" facilities other than it is not a drive-thru.