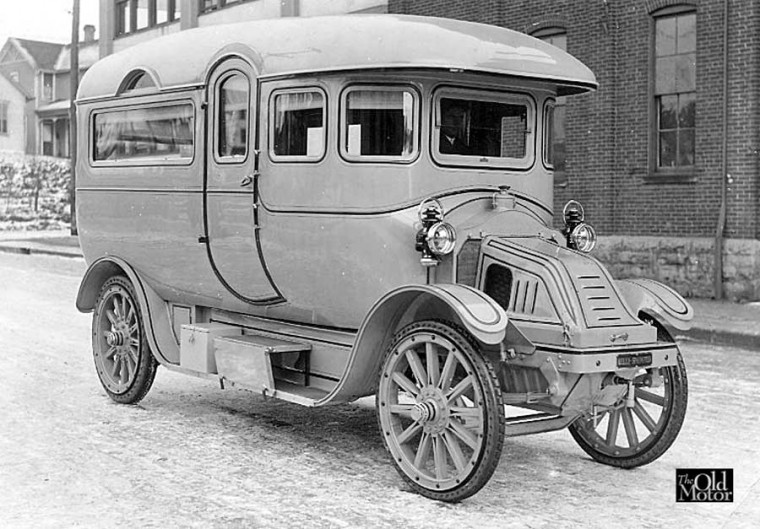 Looking like it is straight out of a Jules Verne novel this Kelly-Springfield limousine-bus with coachwork by Irvin Robbins & Company must have certainly stopped people in their tracks the first time they laid eyes on it.
The truck company was located in Springfield, Ohio, and the coachbuilder in Indianapolis, Indiana. The chassis is a K-30 one-ton model that sold for $2000. How much the coach cost the Olympia Hotel of Winnipeg, Canada, we can only guess at, but it was probably money well spent considering the publicity received because of it.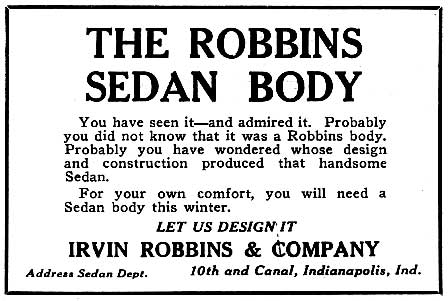 Irvin Robbins & Company advertisement the "The Motor Age" September 1913. The old line firm was in operation between 1885-1919 and followed by the Robbins Body Corp. 1919-1928.
The photos of this extraordinary limousine-bus are courtesy of Bruce Balough, whose grandfather Charles Balough designed the Brotherton car in 1911. He later used the same basic design and styling for the Kelly-Springfield truck while working for the Company as the Chief Engineer. Look for an article on both vehicles soon, and in the meantime learn a bit more about the Kelly truck in an earlier post.
The following excerpt is from the "Like Kelly Does," an in-house magazine that covered news about the Kelly-Springfield trucks:
"The most handsome thing of its kind that ever came to Winnipeg. This is the consensus of opinion in the Manitoba metropolis regarding a limousine motor bus mounted on a one-ton Kelly chassis which was recently delivered to the Olympia Hotel of that city. The sale was made by Joseph Maw & Company, Limited, Manitoba distributors of Kelly trucks.
The photographs give an excellent idea of the appearance of this limousine bus. It is safe to say that it is one of the finest specimens of the coachbuilders' art which has ever been turned out. The limousine body was built by Irvin Robbins & Company, of Indianapolis.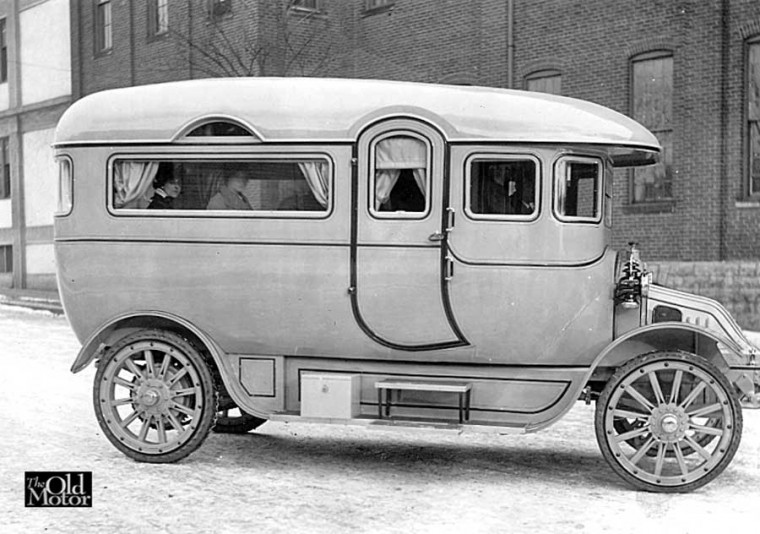 The aerodynamic streamline styling by the Irvin Robbins & Company is along the line of some of the work of coachbuilders in France and Europe began building as early as 1910.
The bus has a seating capacity of fourteen passengers besides the driver. It is mounted on a Kelly one-ton chassis with a 144" wheelbase and 12' loading space. The body is built of aluminum and painted a French gray with green beading. The interior finish is in harmony with the exterior, and the upholstering is of gray, glazed leather.
The chassis is equipped with electric lighting and starting outfit with Goodyear Motz cushion tires. It is safe to say that this is probably the finest body ever mounted on a motor truck chassis. That this magnificent job has excited considerable comment on the streets of Winnipeg goes without saying."
                                          A rear view of the interior of the limousine-bus.