Today is the 57th running of the Daytona 500, and the occasion has been chosen to look back at the last race on the beach in 1958 and the first 500 in 1959 held on the new super speedway.
Paul Goldsmith driving Smokey Yunick's 1958 Pontiac hardtop won the final race for sedans at Daytona on the sand. That year was also the first running of Nascar's short-lived convertible series, and most of the top teams ran two cars in the series.
The lead image shows the famous three-wide finish in the 1959 Daytona 500.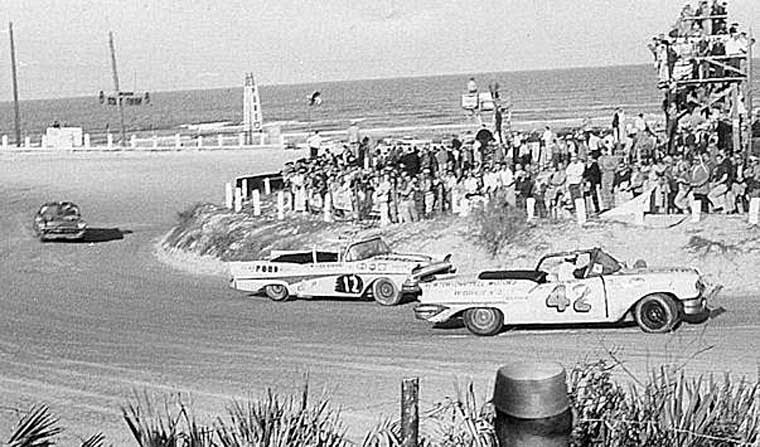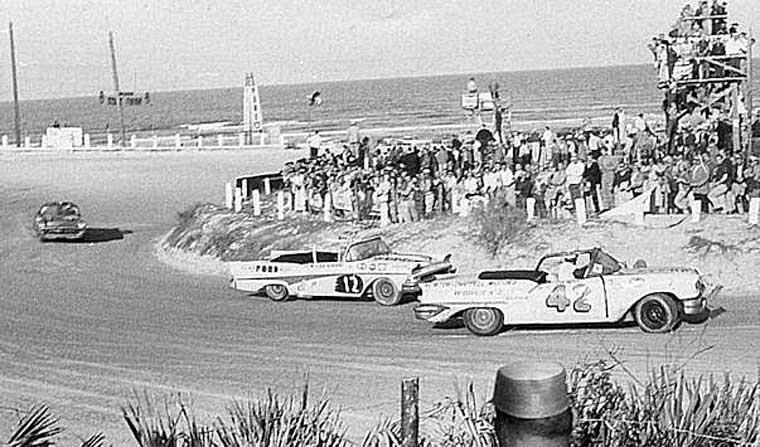 Lee Petty in the No. 42 Oldsmobile went on to finish 2nd in the 1958 convertible beach race.
The video (below) shows the action-packed 165-mile convertible race on the sand that lasted 1.5-hours. The cars were limited to a single four-barrel carburetor that allowed top speeds of 130 m.p.h on the straightaways and 60-70 m.p.h. in the turns.
Curtis Turner won the hard fought race while setting an average speed of 99 m.p.h. and recieved $4000 for his efforts piloting a 1958 Ford. Lee Petty finished in second place in his Oldsmobile, and Joe Weatherly took third in his Ford.
A video of the 1958 convertible race. The short-lived open cars were introduced to give race fans a better view of the driver behind the wheel.
A vidio of the first Daytona 500 in 1959 on the new high-banked super speedway.
"Big Bill" France's new 2.5-mile oval track with a 31-degree banking debuted 57-years ago in 1959 for the first running of the Daytona 500. The new facility with high banking was, at first, intimidating to the drivers, but the 200-lap race went smoothly and the caution flag was never needed.
The end of the race resulted in a photo finish – Joe Weatherly at the top in his No. 48 Chevrolet was a lap down, Lee Petty in his No. 48 Oldsmobile was in the middle, and Johnny Beauchamp's No. 73 Thunderbird was at the bottom of the track.
The race was too close to call, and Weatherly's car blocked the officials view of the finish. The winner was not announched for 72-hours until the lead photo from a news service conclusively showed that Lee Petty had won. Watch the action on the video above.
The images are courtesy of NASCAR.