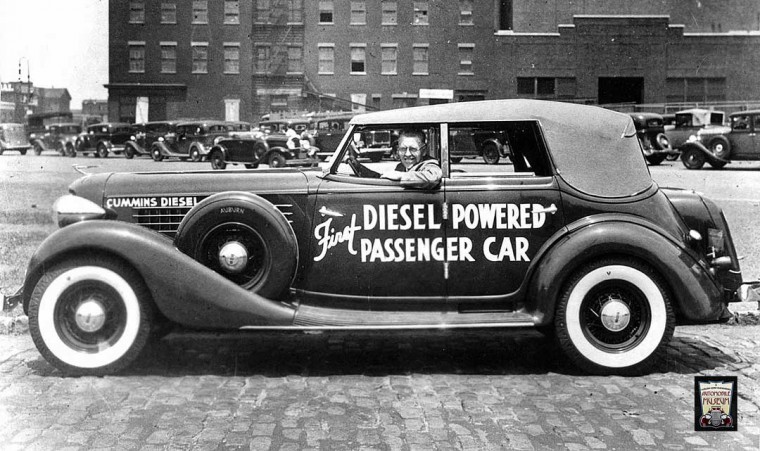 There is a good chance you have seen this photo before of Clessie Cummins posing in a 1935 Auburn 8-51 convertible sedan that he drove 3774 miles from New York City to Los Angeles in 1935; total cost of the fuel for the run was $7.63. But what you may not know is it was not the "First Diesel Powered Passenger Car."
And no it was not someone else, who built the "first" diesel car in the US – Cummins did the same thing in 1930 with a 1925 Packard roadster. It seems he must have forgotten about his earlier 800-mile run in that Cummins diesel-powered Packard from Indy to New York City to attend the New York Auto Show, and a later 1060 mile run to Daytona Beach that cost all of $2.00 for fuel. On both trips, he generated a large amount of publicity and while in Florida even went 80 m.p.h. on the hard-packed sand with the roadster. The two journeys helped in his efforts to continue with his development of the engine.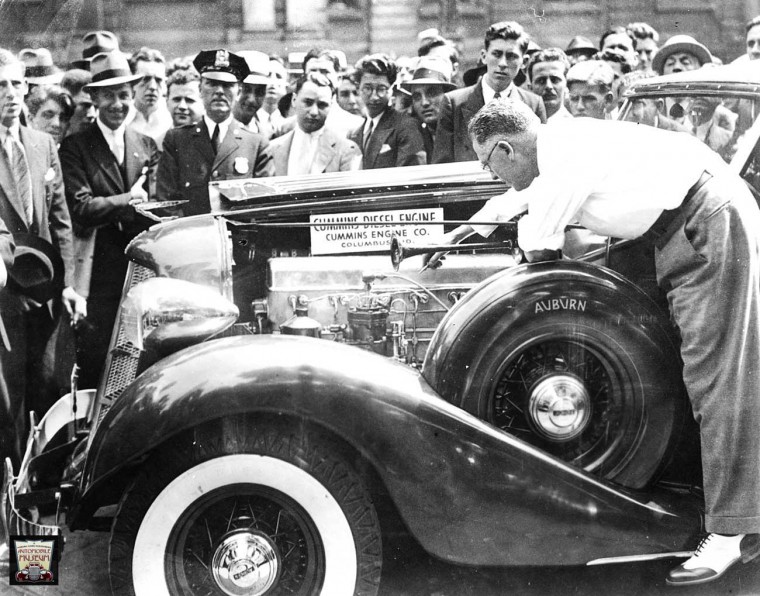 Not having researched this cross-country run in any depth before, a number of interesting technical details in a series "Automotive Industries" magazine articles in 1935 were uncovered about the engine and Auburn's involvement with it.
The six-cylinder Cummins unit was mostly made of Bohnalite alloy aluminum castings by the Bohn Aluminum and Brass Corporation and only weighed about sixty pounds more than the original Auburn motor. The 331.4 c.i. diesel had a bore and stroke of 3-7/8-inch by five-inch and produced 85 h.p. at 2200 r.p.m. The crankshaft was massive, and it utilized 7-main bearing journals that were 3-7/8 in diameter. The wrist pins were 1.5-inch in diameter.
The electrical system was heavy duty to deal with starting the high-compression engine, it used a 12-volt system with two six-volt batteries in series. The fuel and oil pumps, fuel distributor, and governor were all built in one unit made of aluminum.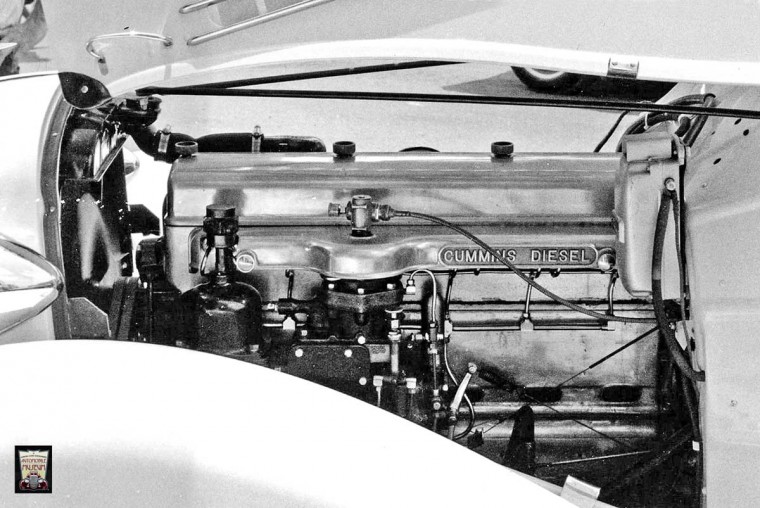 This engine is different than the cross country engine, it is in an Auburn, and may have been under going tests by the automaker. Courtesy of the Auburn Cord Duesenberg Museum.
The car used the Auburn dual-ratio rear axle with a low-speed ratio of 4:1, and a high-speed ratio of 2.65:1. Due to the extensive use of Bonalite for the engine, the standard 8-51 chassis did not require any changes to the springs, shocks or braking system.
The tie in with Auburn, which like all of the other marques in E.L. Cord's fading automobile empire also trying introduce new products, was the engine. After the transcontinental run was over, Auburn made an announcement stating that it was going to be offering a diesel-powered car within the next few months. The engine it chose to offer, but never did was Clessie's new lightweight diesel.
You can view two earlier articles about Clessie Cummins pursuits here. The images are courtesy of the Auburn Cord Duesenberg Museum.