Early in the 1900s, the Anheuser-Busch Brewing Company began using self-propelled trucks that were outfitted with the Company's own bodies built by an in-house Vehicle Department. By the 1920s this Department had learned a great deal constructing its own insulated and refrigerated truck and rail car units. Next the Brewer would turn to building promotional vehicles.
Some of the first skiff-like coachwork appears to have been introduced by Jean-Henri Labourdette as early as 1913. Conover T. Silver, a very successful car dealer in New York City had his own coach building shop and produced his first skiff-bodied torpedo touring car on an Overland chassis in the mid-teens. This led to Anheuser-Busch purchasing one and using it to promote the Brewer's "Bevo" near Beer.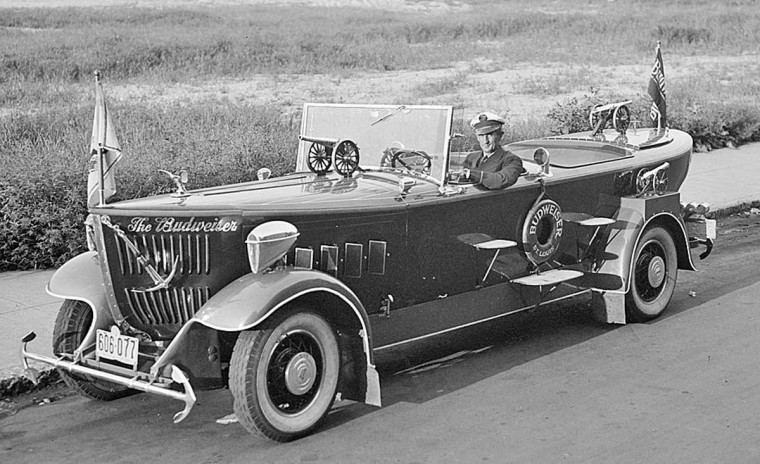 Anheuser-Busch soon put a louvered front on the "Bevo" Boat in place of the grille and later in the mid-1920s, another machine was built on a new chassis. Starting in about 1929 the first modern "Land Cruiser" was built on a Pierce-Arrow chassis. The earliest versions are reported to have a conventional flat transom (one has survived) that was followed by a curved and raked model as seen here. As many as three or four in total were constructed by the mid-1930s.
"The Budweiser" was photographed by Leslie Jones on August 19, 1931, and the image is courtesy of the Boston Public Library.