By Lee Stohr:
Three years after he constructed his first car, in 1906 Christie built this very attractive runabout trimmed with brass. It is hard to say exactly when this roadster first appeared, but it couldn't have been before 1906, as it has Christie's patented wheel rims; Walter produced these quick change rims in time for the September Vanderbilt Cup races.
In November of 1906, the runabout showed up at the Empire City Track, in Yonkers, NY, although it was not a contestant. As can be seen in the lead photograph above, this was a beautifully finished automobile. Like all of Christie's production cars, it had an inline transverse four cylinder engine, while from 1906 on, his racers used huge V-4 engines.
The ownership history of the roadster is almost a complete mystery. The only clue I've found is a very poor photograph in the "New York Times" in 1908 showing a Morton Seymour racing what appears to be this car in New Jersey. This automobile is not known to have survived, and appears to have suffered the same fate met by all the other Christies.
One page article about the Christie touring car and images in "The Automobile" September 13, 1906.
The September 13, 1906, edition of "The Automobile" magazine had a full page story on the "Christie Front Drive Touring car." This automobile also used the inline transverse four-cylinder engine design, similar to the motor in the first car he built in 1903. Rated at 50 h.p. it was a relatively normal F-head engine.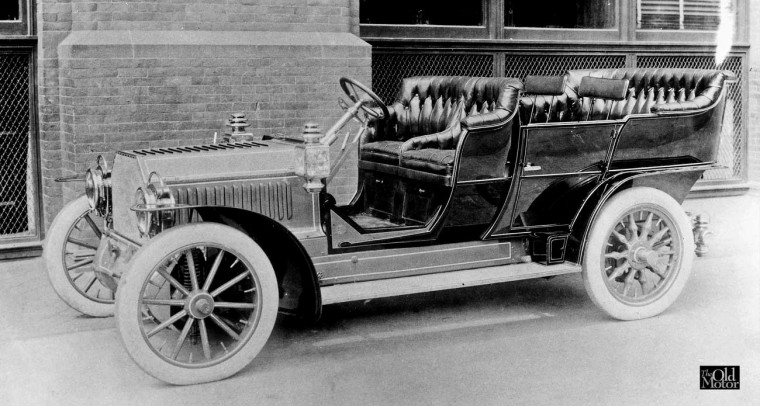 Side view of the 1906 Christie touring car, later sold to William Gould Brokaw an investor.
It was somewhat unusual for all the cylinders and heads of an engine to be cast in one unit at that time. Using a water jacket of copper sheet metal simplified the pattern and the foundry work, and allowed good access to the inside of the engine casting. The intake valves were Christie's favorite, automatic units that were also known as atmospheric valves and four per cylinder were used.
Christie chose an odd radiator location for the touring car. He used a conventional radiator, but placed it behind the four-cylinder engine, which blocked most of the airflow to the radiator. It's hard to imagine this working well without a proper fan, which apparently was not included.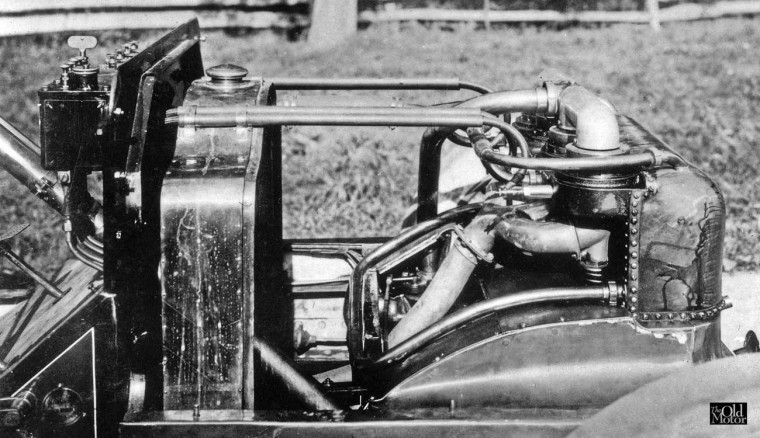 Dashboard, radiator and engine of the 1906 Christie touring car.
The touring car ended up being sold to one of Christie's more colorful investors, William Gould Brokaw; he was one of New York City's "rich and fashionable" men who spent his inherited wealth on yachts, cars and lengthy, highly publicized divorce trials. According to a quote from Christie himself, the touring car was re-bodied with runabout coachwork and a rumble seat for Brokaw to use on a 1907 summer tour in France.  What happened to the car after that is unknown.
You can look back at the earlier Parts of The Amazing Automobiles of John Walter Christie here.