Wombwell Auto Parts, located in Lexington, Kentucky not only sold auto and truck parts, but also ran a fully equipped machine shop. This type of operation was common up until the early part of this century when many machine shops closed due to most engines lasting the life of the vehicle and a changing market.
Wombwell's machine work probably came to them from repair garages as far away as fifty miles or more and the trucks that delivered parts would bring in the work and return it when finished. Back then most service outlets would sublet the machine work needed and reassemble engines at their facility. It was a money maker for the parts seller because in addition to the profits from the shop labor it usually sold what was needed to do the complete job.
Follow along below to view and learn about the major pieces of equipment in the shop. In addition other machines handled the more routine work like brake rebuilding, drum and flywheel machining, clutch rebuilding, king pin service and other shop work.
The lead image taken in 1931 shows, left-to-right, an early portable hand operated line-boring fixture and a valve service bench behind it.
You can take a look at an earlier article showing the Company's mobile tool sales trailer and tow car. Lafayette Studios photographs are courtesy of the University of Kentucky.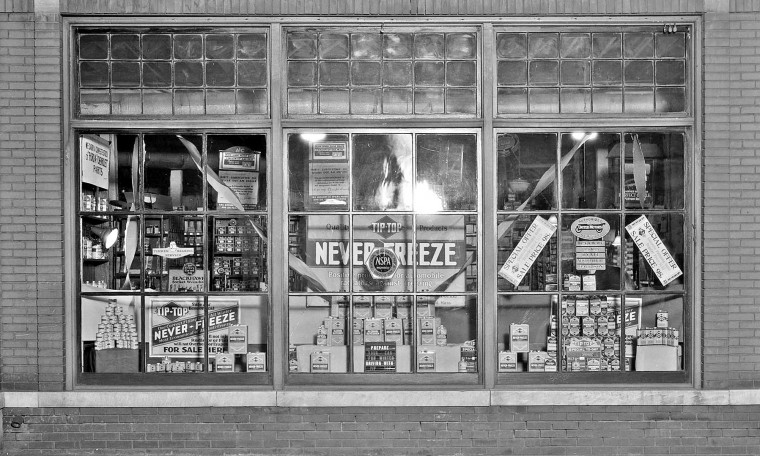 An autumn storefront display decorated with a "Never-Freeze" display and other sundries.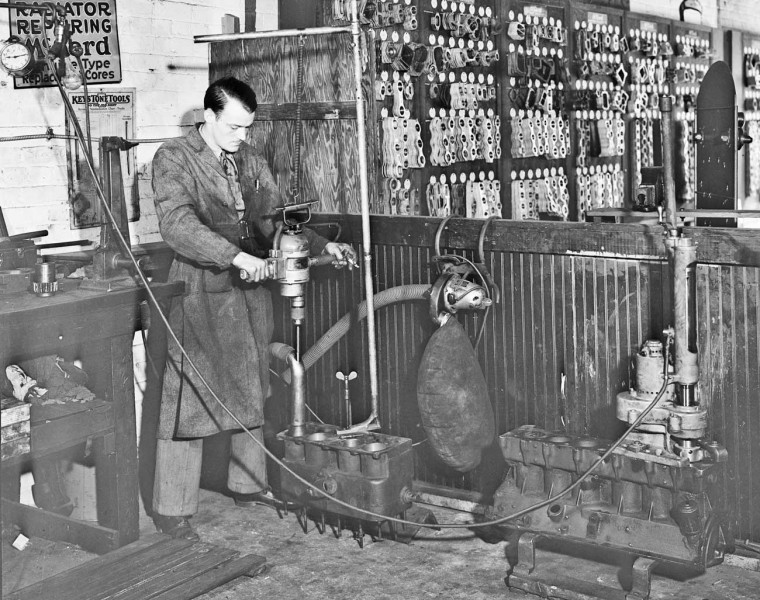 The shop was visible from the parts store and here a worker is using a dry cylinder honing system equipped with a vacuum to keep the abrasives and dust out of the shop. To the right a small six-cylinder block sits on a cylinder boring stand with the boring bar on top.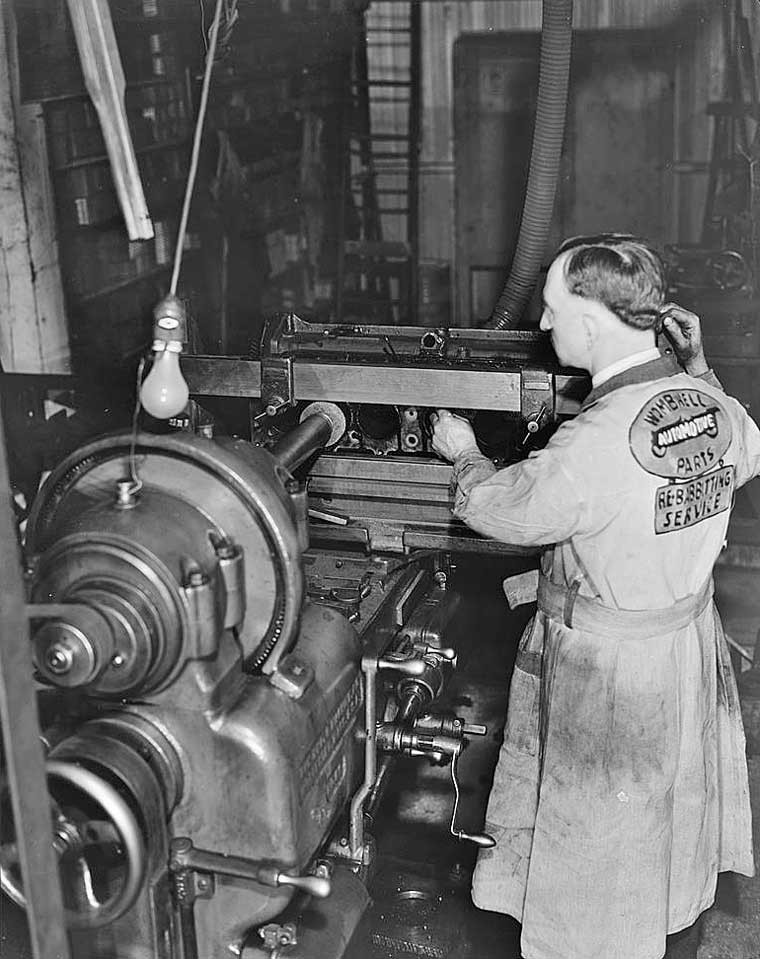 From the very beginning of the automobile until the early post-war days, high-quality cylinder bore machining was done on a more precise, but time consuming grinding machine. This method was replaced by fast and quick to set up boring bars, followed by wet honing with oil.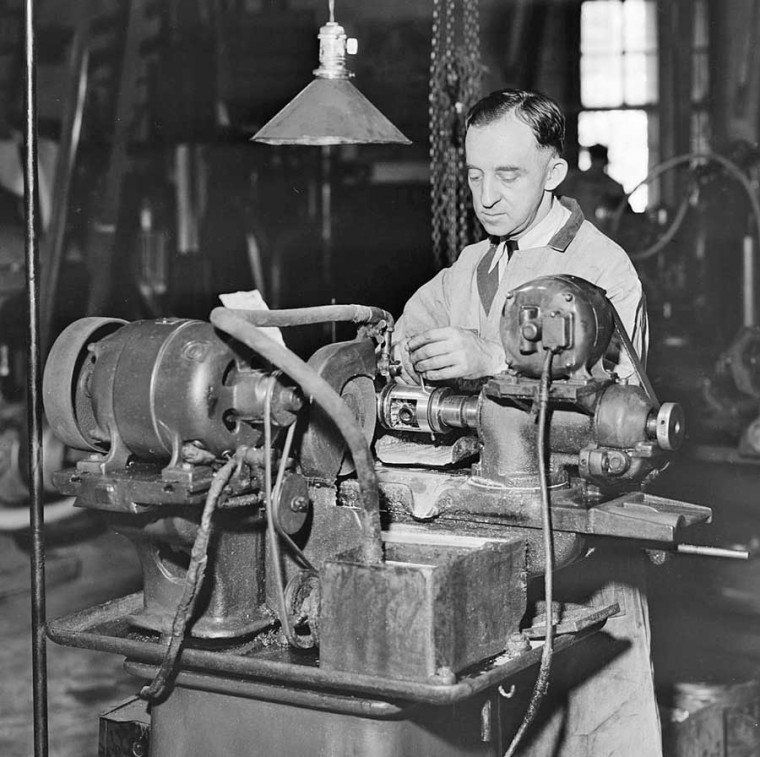 Instead of stocking a wide range of oversize pistons required for the different overbore sizes needed during engine rebuilding, piston grinders were used. Shops stocked semi-finished pistons and ground them to the size needed on a piston grinding machine.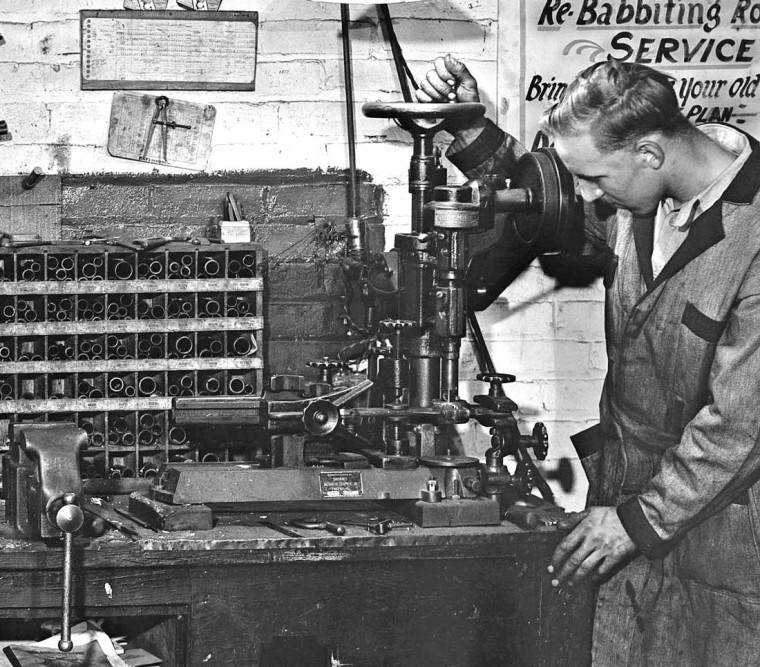 This pair of photos show a primitive Showmaker connecting rod boring machine above used for boring re-babbitted rods. Below from the far left are: three gas-fired babbitt pots and a pyrometer on the wall used for monitoring babbitt temperature, in the center is a rod pouring fixture, and up on the wall in a rack are different sized babbitting molds.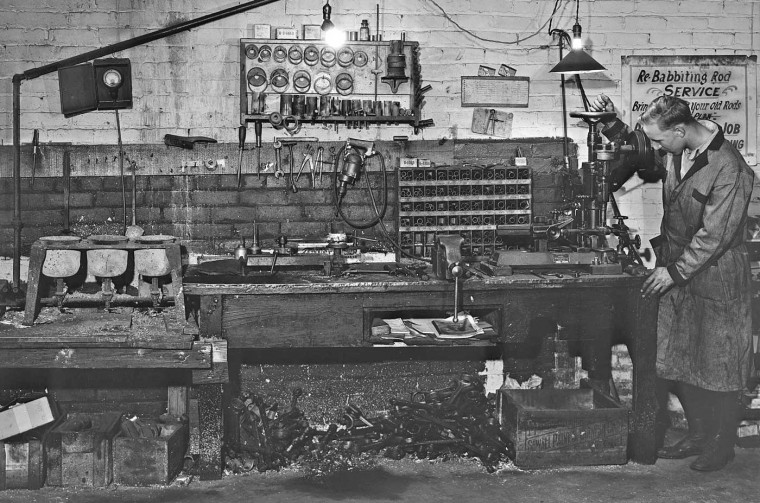 Crankshaft grinding was needed on most engine overhauls due to lack of good oil and air filters that allowed dirt to cause premature wear. This Landis grinder is driven by two belts, the left to rotate the crankshaft and the right-hand one to turn the grinding stone at a very high speed.