It is aways a good learning experience to take an occasional look "Across the Pond" so to speak to get a fresh perspective on automobiles and learn how they are designed, and constructed in other countries. Today we travel to Retromobile held this past winter in Paris, France to view a 1947 Alamagny Rhomboid.
French engineer Marcel Alamagny designed and built one in a series of these peculiar automobiles in 1947 that use four wheels placed in a diamond pattern. Two wheels are on a common axle in the middle of the car, powered by a small Simca four-cylinder 569 cc engine and transmission. One of the other two wheels is located at the front center and used for steering, and the rear wheel is free to pivot and follow it.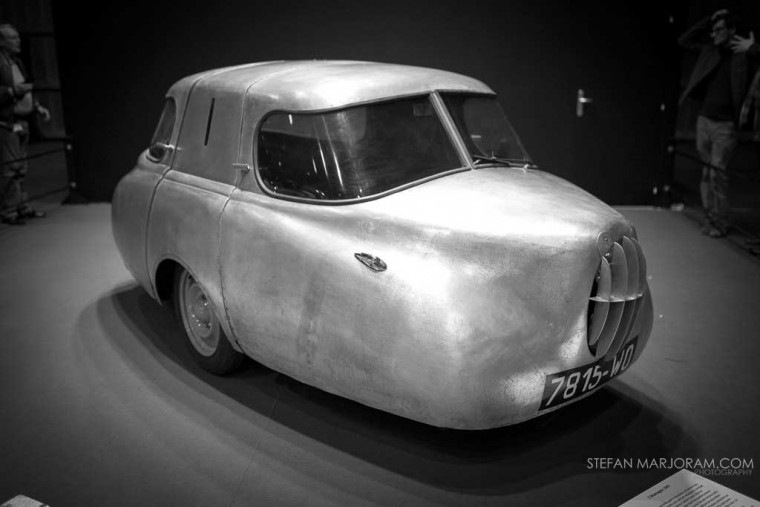 Front view of the four-wheeled Alamagny Rhomboid and aluminum coachwork. The front and rear passenger sections are hinged for entry and the separate center section contains the drive train. 
The front and rear portions of the aluminum coachwork are identical and hinged to open at the edges of the center section. The rear seat passenger has a view of what is behind the machine. Like many early postwar cars built in Europe and the UK, high fuel mileage and maneuverability in cities was an important consideration.
The images are courtesy of photographer, filmmaker, and artist Stefan Marjoram. The video below showing many of the Rhomboids produced was shot at Retromobile 2016 and is courtesy of Goodwood "Overdrive Classics" and includes this car and the later versions of the unusual automobiles.