Other than a few individuals, the antique car collecting hobby did not get started until the early-1930s. Samuel E. Baily of Bala-Cynwyd, PA, is considered by most on the East Coast as being one the first individuals to restore a car in 1935 (an early Pierce-Arrow.)
Smith Hempstone Oliver was another collector, who attended the old car meets that began during the mid-1930s in New York, Pennsylvania and New England. He also hunted for antique cars in his spare time and went on a number of excursions with fellow collectors looking for and picking up automobiles they had purchased. Along with him went his trusty camera to record the occasion.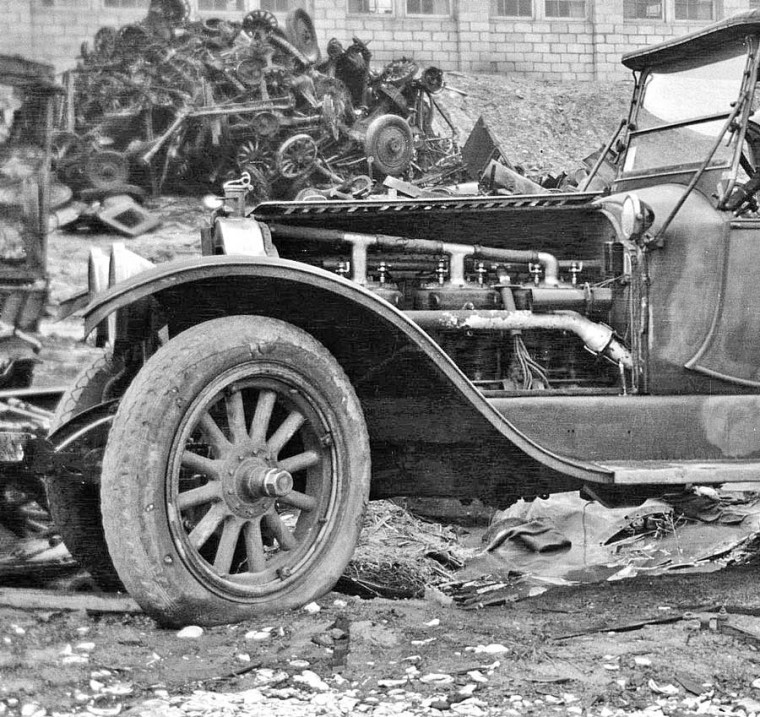 View of the large Packard 2-48 525 c.i. T-head engine.
The circumstances behind why this 1913 Packard 2-48 Roadster was in a junkyard, and when during the 1930's Oliver took these photos is not known. The Packard may have been converted into a roadster with modernized fenders added and the windshield angled back to the rear. View 1913 factory photos that include the Packard 2-48 in our earlier coverage.
The photos are from the Smith Hempstone Oliver collection courtesy of The Revs Institute Research Library.