The lead image shows a staged parade of Aut Swenson's "Thrillcade" passing through downtown when it was performing in Springfield, Missouri in the mid-fifties. The thrill show used cars, trucks and motorcycles in an act that followed the Midwestern fairgrounds circuit north of its headquarters in Dallas, Texas.
The men in the troupe drove the vehicles in the shows and female daredevils holding on to a substantial strap performed on platforms on top of many of the vehicles.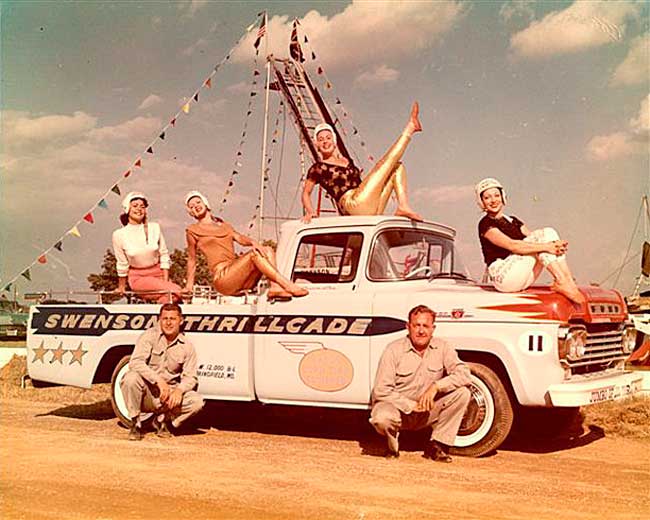 The Kaiser-Frazier Corporation was connected with the Show for a period in the early-1950s by the use of its cars. The Henry J was named after Henry J. Kaiser – the upscale Frazier was named after Joseph W. Frazer a co-founder of the automaker.
Ford had a longer-term association with the "Thrillcade" act, starting as early as 1951 with the automaker's sedans. The lead image shows 1956 Ford models, and its trucks were used as early as 1958-'59; a later photo exists showing the use of the Mustang in the mid-1960s.
In the 1950s, the Show featured a triple Loop the Loop "Death Car Leap" where a manned gravity-powered small car descended a steep ramp and did a triple spin at the bottom followed by landing on its wheels. The act was transported around the circuit by a tractor and semi-trailer and is seen in the image above via behind the Ford pickup truck.
Information about the "Thrillcade" is scarce and exactly when it first started and how long the act continued to tour at this point is not known. We hope readers from the Midwest can tell more about Swenson's Traveling Show.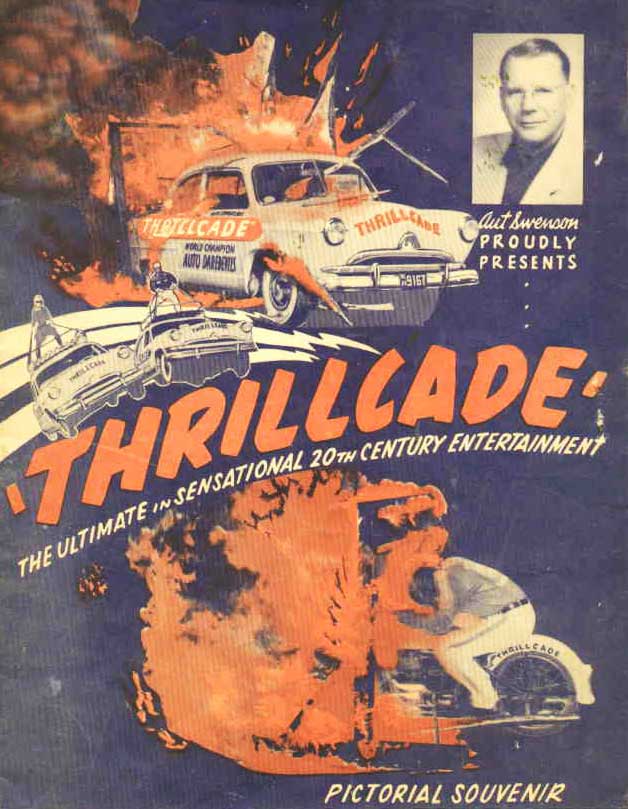 November 29, 1952 "Billboard Cavalcade of Fairs" ad above shows the use of the Henry J – Another ad below in the same publication that year appears to show the use of both of the Kaiser-Frazier Corporation's cars.