A. G. and Henry J. Peters opened their first shoe store in a tiny twelve-foot square space located in Oakland, CA in 1913 – it was called the "Hole in the Wall" and had ten-thousand dollars in sales for the year. Fast forward to 1920 and sales totaled half a million dollars a year from four different locations and the brothers' sales slogan was "Give the Public What it Wants, When it Wants It."
Research uncovered an article in the "Boot and Shoe Recorder" Nov. 19, 1921, issue about the brothers' success and details about the car. "The truck body is a scale enlargement of a popular size 11 1/2 B men's shoe used as a model. This huge shoe is mounted on a Chevrolet 490 chassis and is painted a popular cordovan color which sets it off to advantage against the white frame. However it is more than an advertisement for it is a highly practical delivery truck."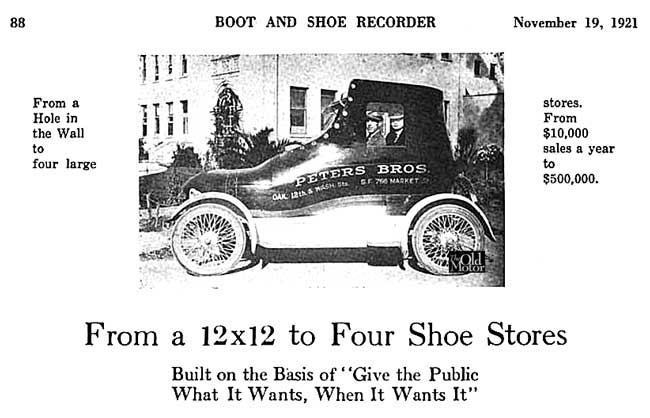 "Boot and Shoe Recorder" Nov. 19, 1921.
Another photo of this "truck" exists that was taken in front of a Chevrolet dealership that apparently sold the chassis to the Brothers and possibly had a hand in getting the shoe coachwork built. Other custom features include: the fenders, splash aprons, step plates and wire wheels.
The enlargeable photo from a glass plate negative is courtesy of Gordon Morales via the Flicker Automobile Identification photo pool.