Updated – Readers Robbie Marenzi and Chris Paulsen have indentifed the car in the lead image as a Tourist that was built in Los Angeles, California.
It has been a while since we have featured an early mystery car and today's post contains a pair of circa 1906-'08 thirty-forty h.p. models with attractive toy tonneau coachwork for our readers to identify.
The lead image taken in front of the Pleasant Valley Hotel Bar is titled "Waiting for a Drink". The setting is Coalinga, California, located in Fresno County in the Central Valley Region. Since the young man behind the is wheel wearing a chauffeur's hat and coat it is assumed that he is waiting for his boss or a party inside the watering hole having a liquid refreshment. The image is courtesy of the Michael J. Semas Collection.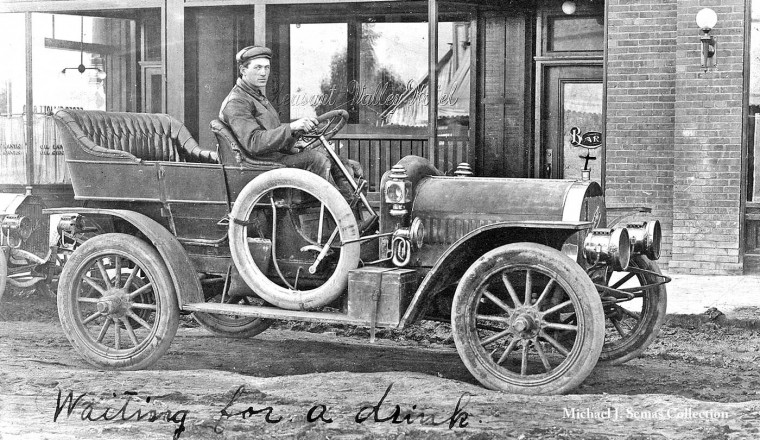 Update – The car is a C-F that was produced by the Cornish-Friedberg Motor Car Company located at 1233 Michigan Ave. Chicago, Ill, between 1907-'09. According to the "The Automobile" May 23, 1907, issue it was a lower-priced car powered by an L-head 30-h.p. engine backed up by a two-speed planetary transmission. It was first identified by contributor and friend Ivan Pozega, and later reader Richard Tubbs and Terry M found a photo of a slightly later model online.
Pictured below are a pair of views of another slightly larger circa 1906-'07 thirty-forty h.p. automobile also fitted with toy tonneau bodywork. The photographs were taken on a farm in an unknown location and show either the owner with his four children or a hired car and driver. Note the building in the background with a "sawtooth" roof and windows to admit extra light.
The "CF" oversized monogram on the radiator core is of the type usually added by an owner to identify a personal possession, but there is also a chance it was installed by the maker of the car. The photos are courtesy of Jim Benjaminson, via Cars of the 1900's to 1930's.