Death Valley is located in Eastern California near the Nevada border and despite its scenic beauty, it is both the hottest and driest area in the US, in addition, it is also the lowest point in the country at 282 feet below sea level. The combination of all of these factors turned it into a tourist attraction as soon as reliable automobiles and modern roads were constructed.
Baker, California, a small town just south of Death Valley is located on Route 15 and has long been a base for travelers visiting the attraction. The opening of nearby Route 66 between Needles and Barstow in the twenties brought many more visitors to the region. Today we take look at three facilities that catered to visitors in the area.
The late twenties lead image of the Death Valley Inn located in Baker appears to be a promotional photo with one of the popular Harley Earl designed 1927-'29 La Salles in the view with an attendant and dog in front of the gas pump islands. Standard Red Crown and Ethyl gasoline were available under the attached roof on the front of the Inn.
You can also view two-hundred more vintage service stations here. The photos are courtesy of the University of Nevada, Las Vegas.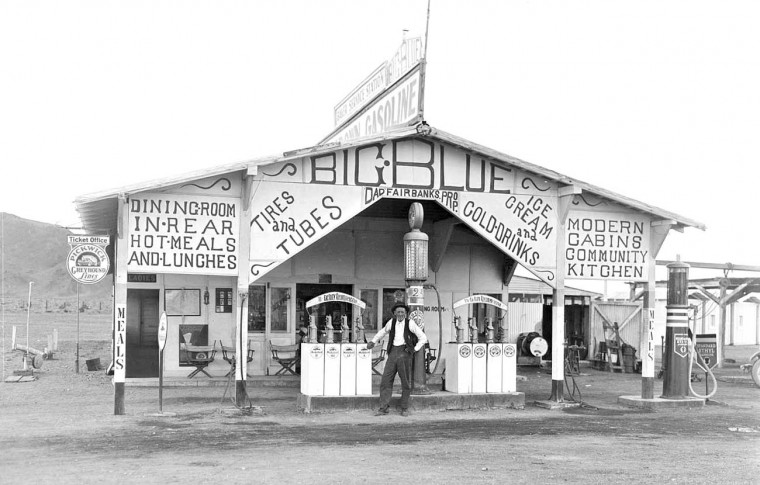 Dad Fairbanks the Proprietor Big Blue is seen posing at the front of his facility that sold Standard Red Crown and Ethyl gasoline. Tires and tubes were sold and serviced and some repair work was done at the attached garage on the right.

.

And finally we have an elevated view of Charles F. Brown's Chevron Gas Station and Cafe with a view of the desert scenery behind the facility.