One constant in the greater Los Angeles area is traffic, and this set of photos taken in the 1930s show that it was not a post-World War II problem although it did get worse at that time. The lead image and the enlargeable version below both show heavy traffic at Wilshire Boulevard and South Western Avenue circa 1930.
The area in an earlier time was part of Frank Pellissier's dairy farm. When the photograph was taken, Pellissier Square was being developed by the Henry de Roulet Co., and the firm's office can be seen on the right-hand street corner, which was later replaced with the Pellissier Building that houses the Wiltern Theater. The majority of the cars on Wilshire Blvd. were built in the late-1920s but a close look appears to show a couple that may be 1930 models and included in the mix are at least four luxury cars. The Pellissier Garage has also been visited here in the past.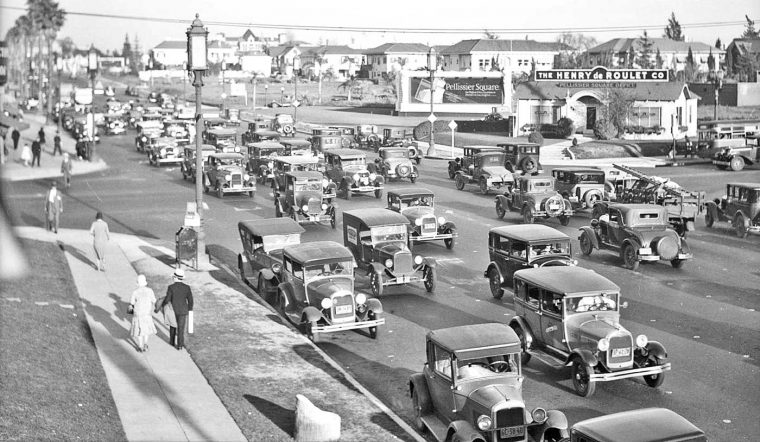 The view below is at the junction of Wilshire Blvd. and Vermont Ave. circa 1934. Beyond the Flower Shop on the far side of the street are a number of businesses with one displaying a sign for twelve bottles of Coca Cola for fifty cents. There appears to be a Chrysler products roadster (a blur) on the far-left with it's top and windshield down and at least three or four cars in the scene were built in 1934-'35.
Tell us what cars interests you in the photos courtesy of the USC Libraries.