When Ettore Bugatti set out to build what he called the finest car in the world, the Bugatti Royale, a car built for heads of state and royality he certainly did not economize on anything. The seven-thousand-pound prototype was fitted with a mid-1920s Packard touring car body on a 169.3-inch wheelbase chassis powered by a 15 liter (915.3) s.o.h.c. straight eight engine that produced between 275 to 300 horsepower; later cars received a smaller 12.7 liter (778 c.i.) engine
In 1927 he originally planned to construct twenty-five of the magnificent cars, but the Great Depression, which set in during 1930 ended that goal. All in all by the time 1933 came around he had only sold three of the six monumental cars. He kept the prototype seen below and two others that were spared destruction during World War II after being bricked up inside the family home in Ermenonville, in the north of France.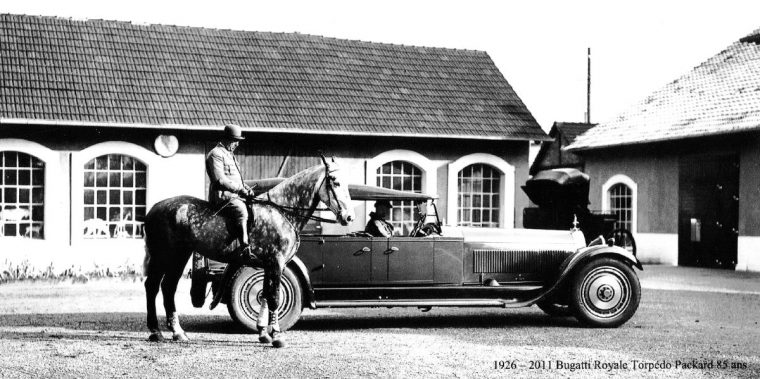 Ettore Bugatti on one of his horses when the prototype was photographed in 1926.
The prototype was later fitted with coachwork by Weymann in Paris, France as seen below and wrecked by Ettore Bugatti after he fell asleep at the wheel. It was rebuilt with a Coupé Napoleon style body and resides today in France at the Musée National de l'Automobile de Mulhouse that formerly was the Schlumpf Collection.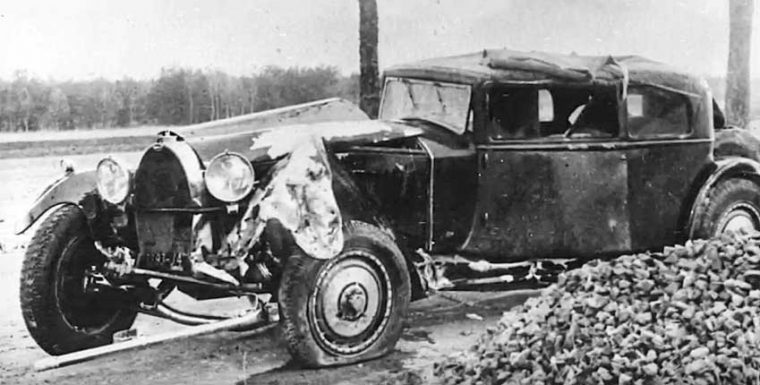 The wreck that resulted to the re-bodied prototype after Ettore Bugatti fell asleep at the wheel.
The lead photo in the post shows the unfinished recreation of the prototype in Molsheim, France on September 10, 2011, at the Molsheim Festival held on the former factory grounds. According to the owner and builders of the replica, Hevec Classic Cars in the Netherlands, the project began after the discovery of the frame in the US that was replaced when the crashed Weymann coupe was rebuilt. An existing replica Royale engine, a mid-1920s Packard touring car body and as many original parts as could be found were used in the recreation. Learn more about this huge undertaking in the recently released video below found via Arnoud Op de Weegh of the Netherlands.
The photos are courtesy of Daniel Lapp and are posted by Jaap Horst on his Bugatti Page which covers news and developments in the Bugatti world.