Today it takes only three hours and forty-five minutes travel the two-hundred and fifteen-mile distance between New York and Boston on four different interstate highways. One hundred and seven years ago it took racing drivers and other skilled professionals over three times as long to cover the same distance. The event was the 1909 New York City to Boston Endurance Run held on March 10, 1909. Guy Vaughn and his mechanic with a 30-60 Stearns are in the lead image at the start.
The run had four stops: New Haven and Hartford, CT, Worcester, MA, and the finish was at Mechanics Hall in Boston. Being run in the early part of March it was cold, and road conditions were poor, the "New York Times" in its coverage stated, "fourteen cars, drivers, and mechanics were plastered with the light yellow mud of the state of Connecticut at the finish."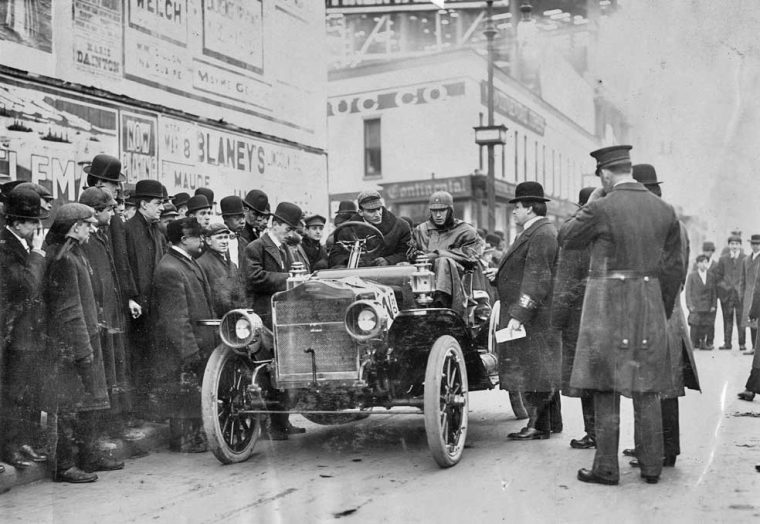 The Maxwell car at the start driven by C.W. Kelsey was one of fourteen cars that finished with perfect scores. Kelsey won the event the next day after the drivers drew lots.
It was not without incident either – racing driver Paul La Croix and his wife were detained in Hartford after being arrested for a fatality that happened when his car traveled through Fairfield, CT. He was unaware of what had occurred and not held responsible for the death; the couple were released and continued on to finish the run.
New York photographer T.E. Spooner of Spooner and Wells and two others riding in a car following the event were involved in a mishap when "their car overturned." One of the men "ended up in the Marlboro, MA hospital with back injuries, the other was treated by a doctor at the Marlboro Hotel, Spooner continued on in another car to Boston" to capture the finish on film.
The Spooner and Wells photos are courtesy of the Detroit Public Library.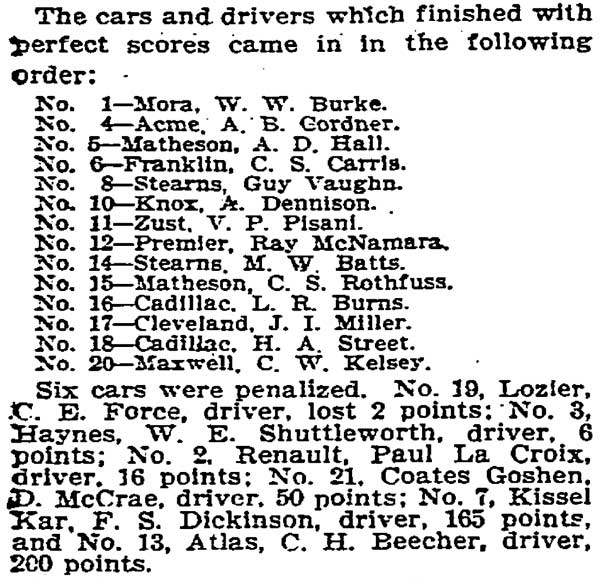 Finishing results in the March 11, 1909, "New York Times".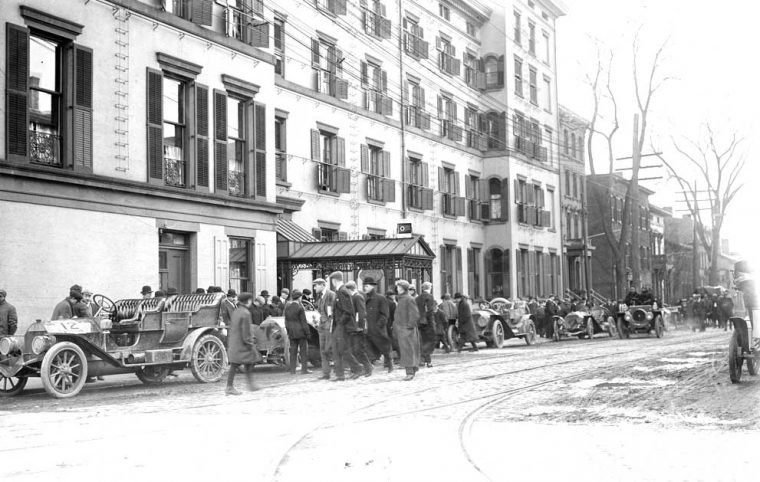 A morning stop at Moseley's New Haven House Hotel at New Haven, Connecticut.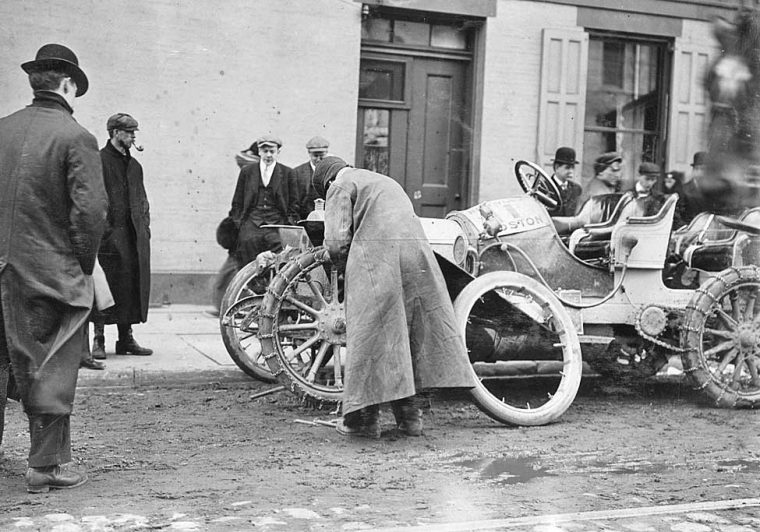 A tire being changed on the Italian Zust in New Haven. The studs seen on the rim fastened lugs inside the clincher tire that prevented it from rolling off the rim in the event of low or lost air pressure.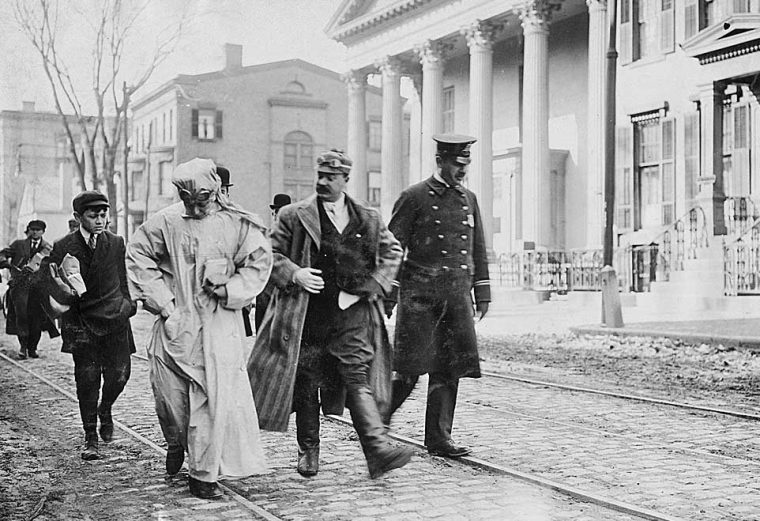 Racing Driver Paul Le Croix and his wife after being arrested in Hartford, CT.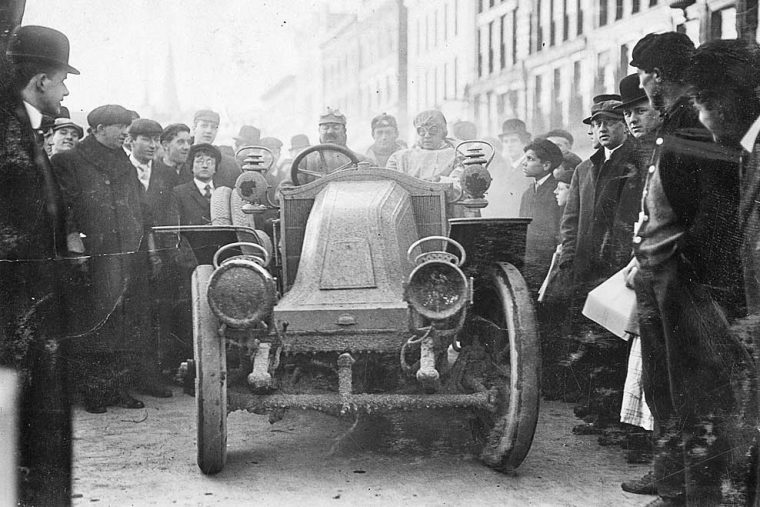 Paul La Croix and wife during a bad day in the Renault in Worcester, MA, in addition to the arrest, the loss of the lens in one of the Solar or Bresnard headlamps made the later nighttime driving difficult.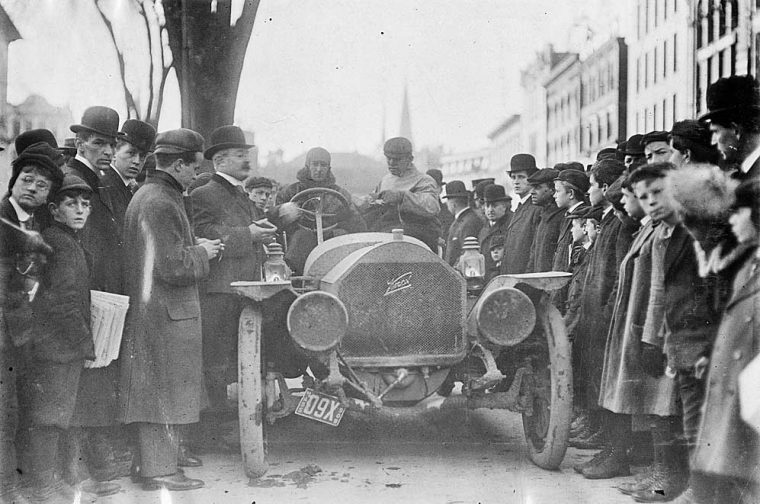 The home state favorite a Knox in Union Square in Worcester, MA.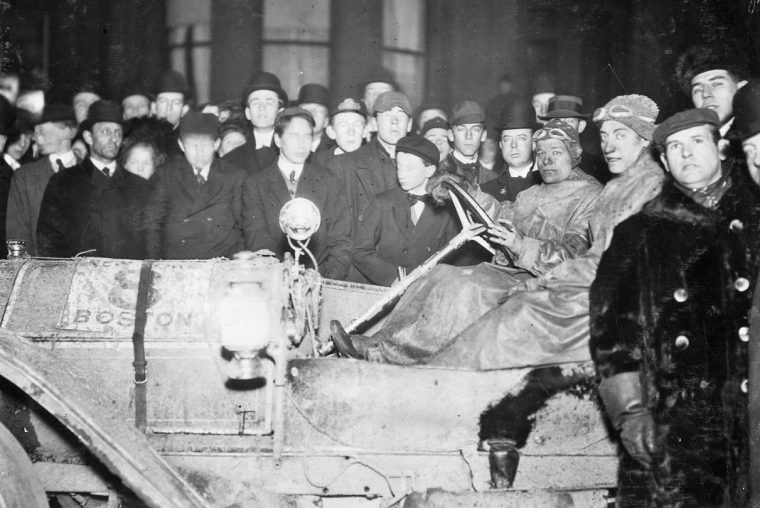 Guy Vaughn enjoying a cigar, and his mechanic in the mud splattered 3o-60 Stearns at the finish.