In today's fast-paced world, a manufacturer's product information is easily found online and on youtube in a matter of minutes. Back in the old days if you were looking for information about a South Bend lathe, often the first step was to find an advertisement in "Popular Mechanics," cut out the little request form, fill it out and send it in the mail and WAIT a week or two before the brochure arrived.
There was also another age-old alternative to actually see, touch, feel, and learn about products which were brought directly to you; a traveling salesperson and the firm's specially outfitted vehicle for viewing, and in many cases demonstrating the merchandise would drive right to your door.
This Chevrolet station wagon with specially constructed product displays and the salesman was photographed in 1951 at the South Bend Lathe Co. factory located in South Bend, Indiana. The lathe was fitted to a sliding table and just in front of it is an angled panel that has all of the optional equipment available for the machine displayed. Located in front of it behind the seat is a shaper, and a small drill press. If the car was equipped with an electronic inverter, or by the use an extension cord, all of the products could be demonstrated under power.
The photos below show the salesman's Chevrolet in its display mode, and following it a late forties Plymouth coupe outfitted with a smaller lathe in its trunk. We will return soon with a pair of special trucks that South Bend used to displaying more of its product line.
Tell us all about both the Chevrolet and the Plymouth shown in the images.
Be sure to also view a very unique postwar salesman's car with a clear dome, and a salesman's Ford outfitted with an operating demonstration engine. The photos courtesy of Jason B are via the Practical Machinist.
A South Bend Lathe Co. metal lathe above in a Chevrolet wagon, and below a shaper and drill press.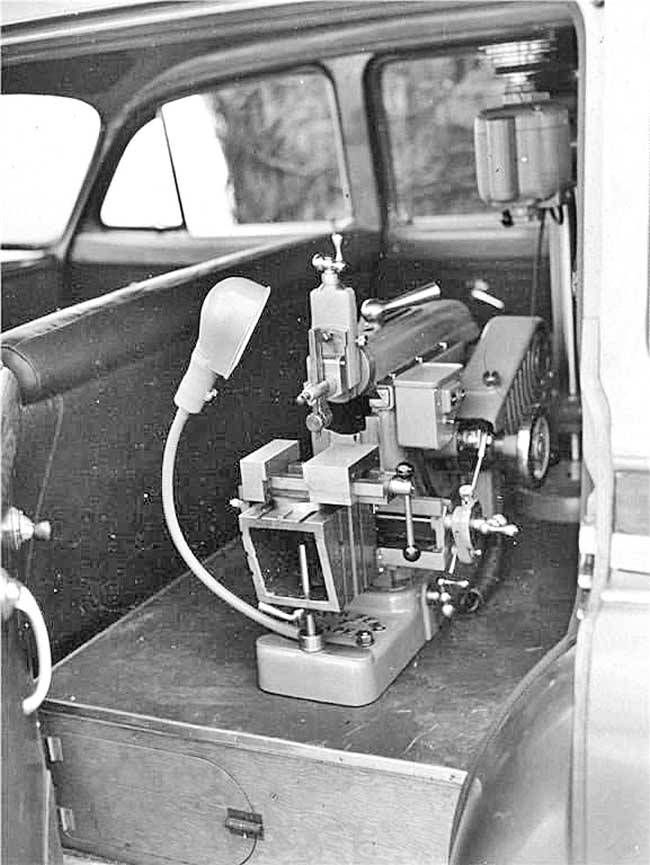 Below is a late forties South Bend Lathe Co. Plymouth Salesman's coupe with a lathe installed in the trunk.