Number sixty-five of the "Kodachrome Image Series" begins this week with a colorful vintage sixties image that was posted to trick your mind and help you cool down in this summer's heat. New England, where "The Old Motor" is located is in the middle of a heat wave this week, but not as hot as some of the other parts of the country. The lead photo is reported to have been taken in Glacier National Park in Montana – so let this image cool you down and tell us more about it.
As is the usual practice in this series, we ask our readers to tell us the year, make, and model of all of these vehicles along with anything else of interest in the photos. You can look back on all the earlier parts of this series here. The photos are via Americar.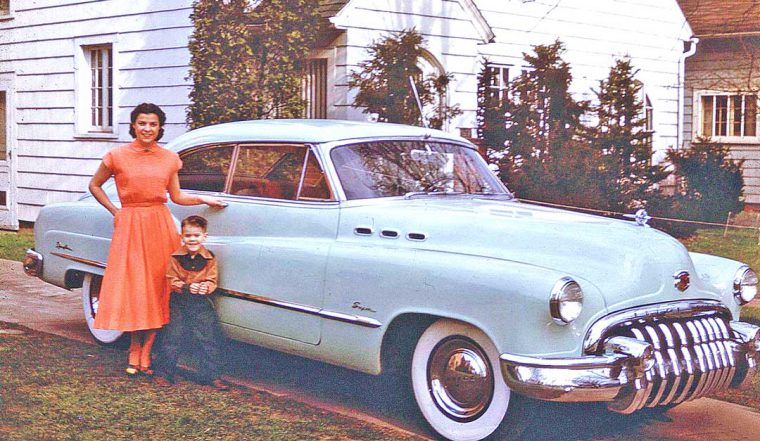 This pastel blue early-fifties Buick hardtop with the grill to beat all grills is in perfect color contrast to the mother's dress and child's cowboy shirt. Could this be a new to us used car moment?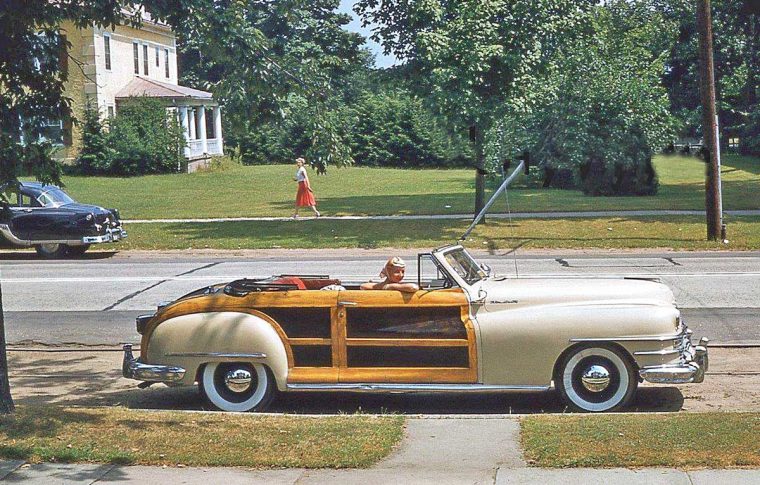 One of the very attractive and popular Chrysler Corporations top-of-the line convertibles.
Below is a photograph sent in by reader Earl Jamgochian showing family members and a late thirties sedan he would like to have identified. The photo was taken between 1939-1940, and his dad (standing, with hat) was either about to graduate from high school, or already had. His grandparents were taking him and his siblings to visit UC Berkeley. He ended up enrolling in UCLA since it was closer to home and after the war, he finished college at USC also in Los Angeles. He suspects the location the photo was taken at may be Pismo Beach. Help Earl by identifying which GM Division built this car and also its the year and model.