Frederick "Fred" Dibnah, entertained millions of people worldwide in a very popular series of programs titled "Made In Britain" that was televised by the BBC and produced by The View from the North.
Fred was born in 1938 and died in 2004 only a few weeks after he finished this twelve-part series. Growing up in Bolton, Lancashire, England, in a city filled with textile mills with tall masonry chimneys, and coal-burning boilers that powered steam engines, he became fascinated by steam power as a youth.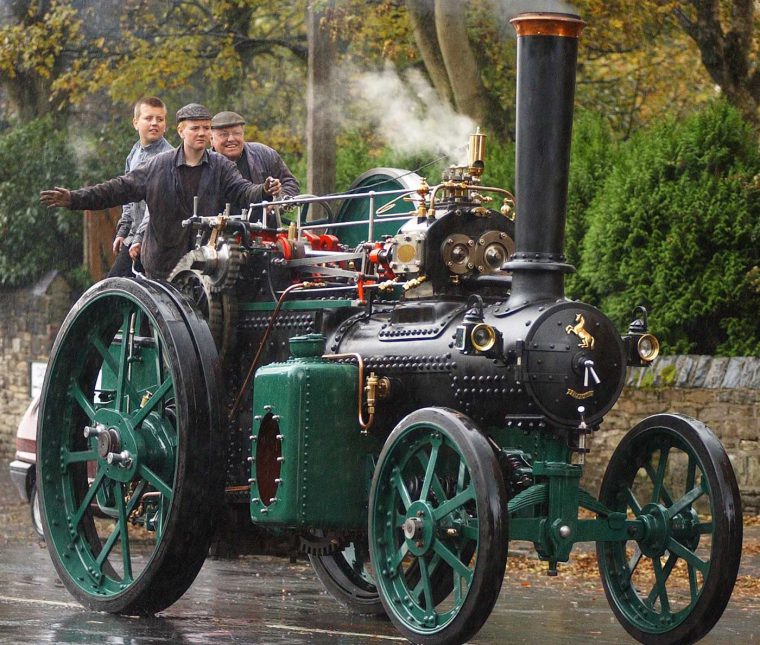 Fred and his sons with the 1912 Aveling and Porter Class KND eight-ton convertible traction engine.
These interests lead to a career as a Steeple Jack and with the demise of coal-fired power and the textile mills, he dismantled ninety of the chimneys that served them, one of which you will view in todays video.
His 1912 Aveling and Porter Class KND convertible traction engine took him twenty-seven years to restore, and with it and the coach the engine towed, he traveled to unique industrial sites and work shops in the popular "Made In Britain" BBC documentary. The series ends with Part XII where he wore a top hat as was awarded a MBE (Member of the Most Excellent Order of the British Empire from the Queen.) You can view the rest of the series here on youtube.
The most interesting parts of this series found via contributor and writer Gene Herman. The photo courtesy of Harrods Coaches that offers a tour of the area.