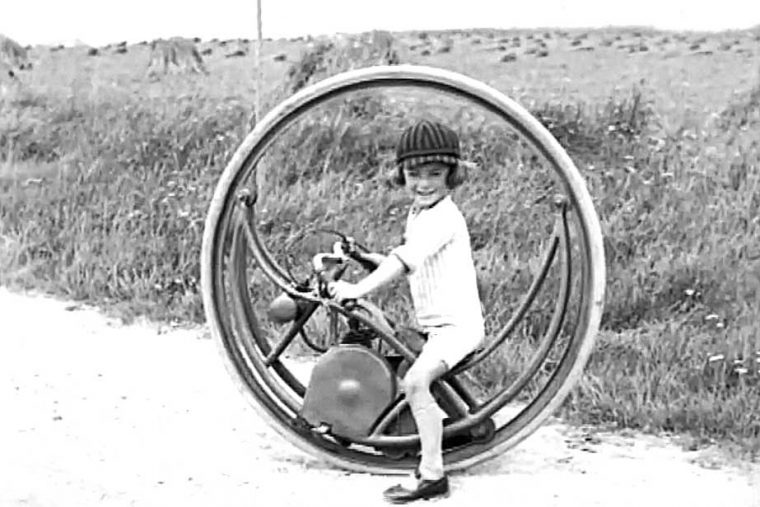 The mono-wheel apparently has been around since the 1850s, but when the first motorized one was constructed is not known by this writer after having researched the subject in the past. What appears to be known however was that this "Kiddies' Motor Wheel" filmed in 1927 might very well have been the first such model built exclusively for small fry.
There is no information about this machine on the news clip, but the boy riding it is quite young and is very proficient at operating it. Following him along the country road, which is possibly in France may be the constructor of the pint-sided machine. The video was found thanks to contributor Gene Herman.
If you enjoy the subject matter, be sure to view: Professor E. J. Christie's mono-wheel powered by a 700 c.i. Sturtevant V-8 aircraft engine, Walter Nilsson's Uno-Wheel, and the unique Dynasphere, a creation by Dr. J. A. Purves in England in our earlier coverage.
Since this video courtesy of British Pathe is only 1:13 long "Learn Flying in Glider on Auto" has also been included below.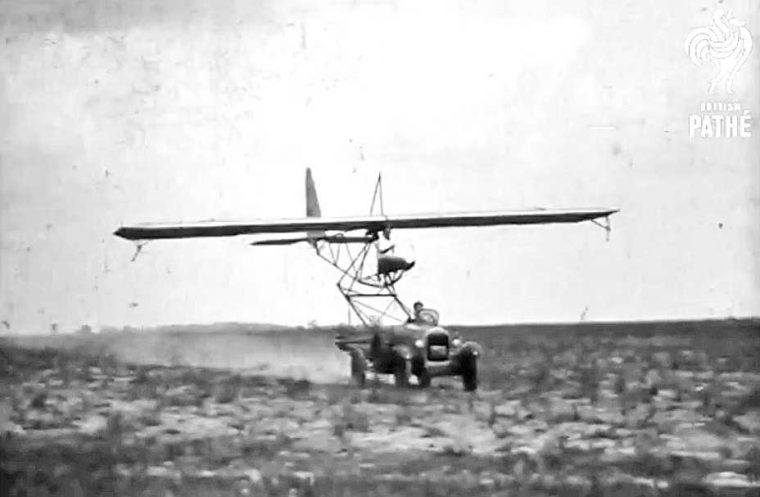 Harry G. Traver's "Glider Trainer" attached to a Model "A" Ford chassis in action.
"Learn Flying in Glider on Auto" another vintage film clip, this time featuring a glider trainer attached to the rear of a 1928-'29 Model "A" Ford chassis. In the news clip below Harry G. Traver of Beaver Falls, PA, an inventor of amusement park rides describes his new machine and a pair of young men then take it for a demonstration run.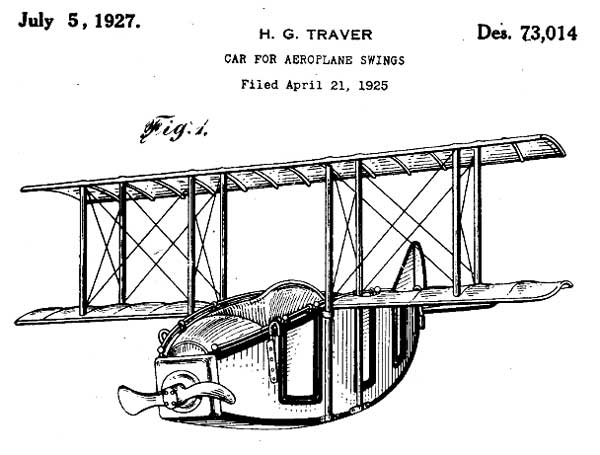 "Aeroplane Car,"one of the many Patents assigned to Harry G. Traver for amusement park rides.
After a bit of investigation, it was found that Traver received numerous patents for amusement park rides and was an inventor and engineer who earlier formed the Traver Engineering Company also located in Beaver Falls, PA. He went on to become a well-known roller coaster designer, who engineered and constructed the "Lighting" coaster ride at Revere Beach, MA, among others.
Enjoy the video below that is courtesy of British Pathe.