In the post-World War II period most domestic automakers dusted off their prewar designs and maybe changed the grille and added a few chrome trim strips here and there and called it the new 1946 model. It was a seller's market led by a pent-up demand to be able to buy the first new cars that were available since 1942.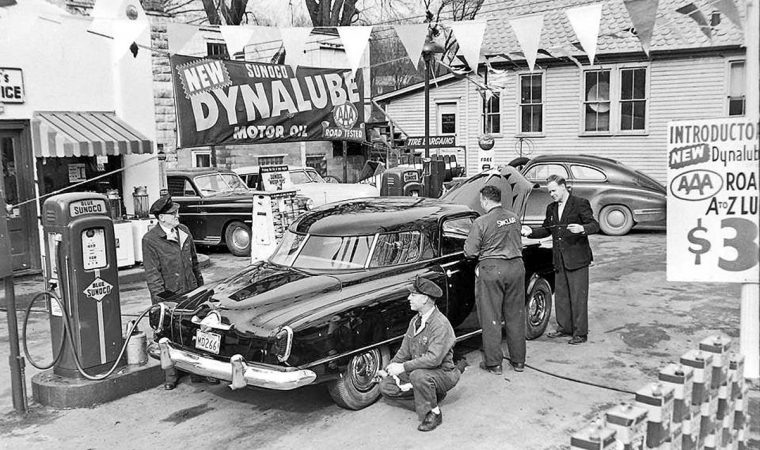 1951 Studebaker Starlight Coupe receiving full service at a Sonoco Filling Station.
After viewing the photo above of the unmistakable 1951 Studebaker Starlight Coupe at a Sonoco Service Station via Douglas S. Dempsey at Motorology, it appeared to be a good time to learn more about it. Like many postwar designs inspired by the aircraft used in World War II, Virgil Exner was apparently impressed by the windshield and roof line used on some of the larger Boeing and Douglas aircraft used before and during the war. Instead of placing it at the front of the car, he used it for the back half of the roof and added curved instead of flat paneled glass sections. But, we are getting ahead of the story.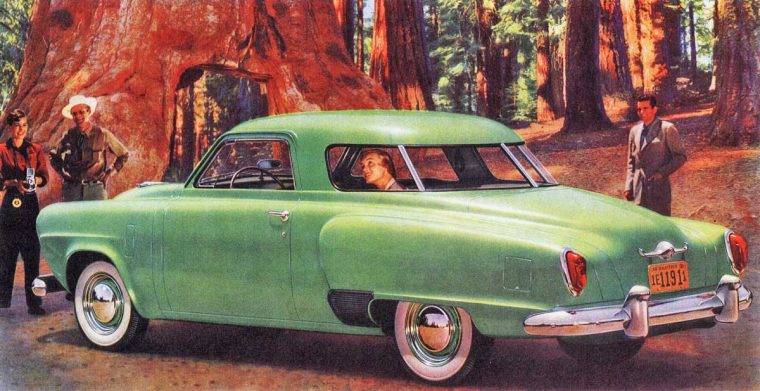 The red 1951 Studebaker Starlight Coupe in the lead illustration and this second green one are courtesy of Alden Jewell.
Exner began working for Raymond Loewy and his design firm Loewy and Associates in 1938 on Studebaker body concepts. Loewy was a somewhat difficult man to work for and the relationship between the two lasted until 1944 when Exner was fired by him. He was soon hired at Studebaker and continued there working on postwar designs.
Exner quickly went to work and designed Studebaker's new groundbreaking postwar offerings, which were first introduced to the public in New York City in April of 1946, and by mid-year in Studebaker dealer showrooms. The smaller automaker from South Bend, Indiana managed to beat the "Big Three" all the other car companies with the first all-new postwar car, but it did not become available until 1947 due to shortages of steel and materials at the time.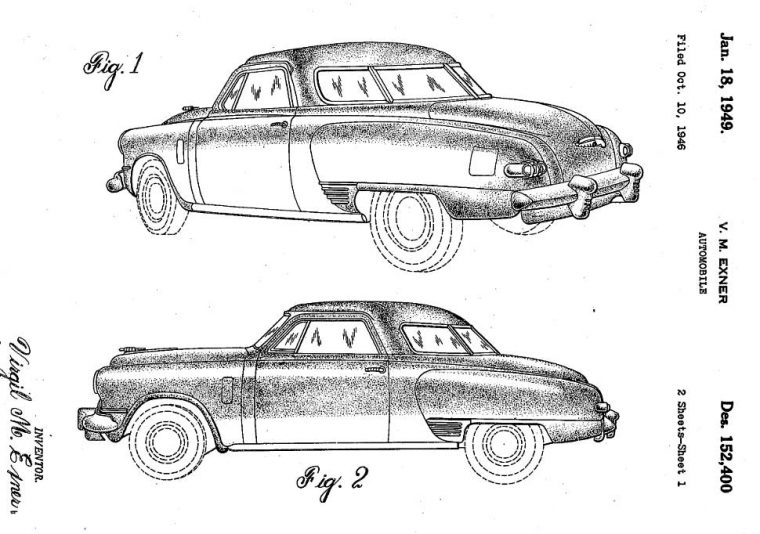 October 1946 patent application for the design of the 1947 Studebaker Starlight Coupe.
Unfortunatley Virgil Exner was not credited in public for his design as Lowey and his firm, still associated with Studebaker were attributed for its appearance because his well-known name would help sell the new offering. Exner's name though was listed as the sole inventor on the Studebaker patent application above, and he was later credited by designer Robert Bourke for his work. When originally introduced, the Starlight Coupe featured a fairly conventional front end design, later in 1950 a new grille much like that used on some jet aircraft freshened up the front end of the car which continued to be sold until 1952.
View three television commercials below showing the new 1950 front end on the Buster Keaton Show.