In the past, a number of images of poorly customized versions of elegant 1935-'36 Auburn 851-852 and Cord 810-812 models, both of which were originally designed by master stylist Gordon M. Buehrig have been featured on The Old Motor. Today's post includes yet another photo of a modified super-charged Auburn 852 "Speedster", and three examples of the companies artwork shown beforehand to demonstrate how easily the clean lines of one of Buehrig's creations could be ruined.
The lead photo above of an advertisement by the H.O. Harrison Co., a San Francisco Auburn dealer, shows the typically exaggerated artwork used by Auburn and most automakers at the time.

"Automobile Trade Journal" illustration used for announcing the new 1935 super-charged 851 Auburns.
The "Automobile Trade Journal" announced the new model 851 in its January 1935 issue and included a more  realistic version shown above of the companies artwork of the "Speedster." The correct grille shell and windshield rake, and the shortened length of the body and fenders are quite noticeable when compared with the colored illustrations.
In its article the magazine described the new offering as follows. "Auburn has announced seven models of the super-charged cars with a certified speed of 100 m.p.h. or more. The new straight eight Auburn's are built on a wheelbase of 127 in. and are powered with a Lycoming engine that develops upward of 150 h.p. The supercharger is of the centrifugal type being driven at six times engine speed by a friction drive. Each car carries a plate certifying its 100-mile-an-hour speed and is broken in and checked by the Factory."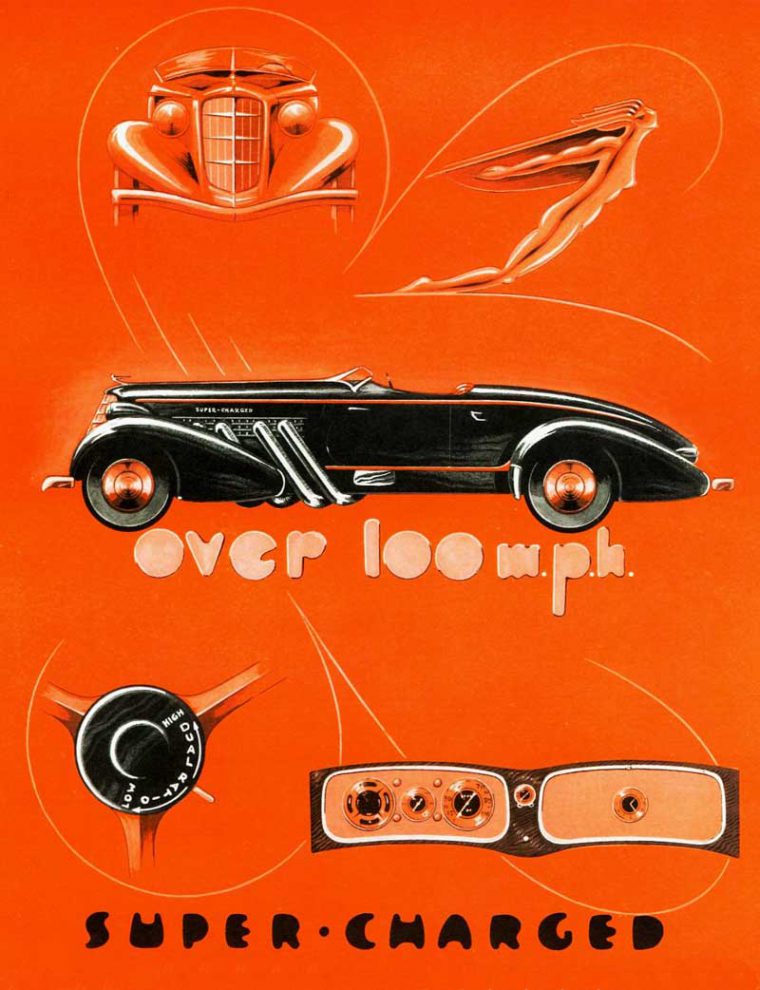 A second example of Auburn "Speedster" artwork includes other detail views of its features.
The customized Auburn referred to earlier in the text is shown below; it is a perfect representation of the "just because you can doesn't mean you should" school of thought. This car's clean original lines have suffered a number of extra additions: upholstery around the edges of the cockpit, a pair of spotlights, two gewgaws on the hood – the lower one may contain a lamp, later bumpers that are installed upside down, lamps on the top of the front fenders, three extra pieces of trim on the front fenders, and finally fender skirts carrying the same trim on the rear.
The color illustrations are courtesy of Alden Jewell. The black and white photo below is via contributor Benjamin Ames.