AAA sanctioned stock car racing was popular up until the mid-teens – after World War I it continued until about 1920 when it was relegated to small time promoters running events on dirt tracks across the country. Racing stripped production cars returned however in 1933 when the sanctioning body reinstated the once popular Elgin Road Race in Elgin, Illinois. The 250-mile competition was held on August 26 and won by Fred Frame (winner of the 1932 Indianapolis 500) driving a 1933 Ford roadster at an average speed of 80.22 mph. The event and a free-for-all race with Championship (Indy cars) were sponsored by the Elgin Watch Company.
Film of the 250-mile Gilmore Gold Cup Race at Mines Field on February 24, 1934. 
The second AAA stock car race held on February 24, 1934, was sponsored by the Gilmore Oil Company at the Mines Field Airport (now Los Angeles International) on a two-mile dirt road course. Practice for the 250-mile race was run on the Legion Ascot Track. Los Angeles area racing fans turned out in force on February 24, 1934, to watch the race. Four hours later "Stubby" Stubblefield won the tough Gilmore Gold Cup Race (view above) in a 1933 Ford roadster at an average speed of 62.37 mph.
Two months later on April 24, 1934, the next race which is pictured here was held at the Legion Ascot Speedway in Los Angeles. It was a 150-mile race called the American "Targa Florio" and ran on Ascot's dangerous half-mile oval and a road course carved out on the hill behind the track. Famous early racer Earl Cooper paced the field in his mid-teens Stutz "White Squadron" racing car (it has survived). Three-time Indianapolis 500 winner Lou Meyer won the event driving a 1934 Ford roadster sponsored by the Froelich Motors, a Ford dealer in the LA area. Paid attendance was down from the Mines Field race, and many fans who snuck into the event watched it from the top of the hill.
.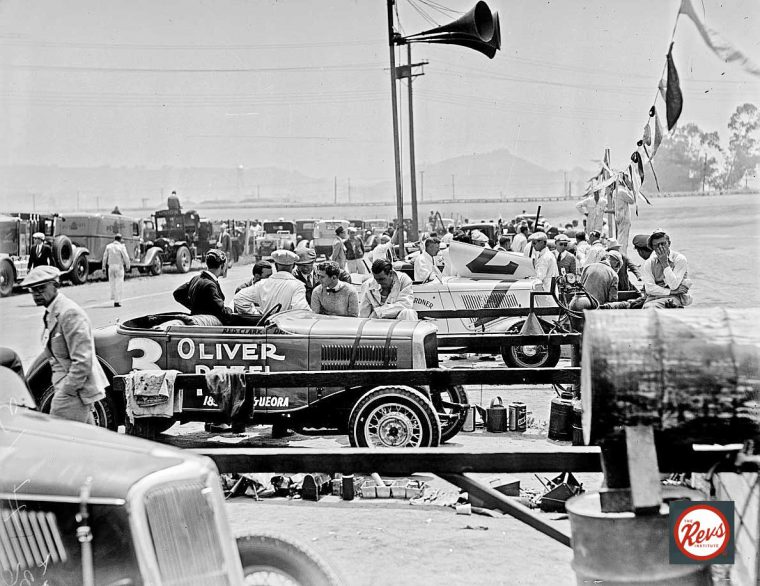 The racing cars and crews in the pits before the start of the event.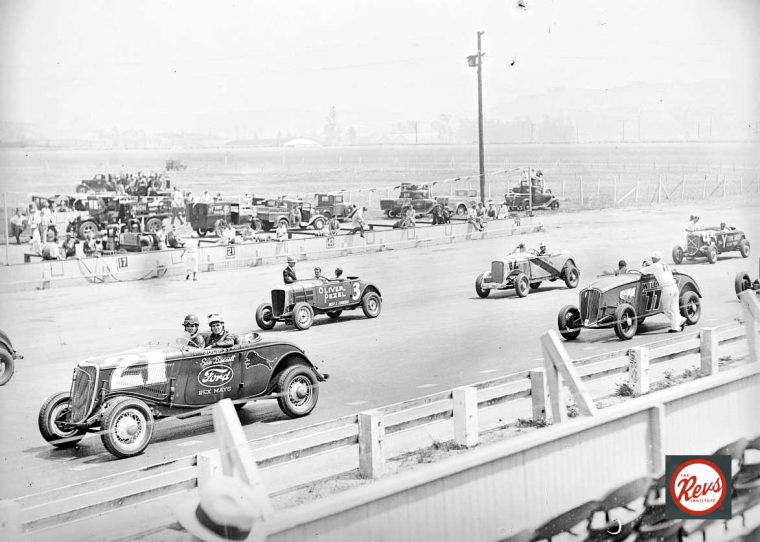 Rex Mays (winner of the AAA National Championship in 1940 and 1941) on the far left in a 1934 Ford.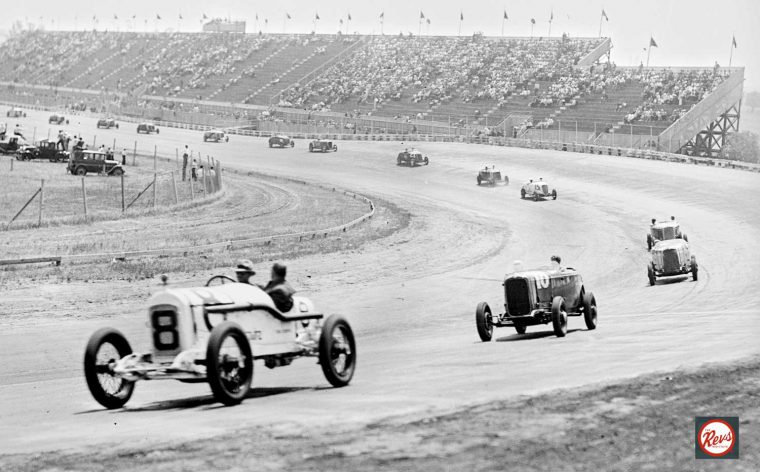 Earl Cooper and his famous mid-teens Stutz "White Squadron" racing car paces the field before the start.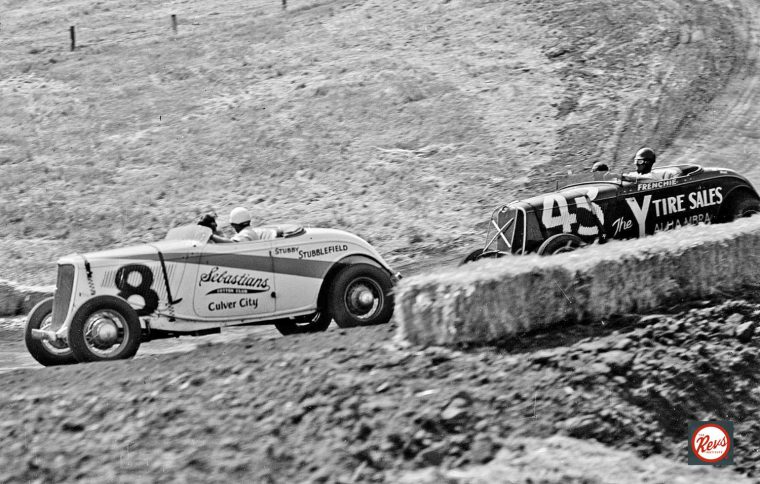 "Stubby" Stubblefield in the lead with a 1934 Ford roadster followed by a 1932 Ford roadster.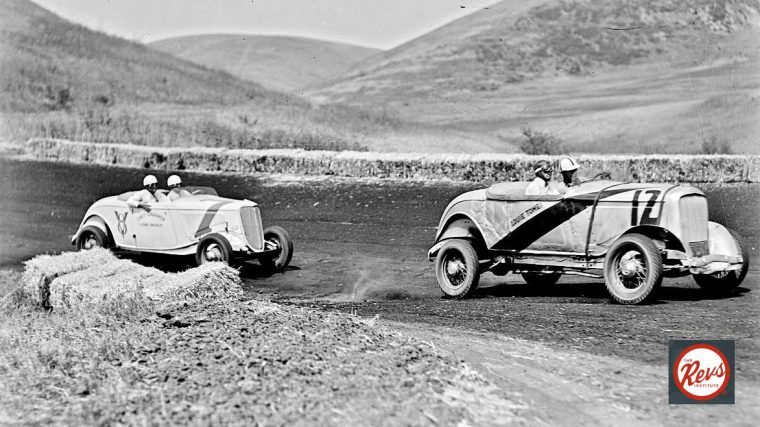 Al Gordon in a 1934 Ford and Louis Tomei ahead in a 1933 Plymouth.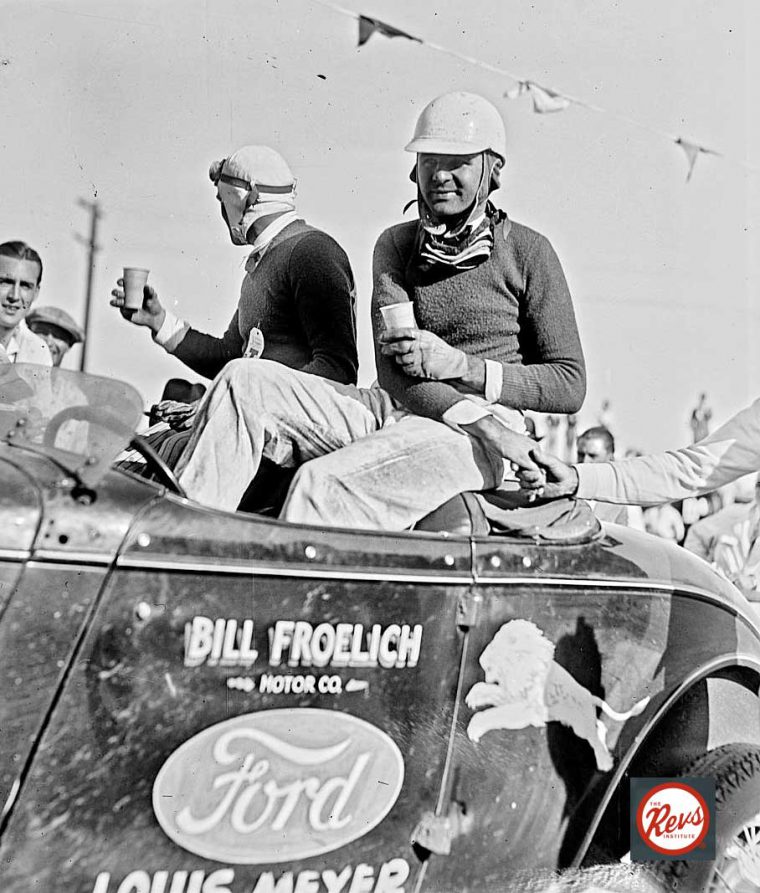 The winner Lou Meyer and his mechanic in a 1934 Ford roadster.