The coachwork designs by Alan Leamy and Gordon Buehrig for Auburn, Cord, and Duesenberg companies are considered by many to be the most attractive of all the prewar classics. The graceful, smooth and almost fluid lines denote both speed and power.
The lead image contains a 1932 Auburn 8-100 Speedster parked at the Roosevelt Theater in Chicago. The stylish rolling billboard shown in the enlargeable image below was used by the theater chain to advertise a giveaway promotion to spur ticket sales during one of the most difficult years of the Great Depression.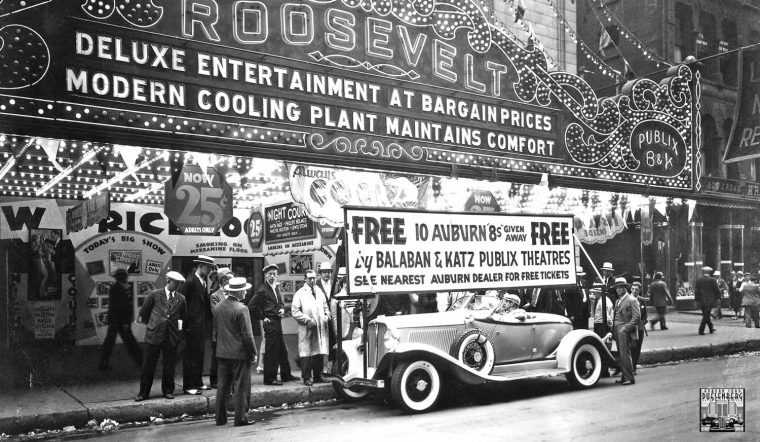 1932 Auburn 8-100 Speedster.
The coachwork below was penned by Gordon Buehrig for George Whittell's 1933 Duesenberg Model "J" super-charged long wheelbase speedster. Finished in black and white and equipped with a chrome and red fire siren, the timeless and tasteful design appears as though it is traveling at 100 m.p.h. even when it is standing still.
Whittell, a larger-than-life multi millionaire playboy, purchased six Model J chassis' and the coachwork on this one was the most rakish of the lot. The bodywork was constructed by the American branch of the Weymann Body Company of Indianapolis, Indiana. The parent Company is well known for building lightweight wood framed fabric covered coachwork in Europe, and the UK . This fine automobile has survived in excellent original condition.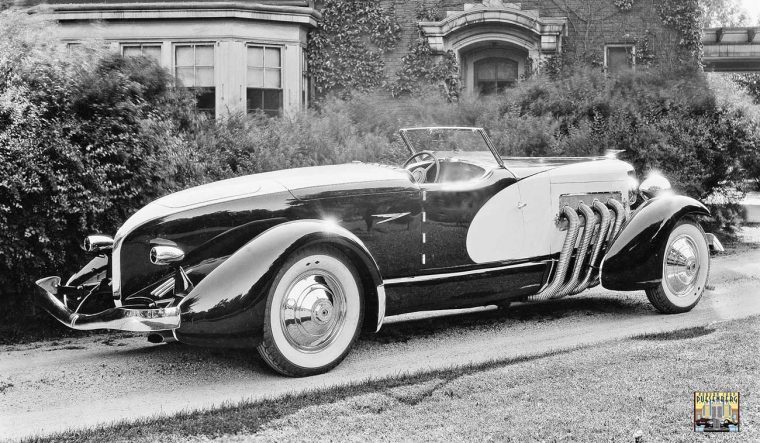 George Whittell's 1933 Duesenberg Model "J" Speedster with Weymann coachwork designed by Gordon Buehrig. 
Alan Leamy poses below in a 1931 Auburn 8-98 Speedster, a very stylish car for which he designed the coachwork. While working for Cord, Leamy was responsible for designing the Cord L-29, the Model "J" Duesenberg from the cowl forward and the attractive Auburn bodywork produced between 1931 and 1934.
The photos are courtesy of the Auburn Cord Duesenberg Museum, "A Supercharged Trip Though Time."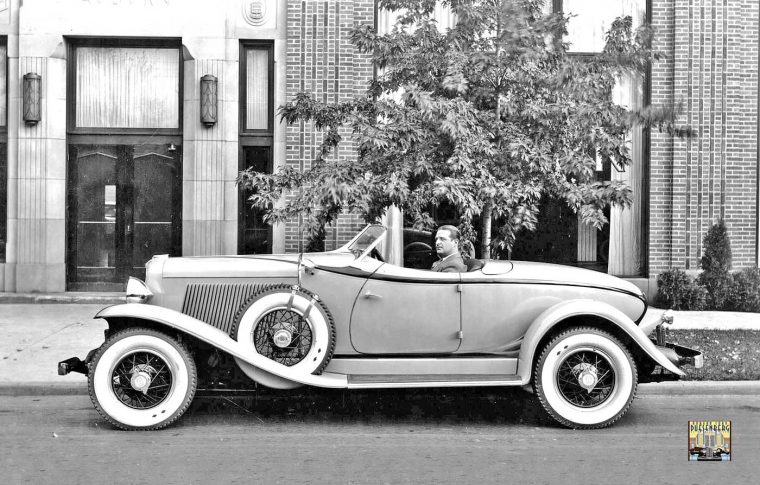 Designer Alan Leamy in a 1931 Auburn 8-98 Speedster in front of the ACD office building.