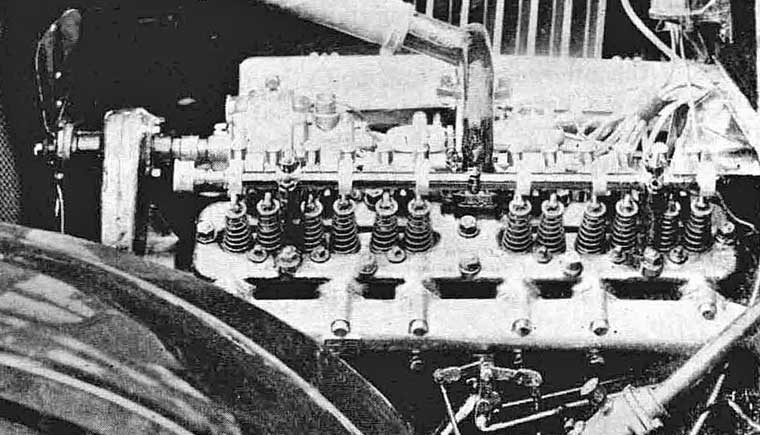 Updated – The Enger Motor Car Company of Cincinnati, Ohio, built its first machine, a two-cylinder high wheeler in 1909. The following year a moderately priced conventional four-cylinder touring car was offered, and this model continued with minor changes through 1914.
Enger received quite a bit of attention in the press in 1915 when it introduced a 227.3 c.i. V-12 at the same time Packard did. The 60-degree twelve-cylinder engine featured pushrod actuated rocker arms and overhead valves operated by a silent chain-driven camshaft located in the middle of the V between the two sets of cylinders.

The lead image and diagram above -"The Automobile" September 9, 1916.
Update – At the bottom of the post is a patent found by reader TinIndian of a device operated by an electrical solenoid which could have replaced the mechanical operation shown above. It was patented by E.L. Jones and assigned to Enger.
A year later in 1916 the "Twin-Unit Twelve" was introduced with a unique feature – a shaft and lever mounted on the steering column deactivated one bank of cylinders. When placed in action by the operator, a camshaft above the rocker arms pressed down and opened all of the exhaust valves relieving compression. At the same time, a simple rod and set of levers closed a butterfly valve in the intake manifold cutting off the gas and air mixture resulting in better fuel economy. But it was not enough to save Enger, as the Company folded the following year after financial difficulties and the death of Frank Enger, who shot and killed himself in his office.
Enger's system was amazingly simple in operation when compared to a very complex arrangement that accomplished the same thing 65-years later with the 1981 Cadillac V-8-6-4 disaster that was dropped the following year. In 2005 GM and the Eaton Corporation's new "Displacement on Demand" system became a reality on production vehicles at that time with an average 12% gain in fuel economy.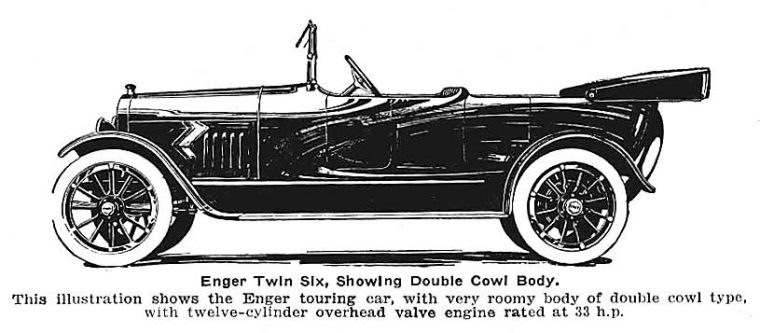 "Automobile Trade Journal" January 1916 listing and illustration of the Enger.

.

Details and illustration below of the V-12 – The "Horseless Age" August 1916.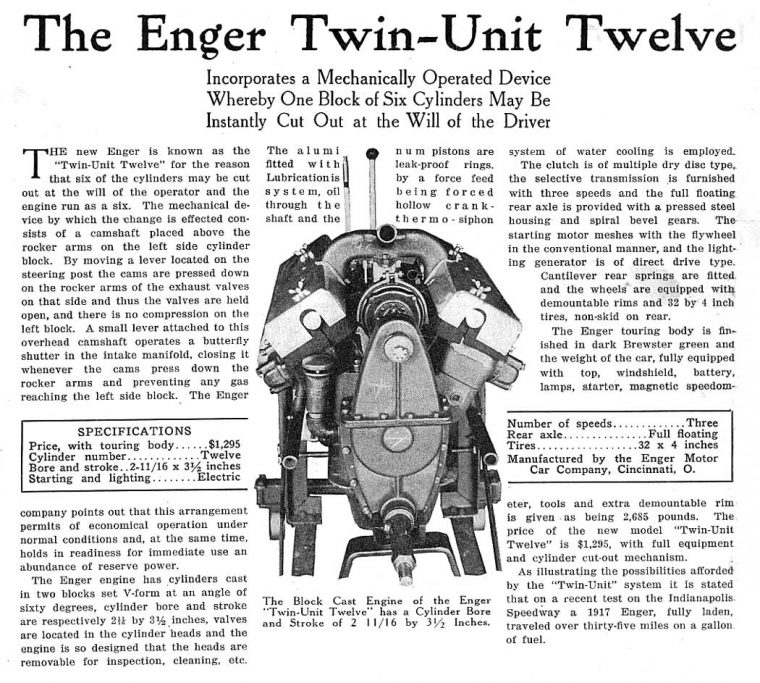 Below is the US patent for a "Multiple Cylinder Motor" issued to Edward L. Jones of Cincinnati and assigned to a Frank J. Enger. Number 41 in the drawing is an electrical solenoid used to actuate the device. Could this possibly be the first application of this type?