The Missouri History Museum in St. Louis has opened a new exhibit titled Capturing the City: Photographs from the Streets of St. Louis, 1900-1930 and it will be open through January 22, 2017. Three of the images shown here are also available for purchase, in addition, a photography-based book has been published to commemorate the display, learn more at the Museum.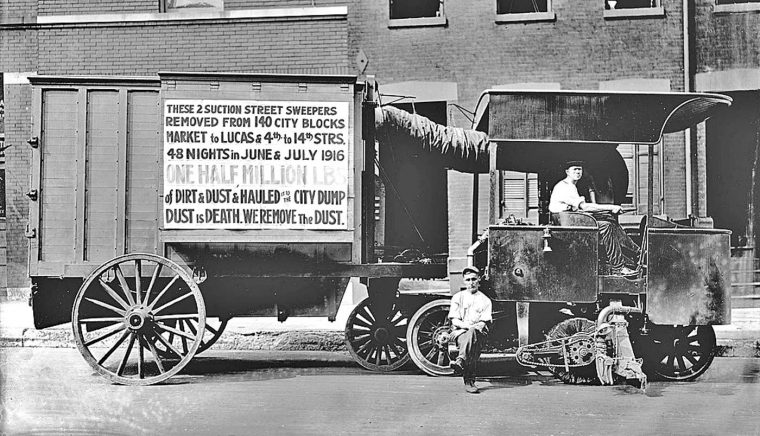 One of two"Wayclense" Gas-Electric Street Sweepers on a street during the summer of 1916.
The "Wayclense" machine above was invented by Bernard Kern of Sandusky, Ohio, and the prototype was steam-powered; it was constructed before the first automobile was built in the US.  The contraptions did not use any water and were manufactured in Newark, New Jersey, by the Way-Clense Corporation and were quite popular at the time.
Two of the sweepers were used in tandem on wide streets, the one shown in the photo with a gutter cleaning attachment went first and was followed by the second unit. Power for the machines was supplied by a large four-cylinder marine engine located behind the operator; it was connected to a 125-volt generator, that in turn, powered electric motors for the differential and rear axle, the large suction blower, a dust separator on the trailer, and a fan for the front-mounted engine radiator.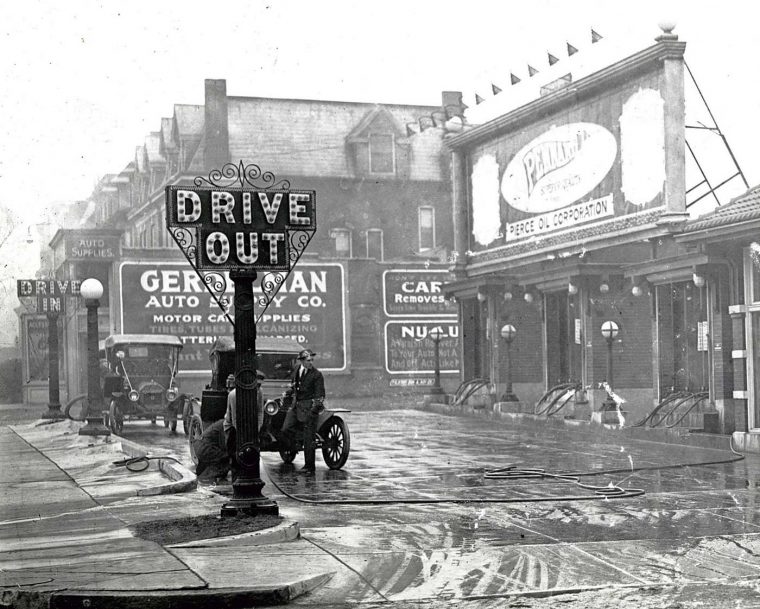 A modern drive-in gasoline station and an automobile parts supplier, the image is circa the mid-teens.
This second image contains a modern drive-in gasoline station on Washington Blvd. and the Gerdelman Auto Supply Co. behind it. W. A. Allen. the former manager of the Pope Hartford Motor Co. of Canada, moved to St. Louis in 1914 and became the administrator of the motor car supplier.
And finally below is an exceptional circa-1910 image of a bar in the city that had no connection with the automobile other than some of its patrons drove there and some left DUI. The Bar's Owl Cigar billboard contains an electric clock manufactured by the E. Howard and Co. of Boston that was reset to perfect time hourly by a telegraph signal from the W.U. Telegraph Co. to US Government Observatory time.