The Ford Motor Company shut down its automobile production line in Detroit and at its assembly plants across the country early in February of 1942. In the three month period after the US entered WWII due to the bombing of Pearl Harbor on December 7, 1941, a stockpile of cars was set aside for essential uses during the war; military staff car production continued.
It would not be until three years later in July of 1945, when the first 1946 Ford would roll off the production line ahead of its main competitor, Chevrolet. In the meantime the driving public that was able to purchase rationed gasoline and tires had make do with used cars.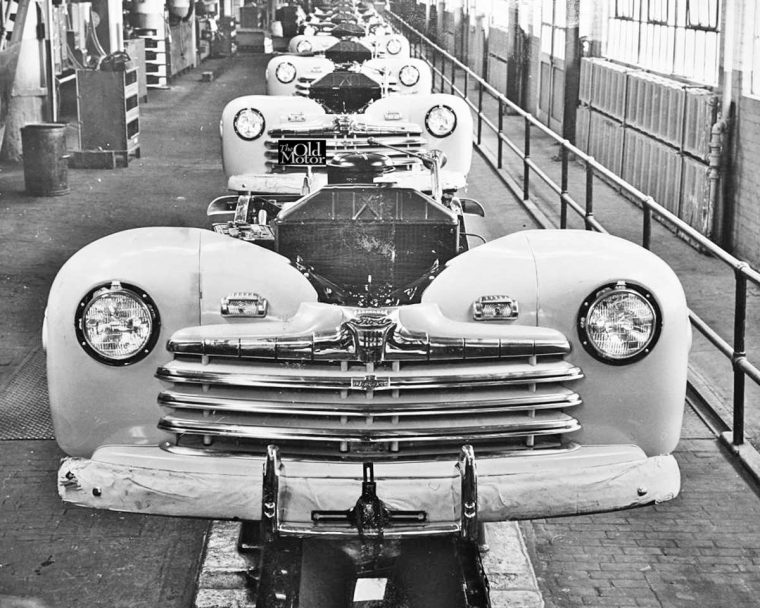 1946 Fords on the production line halted due to a steel mill strike – The Old Motor photo.
The only notable mechanical change to the new 1946 Ford was the adoption of the larger 239 c.i., 100 h.p. V-8 engine used in prewar Mercurys and Ford trucks. The outward appearance of the revamped 1942 model was essentially the same except for a newly designed three-bar horizontal grille capped with a heavy tapered trim bar below the hood. In the rear, the deck lid received two added horizontal trim strips below the license plate. Roughly 450,000 of the new Fords were manufactured during the production run.
The lead photo was taken in October 1945 showing the new 1946 models, and an enlargeable version of it below are courtesy of the Wayne State University Archives. Learn more about postwar auto transport trucks similar to those seen below at Moving the Metal an interesting five-part series here on The Old Motor.