Pavel Malanik is a man on a mission – he is a vintage motorcycle enthusiast from the Czech Republic, who also is an incredibly talented tool maker-fabricator-restorer. His interests are early European and British motorcycles, fascinating machines from a bygone era, which with the passage of time and two World Wars no longer exist.
Instead of being content to research these two-wheeled vehicles, and collect photographs of them, his innate curiosity has lead him to build a few of these motorcycles from scratch. The efforts have allowed Pavel and others the chance to see, hear, touch, and ride them in present time and learn about what they really were like back in their day.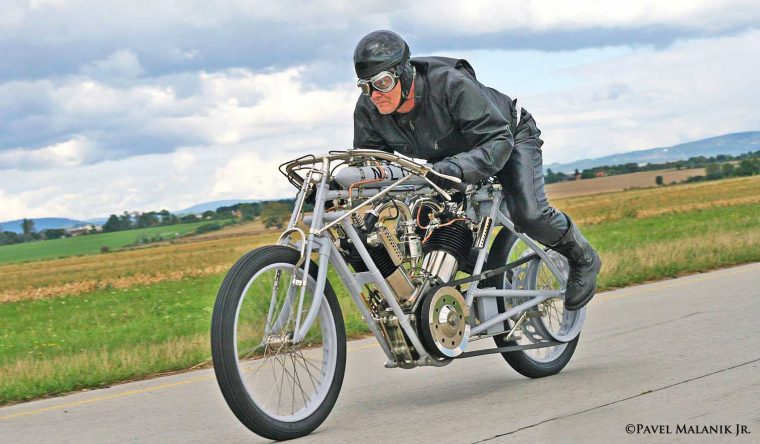 This enlargeable image shows Pavel riding the "Monster" on an airport runway in the Czech Republic.
He constructed this exact replica of the North London Garage Special, a 1909 machine with a massive 2714 cc (165.62 c.i.) V-twin engine built for the sole purpose of setting a 90 m.p.h. speed record on the Brooklands track in England. The project was completed in April of 2015, just in time to take it to the 2015 Vintage Revival at the Montlhéry Race Track in France in untested form. Trouble with the rear tire and rim cut his run short, but since then he has the machine all sorted out.
Pavel, his son, and friends have produced this video showing the highlights of its construction followed by a two-way run on an airport runway in the Czech Republic near where lives. In the ride, on the return trip, he opens the machine up and runs it at speed. Following the trek, you can view the exhaust flames when it is started in darkness at a motorcycle show.
Long term readers will be familiar with the amazing work he has performed to fabricate this replica. The complete process and more is covered in our 12-part series filled with photographs which began back in April of 2013.